In a Nutshell:
A beautifully designed, well-appointed office chair, brimming with features you'll love. Humanscale Freedom Saddle Stool is recommended for anyone who is 300 pounds or less, and up to 6'6" tall. This is a superb chair by any reckoning.
* Brand Reliability is a measure of the strength and longevity of the brand, which by extension, is a measure of the level of support you can expect.
** While aesthetics is a matter of taste, Aesthetic Flexibility is a measure of how easily a given design would fit into a wide range of home or office décor schemes.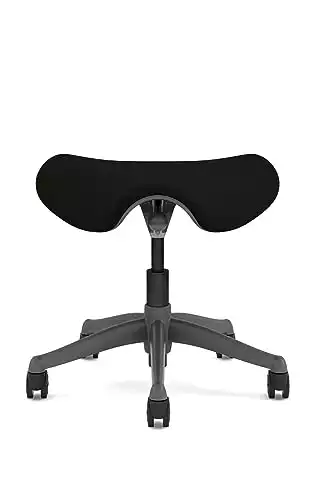 Do you have bad hips?
Does spending a full day in your trusty office chair seem to make matters worse, leaving you suffering from chronic pain for hours after you get up from the chair?
If you answered yes to either of those questions, you're going to love our review of the Humanscale Freedom Saddle Stool.
Humanscale isn't a huge brand in the office furniture world, but they are highly respected and have designed some award-winning, groundbreaking office seating products over the years.
The Freedom Saddle Seat is an excellent example of their work, and for people who suffer from chronic hip pain, it can be a game-changer. It can literally mean the difference between not being able to work and getting through most or even all of a workday without pain. That's huge.
If you're interested to know more, we'll tell you all about this model in the sections that follow so you'll have everything you need to decide if this is the right chair for you. Don't spend one more day than you have to in your current office chair if it's not helping with your pain.
An Overview of the Humanscale Saddle Seat Stool
This stool, and in fact, the entire "Freedom" line offered by Humanscale, was designed by Niels Diffrient, who is one of the finest designers in the business. It's a simple design, to be sure, but it has a certain understated attractiveness about it that you'll like very much and since it's available in a wide range of colors, you'll have no problem getting it to fit seamlessly into whatever room you decide to put it in.
Specifications
Before we get to that, though, let's take a look at the core stats that define the Humanscale Freedom Saddle Stool. Here are the basics:
A couple of things jump out at us where these numbers are concerned.
First, you can order yours with your choice of seat width (standard or pony-sized, depending on your needs). You can also select from your choice of gas lifts, which allow you to get your saddle stool with a height adjustment range that fits you perfectly.
The tradeoff, of course, is that you'll need to take a few careful measurements before placing your order.
Upholstery Options
If you decide you want one and order from the Amazon site, you can get yours in a modest selection of colors.
If none of those colors are what you're looking for, you can head to the Humanscale website itself and order from them, gaining access to a much broader range of fabric and top-grain leather upholstery options. You won't find any bargain basement upholstery on these stools. Whatever you ultimately order, you'll get the finest quality, all around.
You can also select your choice of base finishes, choosing from graphite, titanium, or polished aluminum.
Finally, your Freedom Saddle Stool is backed by an impressive warranty that protects your upholstery for five years, and everything else about the stool for fifteen years. This model was built to last, and the warranty reflects that.
Features of the Humanscale Freedom Saddle Seat Stool
Adjustability and Comfort
The only adjustable feature on the Humanscale Freedom Saddle Seat Stool is the height adjustment lever. Set it where you want it, and as long as you're the only person using the stool, you're unlikely to have to make changes unless your work environment changes.
On the comfort front, Humanscale's insistence on top-quality upholstery and ergonomic excellence combine to help improve the level of comfort offered by the stool, which is only modestly padded.
Nonetheless, it's so exquisitely designed that you'll find it comfortable enough to sit on all day if you need to.
Granted, most saddle stool users only use their stools lightly to moderately every day because most users that gravitate to this type of seating have active jobs, but you could certainly make it through an eight hour workday on one of these with little difficult after you've adjusted to the fact that you don't have a seatback to lean back on.
No Assembly Required
This is a small but important point. When you order a Freedom Saddle Stool, you won't have to do anything but take it out of the box, put it where you want it, and sit down. It comes to you fully assembled and ready to use. That's just the kind of company Humanscale is, and it's wonderful.
Color Variant of Freedom Saddle Stool
Pros and Cons of Humanscale Freedom Saddle Stool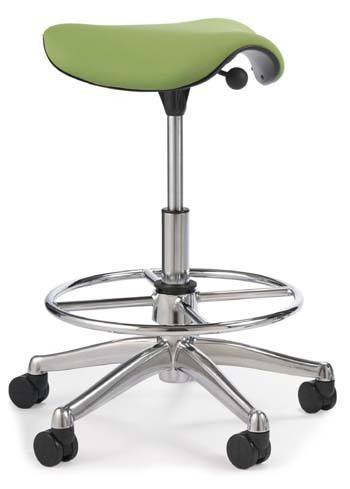 We love the Humanscale Freedom Stool, and we think you will too. In no particular order, here are the aspects of the design we like best. It is:
About the only thing we don't like is the price, but we also understand that this level of quality doesn't come cheap. It's just unfortunate that some people who could really get a lot of use out of a stool of this quality will find it out of their reach financially, and that's a pity because it's pretty amazing.
Final Thoughts on Humanscale Freedom Saddle Stool Review
A lot of the office furniture on the market today is strictly utilitarian. That's understandable, but it's also one of the things that makes Humanscale's product line stand out. It all has a consistently polished, refined look.
Sitting on one of these, you'll feel taken care of. That's a very good thing, and it speaks volumes about the kind of company Humanscale is and the care and attention to detail they put into their products.
We highly recommend the Humanscale Freedom Saddle Stool, especially for people who suffer from chronic hip or lower back pain.
---
References & Resources: