In a Nutshell:
The iJoy Active 2.0 assessment reveals a budget-friendly and compact chair perfect for an entry-level massage recliner enthusiast. While it doesn't have a full body massage option, or some of the high-end features more expensive chairs offer, it's still a great value.
* Brand Reliability is a measure of the strength and longevity of the brand, which by extension, is a measure of the level of support you can expect.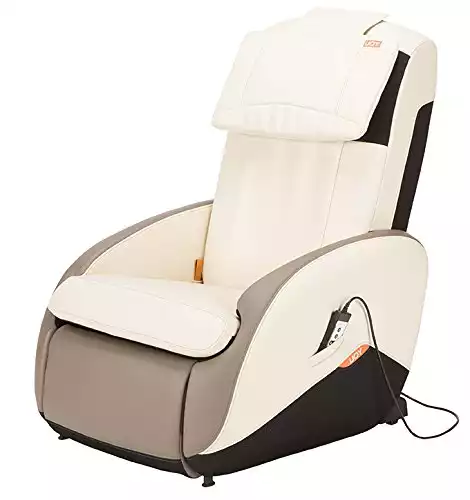 If there's one thing we've noticed over the years, it's that massage chair can be pretty expensive. Finding a great budget option is far easier said than done when you want value and quality.
Join us as we look at the iJoy Active 2.0 massage chair review. This budget-friendly recliner combines some impressive features into a compact and lightweight design.
iJoy Active 2.0 Perfect Fit Massage Chair Overview
At first glance, the iJoy Active 2.0 looks like a pretty sleek massage chair. While it doesn't have as many features as some of its more expensive brethren, it does offer some compelling features for the low price.
The most interesting feature in the iJoy Active 2 zero gravity massage chair is the FlexGlide™ technology, which is a patent-pending design created by the innovators at Human Touch.
The Glide technique in this chair applies consistent pressure while rolling up and down your back near the spine. This loosens your muscles and allows for a more fulfilling massage.
Finally, the Stretch technique lifts and pulls the muscles to encourage circulation. The increased stimulation can also remove toxins from your muscles and nerve tissue in your back.
Human Touch iJoy Active 2.0 Assessment: Features and Benefits
The Active 2.0 massage chair provides a healthy number of features and benefits. This is especially true when you consider the excellent price point.
Massage Techniques
Stretch relieves tension by lifting and stretching the muscles. It also encourages circulation and clears out toxins from the muscle area. Orbit, and Glide motions simulate the pressure and hand techniques of massage therapists.
Proprietary FlexGlide™ technology offers a stress-relieving experience free from pinching or friction that some budget massage chairs have.
Reclining
While not zero gravity, the Active 2.0 reclines up to 180-degrees to remove pressure on the spine. This is done with a handle on the side of the chair.
Auto Programs
The chair features three auto-programs: THINK, PERFORM, and RECHARGE.
THINK provides a quick refresh to your entire back. PERFORM targets your neck and shoulders to relieve tension. Finally, RECHARGE targets the lower back, which is great for those who sit for long periods of time during their work day. While some chairs have more auto programs, these three offer a nice spectrum of options.
Accessible Design
The Active 2.0 is a compact chair that fits into a wide variety of environments and arrives fully assembled. During your experience, the tethered remote control is always by your side.
At only 45 pounds, you can easily move the iJoy Active 2.0 to any room of the house. The head pillow included gives you a comfortable place to rest your head but is also removable to provide a more intense upper-back massage.
Optional Accessories
Human Touch also offers full-body massage accessories, like the Human Touch iJoy foot massager which matches the look and design of the main chair.
iJoy Active 2.0 Specifications
iJoy Active 2.0 Perfect Fit Massage Chair Variants
The Active 2.0 comes in two colors: bone and espresso. There is only one model of the Active 2.0.
Pros and Cons of the iJoy Active 2.0
At a budget price, you're getting a lot of value in the iJoy Active 2.0. Here are the pros and cons at a glance:
​The iJoy Active 2.0 is a great massage chair for the price, but those looking for the whole package may find it lacking. While the included auto programs are distinct, there are only 3 of them, whereas other models have a lot more options.
The price of the iJoy Active 2.0 is much lower than other options. As a result, some of the more high-end features may not be present. For example, some models include speakers, aromatherapy, or heated choices.
The Active 2.0 does not have airbags either, which means that leg and thigh massages are not an option. If you're looking for a back massage chair exclusively, this is a solid option for the price, but don't expect it to wow you with extra features or options.
The general consensus among customers is positive. Some complain that the chair is too small for their height, which is a valid concern, given the chair's compact design. For those who are under six feet in height, the benefits are more pronounced.
Several customers have complained about the experience being too intense, but others claim it becomes relaxing once you're used to it. Some customers have also said they were set up and using it within five minutes!
One user, Melissa Bullock, jokes that "this chair is my best friend after a long day at work."
Our Final Verdict for iJoy Active 2.0 Review
By looking at various iJoy Active 2.0 review options, you can see the breadth of responses to this massage chair. Many of them are positive, and we tend to agree that this is a solid chair for the budget price point.
Those who are taller than six feet should look elsewhere as the compact design may not fit their needs, but for anyone under that height, this is a great choice.
It may not have the same high-end features as other models, but for the price, you get a lot of value out of this massage chair.
---
​​​​References & Resources