In a Nutshell:
The iJoy Total Massage Chair is one of Human Touch's older entry-level machines. It is an inexpensive, reliable classic. Recommended for anyone on a budget, weighing less than 285 pounds, who is looking for a massage chair offered by a company with a reputation for legendary service and support.
* Brand Reliability is a measure of the strength and longevity of the brand, which by extension, is a measure of the level of support you can expect.
Are you on a budget but in the market for a basic massage chair to relieve incidental aches and pains after a long day's work? Do you prefer doing business with established, well-respected companies that emphasize post-sales service and support, providing more hand-holding than most other companies?
If you answered yes to either of those questions, then you'll like what you read in this—our iJoy total massage chair review.
Human Touch is one of the best and most respected companies in the industry today, and they don't offer many entry-level chairs, preferring to deal mostly with high-end models with lots of bells and whistles.
Their chairs tend to be a little more expensive than those offered by their industry peers, partly because of the name-brand premium and partly as an added cost to offset their exceptional customer support.
Given that, the company has to really work hard to provide models at the lower end of the market, which is why they tend to steer clear of that segment of the market.
The iJoy is an older model that has been part of Human Touch's lineup for years.
In order to offer this chair at a competitive price point, Human Touch relentlessly stripped out everything that was not absolutely essential to the design, leaving just the basics. As such, this isn't the chair you want if you need any therapeutic features.
All that to say, you should know going in that this model isn't going to be a good fit for everyone.
In the following sections, we'll step you through everything the iJoy Total Massage offers and be upfront about the areas where it will leave you wanting. That way, you'll have all the information you need to decide whether or not this is the model you've been looking for.
Sound good? If so, let's take a closer look.
An Overview Of The iJoy Total Massage by Human Touch
Some massage chairs, including many models offered by Human Touch, take great pains to hide their true natures. Chiefly, this takes the form of designing the leg massage ports so that they fold into the chair when you're not using them, which makes the chair in question look like a slightly futuristic recliner.
This model isn't one of those. That kind of engineering refinement is expensive, and with the company focused on keeping costs to an absolute minimum, an extra like that was never an option, which is to say that the iJoy will tend to stick out in whatever room you place it in. It's not ugly, but it is immediately obvious to the eye what the chair is for.
The good news is that the chair is offered in your choice of three color options. If you decide you want one, you can order yours in Black, Espresso, or Bone SofHyde. SofHyde is the company's proprietary PU alternative. It's slightly more durable and a little longer lasting than conventional PU, but broadly speaking, it is a comparable upholstery material.
In terms of basic stats, here's what you're looking at if you purchase an iJoy Total:
There are a few things to talk about here. First and foremost, this is not a huge chair by massage chair standards. Even better, it's almost shockingly lightweight, making it relatively easy to find a permanent home for the Total Massage and easy to move in the event you need to.
The drawback, however, is the fact that it supports an underwhelming amount of user weight. While there is no formal standard in the industry where supported weight is concerned, if you do a broad survey of the market, you'll find that most of the chairs out there support 300 pounds—with many models supporting more than that.
The iJoy doesn't quite rise to that level. It comes pretty close, but it falls just a bit short. It won't be an issue if you weigh less than 285 pounds. But if you happen to weigh more, the relatively modest supported weight limit is going to be an outright deal-breaker, so it's an important number to at least keep in mind.
Finally, note that this model isn't built with space-saving technology, so you'll need quite a lot of space between the seatback and whatever wall you place it near. Again, we feel certain that this was a conscious decision to keep the price of the chair as low as possible.
2D S-Track Paired With Quad Rollers
This portion of our iJoy total massage chair review isn't bad, but it does begin to reveal some of the weaknesses and limitations of the chair's design.
For starters, it's only got an S-Track. Quite a number of massage chairs on the market today do, but the longer L-Track is more popular with users because it makes the chairs that feature them capable of delivering a true full-body massage.  
In this case, you get a massage that starts at your neck and shoulders and extends to the small of your back, then skips your glutes and thighs and attends to your calves and feet.
The track's design also only allows the rollers to move along the X- and Y-axis, so it's only a 2D massage chair—no 3D deep tissue capabilities here.
On the flip side, though, it does sport quad rollers and features something the company calls FlexGlide 360 technology, which sees the rollers spin in circles as they move.
While that's not a worthy replacement for a 3D track, it adds a little something to the overall massage quality and stands as the one "extra" the chair brings to the table, making it noteworthy.
No Body Scanning Tech
While we agree with most of the design decisions and feature cuts aimed at keeping the cost of the iJoy Total Massage chair as low as possible, we're not completely sold on this one.
The company's exceptional body scanning tech is featured on most of the chairs they sell, and it isn't expensive to add, so we feel the design would be strengthened by its inclusion here.
Since there is no body scanning tech, you'll have to manually adjust the rollers before your massage begins, and of course, you'll have to do that every time you use the chair.
It's not that big a deal, but it is an extra step. And if you don't take it, the massage you get from the chair may not be as good as you'd like it to be.
Only A Few Basic Massage Options On Offer
This is a somewhat weak component of our iJoy total massage chair review, and here's why. Check out the massage techniques on offer:
Notice something missing?
There's no advanced massage technique here, and that's a significant limitation because almost every massage chair on the market today offers at least Shiatsu.
Unfortunately, while the FlexGlide 360 technology is pretty good, it's no substitute for an advanced massage technique. In our view, the company didn't do itself any favors by leaving Shiatsu out of the equation here.
Even so, the basic techniques are well implemented, and the FlexGlide 360 technology is good in its own right. So if you don't have your heart set on an advanced massage technique, this model will serve you well enough.
Note too that most massage chairs offer some type of body zone massage. Here, Human Touch defines these as their "pre-programmed massage routines."
In addition to this, you can manually move the rollers around at will if you want them to focus on some other part of your body—within the confines of the track, of course.
This implementation is simpler than and not quite as good as the partial massage modes you find on most other chairs. But it was also less expensive to include it in this manner, so again, the decision was driven by a desire to keep the cost of the chair as low as possible.
One final point to mention is the fact that there are no intensity levels on offer here. The rollers do what they do. You get the massage you get, and there's no way to modify its strength or intensity.
A Basic Airbag Massage
The Human Touch iJoy Total has a limited number of strategically placed airbags scattered throughout the chair. These are capable of rendering a surprisingly good air massage. Unlike the roller-based massage, you can adjust the intensity of the airbags via the remote, selecting from two different intensity levels.
You can also choose from the following body zones if you aren't interested in a full-body air massage (or as close to a full-body as you can get from this design). The zones you can choose from include:
A Mediocre Calf and Foot Massage
This is a decent but not exceptional component of our iJoy total massage chair review, but it falls short of greatness. The main reason is the fact that the best calf and foot massages are implemented via a combination of airbags and rollers.
This chair doesn't do that.
It utilizes airbags only, and while the results are good if you've experienced a mixed airbag and roller-based foot massage, this one will leave you wanting. Still, there's no denying that after a long day of standing on your feet, it's a nice, soothing thing to come home to—even if the calf and foot massage isn't the best in class.
No Heat Anywhere
Given the overarching design philosophy at work here, we can't say we were surprised when we discovered that the Total Massage didn't offer heat. Only about a third of the massage chairs on the market do, and for a company explicitly trying to keep costs low, cutting heat was something of a no-brainer.
Other Limitations
In addition to the absence of heat, you'll also note that the chair doesn't offer Zero-G seating options, which, again, is no great surprise because the engineering required to add a feature like that would add to the cost of the chair.
In a similar vein, you won't find a massage timer offered here. All of the massages you can get from this chair default to a fifteen-minute duration, and there's no way to adjust that. Then again, if you want a longer massage, getting one is as simple as pushing the desired button again, so it's not the end of the world.
No Finishing Touches, Either
Aside from the aforementioned FlexGlide 360 technology, you won't find any extras here, either—so no built-in USB port, no Bluetooth speakers or chromotherapy, no ionized air, or any of the other refinements you find on many of the massage chairs on the market today.
In addition to that, the production quality of the Total Massage is a bit inferior to many of the company's other products. While most of Human Touch's chairs come with a five-year warranty, this one is only covered for two years. As with the other limitations we've mentioned, it's not the end of the world, but it is something to be mindful of as you're evaluating your options.
Pros & Cons of iJoy Total Massage Chair
This chair doesn't do a lot, but what it does, it does fairly well. It gives those who purchase this model a good (but not great) basic massage that covers the neck and shoulders to the small of your back and then gives you a decent (but not great) calf and foot massage.
There are no fun extras on offer and no therapeutic features to talk about here. The iJoy is about as basic as it gets.
It is, however, offered by a ridiculously well-respected company and offered at a very attractive price. So if you're on a budget, this one can be a compelling option. It's got good bones; there's just not a lot of meat ON those bones.
iJoy Total Massage Chair Review Conclusion
The ideal user for this chair is someone who weighs less than 285 pounds, who is on a budget, and just wants a basic massage chair offered by a company known for its customer support.
Given its limitations and the absence of both extras that hobbyist users would love and therapeutic features that chronic pain sufferers would value, we can only give this model a provisional recommendation. But for users who just want a basic massage chair, this one is well worth considering.
Other Options To Consider
If you find the feature set of the Total Massage to be a bit too minimalistic and are looking for something in the same basic price range but offering an expanded feature set, here are a couple of other options to consider:
If you don't mind venturing into the territory of smaller, less well-known brands, this chair has a lot to offer. It's slightly more expensive, but you'll find a generous number of pre-programmed massage techniques, one advanced technique (Shiatsu), some "extras" to play with (including body scanning tech), and a couple of therapeutic options too.
It's a solid choice and a good value for money.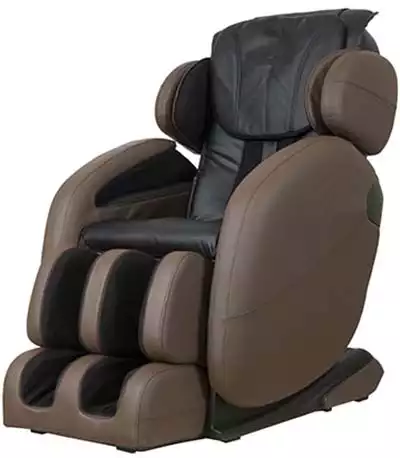 This model is more expensive than the Forever Rest, but it's offered by another one of the titans in the massage chair industry, and this model is hands down the best value on the massage chair market today.
It is brimming with features that hobbyists will love, and it's got tons of powerful therapeutic features, too—not to be missed.
---
References & Resources