In a Nutshell:
The Infinity Imperial massage chair is an incredibly robust design, filled with both convenience and therapeutic features. Recommended for anyone who can afford it, as long as you're not taller than 6'3".
* Brand Reliability is a measure of the strength and longevity of the brand, which by extension, is a measure of the level of support you can expect.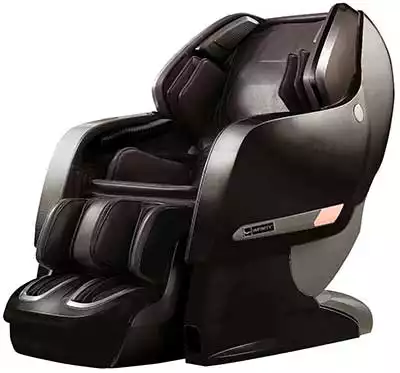 Click here to see the Infinity Imperial featured among the best in the world.
Are you the type of person who will accept no substitutes and only wants the very best?
Interested in owning a top-end massage chair that includes every feature under the sun?
If so, you're going to love our detailed Infinity Imperial massage chair review. As Infinity's flagship offering, this model is simply amazing.
Unfortunately, it has one shortcoming, so if you're taller than 6'3" this is not the chair for you. If not, though, you'll be hard-pressed to find a better top-end chair for the money.
We'll cover every feature this chair has to offer, and as you'll see, there are a dizzying number of them. In fact, we can't think of another chair that offers quite as many capabilities as this one. You're going to love it!
An Overview of the Infinity Imperial Massage Chair
Hybrid Track Design
Given that the Infinity Imperial massage chair is Infinity's flagship chair, it's no surprise that it is built around cutting edge massage chair technology.
The 49" hybrid L/S track is designed to allow the quad rollers to go from the head and neck, under the seat and provide a world-class massage all the way to your glutes and the backs of your thighs.
3D Body Scan
Hand in hand with the above, the built-in 3D Body Scanning Technology ensures that the rollers are positioned such that they hit all of your pressure points.
​If the technology doesn't quite get it right, the Imperial also features manual controls that allow you to adjust both the position of the rollers and the width of the massage field, which guarantees a perfect massage every time you use the chair.
4D Massage Roller Technology
Another cutting-edge addition the Infinity Imperial massage chair brings to the table is 4D Technology. There are some people who think this is mostly a marketing gimmick, but there's something to it.
It works this way:
A massage chair with a standard S- or Hybrid-Track allows its massage heads to move in three dimensions, Left/Right (X-axis), Up/Down (Y-axis), and In/Out (Z-axis).
What makes 4D Tech different is the fact that it incorporates extension arms on the massage rollers that allow them to move an additional 3" away from the track itself. This results in a deeper, more penetrating, and ultimately a more satisfying massage experience.
It's a great addition, and exactly what you'd expect to see in a high-end offering like this one.
Zero-Gravity Seating
Another feature designed to enhance the overall massage experience, Zero-G seating was inspired by NASA and works by reclining you to a position such that your knees are elevated slightly above your heart.
This not only gives you a feeling of weightlessness, but it also presses most of your body's weight down and against the rollers, allowing an even deeper massage. Even better, the Imperial offers two Zero-G seating options to give you, even more, choice and flexibility. This is a superb feature addition.
Designed With Space-Saving Technology
The big problem with most massage chairs is that they're, well…big. They tend to fill up whatever room they're in. And that's an issue for people who live in smaller homes or apartments.
The Infinity Imperial does a lot to get around this by incorporating space-saving technology into its design. It only requires about 4" of space between the back of the chair and whatever wall you set it near. That's because as the chair reclines, it pivots on its base to minimize the space required.
That's quite a feat of engineering, and a job very well done by Infinity's design team.
An Impressive Array of Options
​Infinity has a reputation for providing more massage options and combinations than their competitors, and the Imperial is no exception. Starting with the basics, you'll find the following techniques on offer:
Massage Techniques
As you can see, the Imperial has all the basics covered, and gives you one excellent advanced technique. In addition to that, though, there are a couple of interesting things to talk about here.
First is the music sync feature. While this isn't a proper "technique," it is interesting because it ties the movement of the massage rollers to the beat of whatever music you're listening to. Depending on your musical tastes, this can result in a gloriously relaxing massage, or something incredibly intense. It's well worth experimenting with to see how you like it!
​The other interesting thing to talk about here is the combination feature, which allows you to select any two options and use them together. This dramatically expands the total number of massage options available, and enables you to experiment to your heart's content!
It gets even better, though, because, in addition to the basic techniques available, the Imperial also has a number of pre-programmed massage options. These are:
Pre-Programmed Massages
​​​​All massage programs default to a twenty-minute duration and can be modified via five levels of intensity.
Airbag Massage Mode
Most Infinity models render an average, but not an exceptional airbag massage, but the Imperial is an exception. The company pulled out all the stops here, building a whopping 76 Second Generation airbags into the design.
About the only model on the market, today that features more airbags than this is the mighty Inada Dreamwave, which is frequently called the best massage chair in the world. You're going to love the airbag massage this chair can deliver.
​As with the roller-based massage, Air-Mode can be modified via five different levels of intensity. Even better, you can opt for either a full body massage, or you can selectively activate only the airbags you want, by the following body regions:
This further expands the total number of combinations available and allows you to create a massage experience that's perfectly tailored to your needs.
Full Body Heat
Only about half of the massage chairs on the market today offer heat of any kind. Of those, the overwhelming majority offer it only in the lumbar area. The Imperial goes far beyond this, offering three stationary heating elements, one in the lumbar area, and one in each of the foot wells.
In addition to that, the massage rollers themselves are heated, which means that you get heat pretty much everywhere.
It's glorious and provides tremendous therapeutic value because heat plus massage helps to loosen your aching muscles and further reduce your pain. This is one of the best heat implementations we've ever seen.
Body Stretch
Another powerful therapeutic feature is the chair's body stretch. If you're a chronic pain sufferer, this is likely to be your favorite aspect of the design, because it provides almost instant pain relief.
It works a lot like a chiropractic adjustment, with the airbags holding you firmly in place as the chair reclines to an ever-steeper angle, taking pressure off compressed discs in your spine.
A word of warning though: The stretch is a fairly aggressive one, and if your chronic pain is severe, it might be too intense for you. If it is, you've got two great options.
First, you can enjoy a heated massage to loosen your muscles in anticipating of stretching. If it's still too intense, your second option is the waist twist function, which we'll describe just below.
Waist Twist
At first glance, it might seem strange that a massage chair would offer both body stretching and a waist twist since they both have the same basic effect.
The reason, though, is that the twist function is milder and less aggressive, so if the stretch is too intense for you, then this will probably be your go-to option for pain relief. Kudos to Infinity for providing both – taken together this is simply an incredible feature implementation. One of the strongest in the industry.
Point and Zone Massage Modes
This is a small feature that often gets overlooked, but it packs a powerful punch. The ability to focus the massage rollers on an area just six inches in diameter means you can zero in on the sore spots on your back and give them all the attention they need.
Partial massage mode is the same thing, except that it's super-sized, encompassing roughly one-third of your back as measured from where the rollers are when you press the button.
In both cases, these functions allow you to interrupt whatever massage program you're running and spend as much time as you want focused on the specific sources of your pain, and that's a big win.
Foot & Calf Massage
Our Infinity Imperial review would not be complete if we didn't call particular attention to this feature. We have to admit, it is our hands-down favorite, and if you spend several hours a day on your feet, it will probably be yours too.
More than half of the Imperial's airbags are located in the airbag massage ports, but unlike most massage chairs, the calf and foot massage in this model is rendered via a combination of both airbags and rollers. Yes, you read that correctly, the Imperial even has rollers that work your calf muscles!
Even better, the foot rollers deliver a Shiatsu-style massage you can modify via three levels of intensity. If that weren't enough, the heating elements in the leg massage ports provide additional soothing relief. There's just nothing else like it on the market today. It's perfect.
"Extendable" Ottoman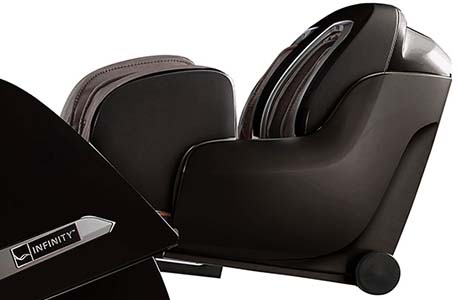 With so many impressive feature implementations this model offers, we have to admit that we were a bit upset on this front.
Infinity claims that the Imperial has an extension module on its ottoman. And it's true that the Ottoman does extend and retract.
The problem is that the maximum height the chair will accommodate is just 6'3", which is the standard. In other words, the extension module doesn't extend to a sufficient degree to do anything with regards to taller users.
That's a shame, because as great as this chair is, taller people would flock to buy it if it fit them. It simply doesn't.
Robust Music Support
A good many chairs in the market today offer MP3 support, and there are two primary ways this feature is implemented.
Either the chair will provide a USB port that allows you to plug in a flash drive to listen to your favorite music, or it will offer Bluetooth compatibility, allowing you to wirelessly connect your phone to the built-in speakers.
The Imperial offers both. You won't need both at the same time, of course. But, you could use the USB port to charge a mobile device, even as you wirelessly connect your phone. It's a nice, unexpected bit of polish to the design we haven't seen in any other model to this point.
Air Ionizer
This is a minor feature not found on many chairs. It doesn't provide any therapeutic value, but some people love it.
It provides a steady supply of fresh, filtered air that gently blows across your face as you relax into the chair and enjoy your massage.
Chromotherapy
Another minor feature that provides polish to the design.
LED lights located on the sides of the chair glow with a soft blue-hued light when a massage program is activated. If you're sitting in a darkened room and listening to your favorite music, the effect can be mesmerizing, and could easily put you to sleep.
Three Different Methods of Control
Remember when we said that the Imperial offered just about every feature under the sun? Well, here's another example of that.
Not only does the chair offer a well-designed remote in the form of a 7" touch screen control panel, but it also has a panel set into one of the chair arms to provide easy access to an abbreviated set of functions, plus an app for both iOS and Android devices you can download and use to control the chair with.
This is amazing and unheard of. Once again, we've not seen another model that offered so many different control options.
From a practical standpoint, while all are well-designed and easy to operate, you'll probably find that the app controls are the easiest to use, even though there's an extra step involved initially. That is, downloading and configuring the app.
As with just about every other feature this chair offers up, this one is amazing. Another job well done by Infinity's design team!
Pros & Cons of the Infinity Imperial
There's so much to like about this Infinity Imperial massage chair, that we struggled to find anything we could call a genuine negative. There are only two things we'd like to see in a future upgrade.
Other than those two points, we love everything about this chair!
Infinity Imperial Massage Chair Review Conclusion
There's no two ways around it. The Infinity Imperial is an impressive chair. Yes, it has a high-end price tag, but it costs less than most of the top-of-the-line models it is in competition with. The fact that it does that and offers more features than most of them is nothing short of amazing.
Bottom line: If you're no taller than 6'3," it's hard to find a reason not to buy the Imperial. It is a magnificent model.
---
REFERENCES & RESOURCES