In a Nutshell:
The Infinity IT 8500 Massage Chair is one of the best therapeutic chairs in the market today, particularly to chronic pain sufferers. For casual users, the 8500 X3 may be a better option.
Are you looking for a massage chair that combines convenience with lots of customization options and high-value therapeutic benefits that won't bust your budget?
If so, then you're going to love our Infinity IT 8500 massage chair review.
In the sections that follow, we'll outline everything this model can do to help you decide if it's a good "fit" for you.
We'll also tell you about the 8500's more robust sister, the Infinity 8500 X3, which incorporates even more features.
We think you'll agree, either of these would make an excellent addition to your home, although the base model in the Infinity 8500 series has some curious limitations that we'll cover in detail below.
In fact, before we start, let's do a quick comparison of the two models to highlight the chief differences between them:
INFINITY IT 8500
VS
INFINITY IT 8500 X3
Infinity IT 8500
Infinity IT 8500 X3
Music
USB/Jump Drive
Bluetooth
Airbag Count
38
38
Roller Intensity Settings
0
6
Optional App Control

✘

✓

4D Roller Technology

✘

✓

Zero-G Seating Positions
2
2
Stretch Function

✓

✓

Twist Function

✓

✓
We'll do the review iteratively, starting with the 8500, then going into detail about what the 8500 X3 adds to the equation. Let's get started!
Infinity IT 8500 Zero Gravity Massage Chair Overview
S-Track Design & Quad Rollers
If you've read some of our other reviews of Infinity products, you'll know that some of the lower-end models they've developed utilize tri-rollers in place of the quad. These are slightly inferior and put Infinity's less expensive chairs at a marginal disadvantage.
Happily, that problem has been corrected in the 8500 series, which combines the S-Track with quad rollers, both of which are the current industry standard. This is a great start and gives the model a strong basis to build on.
3D Body Scan
The Infinity IT 8500 zero gravity massage chair utilizes a two-pronged approach to adjust the position of the rollers and the width of the massage field.
First is the automated 3D Body Scan Technology, which locates your pressure points and adjusts accordingly.
If the technology misses the mark, the 8500 also adds in the remote the ability to fine tune the adjustments so that you get a world-class massage, every time you use the chair.
Zero-Gravity Seating
Zero-G seating is always a popular feature, and we were pleased to see it implemented here. The IT 8500 features two different seating positions, accessible via one touch.
The reason the feature is so popular is because of the impact it has on the overall quality of the massage experience.
By reclining you to a position such that the knees are elevated slightly above the heart, most of your body's weight is pressing down against the rollers, resulting in a deeper, more penetrating massage.
Amazing Number of Options
Our Infinity IT 8500 massage chair review wouldn't be complete if we wouldn't cover this section in some detail. This is an area Infinity normally excels at, but the base model fell a bit short (corrected in the X3).
The model gets off to a strong start, offering the following massage techniques:
While there's only one advanced technique on offer (which is average at this price range), the dual action feature is what makes the 8500 shine. Its presence allows you to select any two massage techniques, using them in combination, which radically increases the total number of combinations possible.
In addition to these, the 8500 also offers pre-programmed massages.
Auto Massage Programs
On the surface of it then, this is fantastic. However, here's where it gets interesting: although you can adjust the speed of the rollers via six settings from the remote, there's no way to set the intensity.
Further, because this model provides a true deep tissue massage, hobbyist users may find it too strong for their liking. The intensity can be mitigated to a degree by controlling the speed function. Then again, that only offers a minor reduction in intensity.
That seems like a gross oversight. Although everything about this feature is excellent, the lack of intensity adjustment forces us to give the 8500 only average marks for overall implementation here. This was corrected with the introduction of the more expensive X3 variant, but we were disappointed.
Spot ("Part") Massage Function
Infinity has done some interesting things where this feature is concerned. In fact, we were impressed with its implementation. There are two kinds of spot massage on offer.
First is the traditional spot massage you've probably read about in other reviews. Press the button when the rollers hit a sore spot and the rollers will stay within a six-inch diameter of that area until you press the button again.
The IT 8500 massage chair also offers a floating partial massage. Rather than selecting specific regions to work on, which is how this feature is usually implemented, you can enter a partial mode while a massage program is running.
When you press the button, the rollers focus on an area that spans roughly one-third of your back from that point. Frankly, it's a brilliant innovation, and one we hope to see other manufacturers adopt.
Air Massage Mode
Other Infinity 8500 massage chair reviews hype this feature of the chair. But honestly, we find it to be only slightly above average in terms of implementation. The model features 38 Second Generation airbags, which is on par with what you find in the chairs it competes with. So, there's nothing really remarkable on that front.
It does offer customization via the remote through five intensity levels. Since the industry standard is three, that's a plus! But, it's not the kind that would make or break your purchase decision on its own.
The other nice thing about Infinity's air massage implementation is the fact that you can either enjoy a full body massage or selectively activate the airbags by body region, as follows:
Again, we regard this as a nice perk but not a make or break feature. We're not sure why other reviews treat it with such high regard. There are other features this model offers that are much more worthy of high praise!
Lumbar Heat
While there's nothing remarkable about the way this feature was implemented, it's always nice to find. The offered heat is binary, so it's either on or off, with no option to control temperature. Even so, heat plus massage provides tremendous therapeutic benefits, making this a high point of the design.
If you suffer from chronic lower back pain, this will probably be one of your most used features. Although it most likely won't be your favorite. Keep reading to find out why!
Body Stretch
If we had to list just one feature as the true stand out for the Infinity IT 8500 massage chair, this would probably be it.
In previous models, the company has halfheartedly implemented body stretching. Nonetheless, they took things to the next level with this model, which offers one of the best body stretches on the market today (arguably second only to Kahuna massage chairs).
Body stretching offers tremendous therapeutic value and immediate pain relief because it takes pressure off compressed discs in your spine, which are the leading cause of chronic back pain.
The stretch is quite firm, and as such, is not for the faint of heart. If you suffer from chronic pain, you'll love this feature.
It gets better, though. Because if you're looking for a milder version of the stretch, the 8500 offers a great alternative, which we'll cover just below.
Twist
The Infinity massage chair 8500 is the only model we've seen that offers both a stretch and a twist function.
We were skeptical when we first saw it, but now we are believers. This is a fantastic feature combination. While the stretch is designed for people with severe back pain, the twist is a milder form of it.
It basically performs the same function, gently twisting your spine to give you what amounts to a chiropractic adjustment from the comfort of home, but in a slightly milder form. Even better, you can adjust the "swivel speed" of the twisting action through three levels, so you have some degree of control over the intensity.
At the highest speed, it's still not quite as intense as the body stretch, but that's perfect. It gives you four different variations on the theme, depending on your specific needs.
Taken together, the stretch and twist functions are hands down our favorite aspects of the chair. By themselves, they would be a good reason to pick this model over any other in its price range.
Inversion Therapy
Another excellent feature addition, and something you only see on the best massage chairs on the market today.
Inversion therapy offers enormous therapeutic benefits and is a low impact way of getting many of the same benefits as the stretch or twist function. It also helps improve your circulation, including the circulation of your body's lymphatic fluids.
We haven't seen any other chair in the 8500's price range that offers inversion therapy, which makes it a huge win for the model, especially when combined with everything else the 8500 can do.
Calf & Foot Massage
This is an average feature implementation, and we're perfectly fine with that, given how many standouts the 8500 has offered so far. The calf massage is rendered via the chair's airbags, while the foot massage is rendered via a combination of airbags and foot rollers.
Of course, as mentioned above, you can control the air intensity through five levels on the remote. Moreover, the foot rollers can be modified through three intensity levels, allowing for more customization than you might expect.
(Somewhat) Adjustable Timer
Although the timer is adjustable, you don't get the same fine-grained control from other models that allow users to time adjust in five-minute increments. Here, you can pick a massage duration of 10, 20, 30, or 45 minutes.
That's fine, but it is a mild disappointment, given how many other customization options are available.
Note: All massage times default to a twenty-minute duration in this chair.
MP3 Support
It's unlikely that a customer has ever opted not to buy a particular model just because it didn't have MP3 support. Then again, it's one of those features that everybody just loves. So, we're always disappointed when we don't see it. Fortunately, Infinity did not disappoint!
There's nothing remarkable about the implementation in this case. The chair has a USB port which allows you to download your favorite music onto a jump drive, plug it in and enjoy your music through the speakers located in the chair's headrest. A good addition.
Extendable Ottoman
Taller users have a relatively small number of chairs to choose from, but the 8500 is among them. The extension module on the ottoman makes it possible for this chair to accommodate users up to a maximum height of 6'4," which is fantastic! If you're a taller user, put this one on your short list!
(Fairly) Simple to Use Remote
Okay, so as you have seen, the IT 8500 offers a dizzying array of capabilities. There's no denying that the chair does have a bit of a learning curve. There's just no way to include this many features without adding to the complexity.
Having said that, Infinity has done an admirable job of keeping it relatively straightforward. We can't promise that you'll master the chair overnight but it won't take as long as you might imagine. There are enough pre-programmed options that you can choose from and begin enjoying your first massage almost immediately.
Changes That the Infinity 8500 X3 Introduces
The Infinity 8500 X3 upgrade to the base model makes a few minor tweaks at the edges and incorporates a trio of major changes. We'll cover them all in the sections below.
More Pre-Programmed Options
The first change to make a note of is a minor reshuffling of the pre-programmed massage options, and the inclusion of one additional massage over what you get in the base model. The new designations are:
In addition to this minor change, we see the first significant addition in the options section, with the ability to adjust the intensity of the massage through six levels from the remote.
This is outstanding because the 8500 series was designed for deep tissue massage. By giving the user the ability to dial back the intensity, it is more accessible to hobbyist and casual users. Truly a magnificent feature addition!
An (Oddly) Less Adjustable Timer
We're not sure why Infinity did this, but the timer adjustment function is less robust on the X3 than it is on the base model. All massage functions still default to a twenty-minute duration. However, you can only change the time in the X3 to either 10 or 30 minutes.
Bluetooth Compatible
Another small change to make a note of is the fact that MP3 support is no longer USB/Jump Drive driven as it was in the base model. Instead, it offers Bluetooth compatibility. This enables you to wirelessly connect your smartphone to the chair's speakers and pull your favorite music straight from your phone.
It's one less step and more convenient, so we regard it as a win for the user.
3D (4D) Technology
This is the second big feature addition to draw your attention to. The X3 adds what Infinity calls 3D Technology, but what most other manufacturers refer to as 4D Technology.
Whichever term you use to describe it, basically it amounts to extension arms that allow the massage rollers to travel up to 3" farther away from the S-Track than they otherwise would, which results in a deeper, more penetrating massage.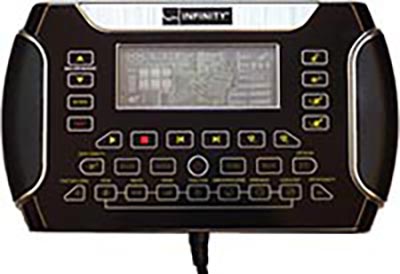 That's significant in a massage chair that already renders a deep tissue massage, adding more intensity, which you don't get in many chairs.
From a practical standpoint, this is only going to matter to people who suffer from severe chronic back pain and those who are looking for the strongest and deepest massage possible. So, for those people, this feature will be crucial.
Optional App Control (Android and Apple)
The last major feature addition to draw your attention to is the app.
At present, there are only a handful of chairs on the market that offer an app as an alternate means of control. But over time, we expect that this will become a new industry standard.
The app is well-designed and provides a clearer, more precise and easier controls than what you get from the remote. It's available for both Android and iOS devices.
It's true that there are additional steps involved when downloading it initially and setting it up. But once you've done that, you're likely to find that the app is easier to use than the remote. In fact, it could become your primary means of controlling the chair.
A bold move by Infinity, and it makes them one of the early adopters of this feature.
Pros & Cons of Infinity IT 8500 Massage Chair Review
As you can see in our Infinity it 8500 review to this point, both the main model and the X3 have a lot to offer. Having said that, there's always room for improvement, and there are a few things we'd love to see added.
Regarding the base model – we'd love to see it become the X3, as the more expensive chair corrects for essentially all of the 8500's shortcomings. Then, where the X3 is concerned, we'd love to see the following:
Really though, those are the only things we regard as shortcomings, and none of them are deal breakers.
The Infinity IT 8500 Massage Chair Review Conclusion
Both chairs are quite good, but we'd be reluctant to recommend the base model for anyone but people suffering from deep, chronic back pain. It's just too strong for casual users. Plus, the inability to adjust the intensity setting makes it virtually unusable by many people.
On the other hand, the 8500 X3 can be used and enjoyed by anyone and is an amazing chair at every level. It offers features that are hard to find even in top-end chairs, making it a tremendous value for the money. Honestly, it's one of the best therapeutic chairs we've ever seen, at any price.
---
REFERENCES & RESOURCES