In a Nutshell:
The line of Isokinetics Ball Chairs offers something for everyone. Whether you want a metal frame, a plastic one, or an office chair, it's all here. With options for especially tall people and plenty of adjustable features, this is your all-in-one ball chair solution.
* Brand Reliability is a measure of the strength and longevity of the brand, which by extension, is a measure of the level of support you can expect.
** While aesthetics is a matter of taste, Aesthetic Flexibility is a measure of how easily a given design would fit into a wide range of home or office décor schemes.
Check out our Best Balance Ball Chairs review for more options.
Exercise balls shouldn't work as chairs, but thanks to some clever designs, they play the part very well. The Isokinetics ball chair, for example, comes in a variety of designs that suit different uses and settings.
Join us as we take an in-depth look at the various models of the Isokinetics balance ball chair and all the wonderful features you can expect from such a high-quality option.
Isokinetics Balance Ball Chair Overview
Isokinetics is a brand known for high-quality fitness equipment. They have long been a pioneer in the realm of ball chairs. With several models and colors to choose from, they seek to meet your every need with one of their chairs.
The general design is the same among their ball chairs. Each has a frame that houses a plastic exercise ball where a seat cushion would normally be. They all include wheels on the base for easy movement and a wide range of adjustment options.
Ball chairs have become so popular as offices look for more ergonomic furniture options. You don't need to look far to find medical reports that talk about how sitting still for extended periods of time can be detrimental to your long-term health.
This has spawned a new wave of interest in chair designs that keep our muscles and spine active. The idea behind this is that you'll increase your strength and improve your posture while eliminating pain from sitting still.
While the results from studies vary, one thing everyone can agree upon is the need for better routines. Regardless of which chair you're using, always stop for stretch breaks and short walks to keep the blood flowing.
Let's find out what features the Isokinetics ball chair includes!
Top Features of the Isokinetics Adjustable Fitness Ball Chair
While there are four models of the Isokinetics Inc. fitness ball chair, these are the features that are present in every version of their iconic chairs:
Promotes Active Sitting
The design of Isokinetics fitness ball chairs promotes a better sitting position than standard chairs. The malleable nature of a ball filled with air forces your body to engage core muscles to stay balanced.
This, in turn, brings your spine into better alignment and improves your posture over a period of time. Think of it as a "micro-workout." You won't notice it because balance comes naturally to you, but your body will be more active than it is when you're sitting normally.
High-Quality Design
Isokinetics yoga ball chairs are made from high-quality materials and provide an aesthetically pleasing look. The sphere is made from puncture-resistant PVC, and you can choose from a metal or plastic base.
The base consists of five rolling wheels for ultimate portability.
Adjustable Backrest
The backrest is adjustable for different heights. It can also be set into four different positions for the optimal sitting angle. The wheels can also be adjusted to different heights.
Isokinetics Fitness Ball Chair Specifications
Isokinetics Inc. Brand Fitness Ball Chair Variants
Ball chairs from Isokinetics come in several different models. Check out the table below for a quick comparison between these different models:
| Isokinetics Exercise Ball Chair Models | Adjustable Fitness Ball Chair | Balance Ball Exercise Chair | Adjustable Exercise Ball Office Chair | Tall Boy Office Chair |
| --- | --- | --- | --- | --- |
| Frame Material | Metal | Plastic | Plastic | Plastic |
| Back Support Type | Cylinder | Flat | Padded | Padded |
| Designed for Tall People? | No | No | No | Yes (additional 2-inches of height) |
| Available Colors | Silver Flake or Solid Black Frame / Black, Blue, Gray, Green, Orange, Pink, Purple, or Red Ball | Black, Green, Blue, Purple, Red, Gray | Black, Blue, Red and Purple | Black |
Isokinetics Inc. brand fitness ball chairs offer a unique design for every need. The fitness ball chair, for example, is very minimalistic and works well for workouts and casual sitting. It doesn't have quite the same look or feel as an office chair.
For that purpose, the balance ball exercise chair or the office chair model could both work well with a standard desk. Finally, the Tall Boy model adds an extra 2 inches to the chair's height. For many tall people, comfortable ball chairs are difficult to find, so this option is much appreciated.
Pros and Cons of Isokinetics Ball Chair
The line of ball chairs from Isokinetics incorporates a lot of great options for people who want to sit in an active position. Here are the pros and cons of these fitness ball chairs:
Fitness ball chairs have been known to offer some exciting health benefits. The ability to sit with your muscles engaged and your spine aligned is a major goal of ergonomic design. We've known for some time that fitness balls are great for exercise.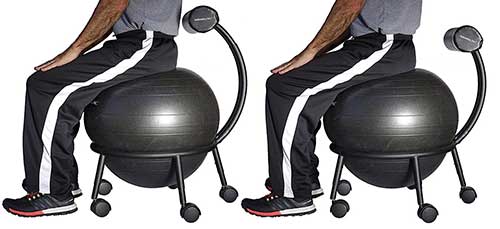 With design options that suit every need, there's a lot to love about Isokinetics ball chairs. A few small downsides don't do much to sway that fact.
Isokinetics Adjustable Exercise Ball Chair Conclusion
Standard chair designs are not a healthy way to sit for long periods of time. This fact has propelled the industry towards a brighter future where ergonomics and health are a major focus. The Isokinetics ball chair is a perfect example of how we can innovate chair design.
If you haven't tried a fitness ball chair, perhaps now is a perfect time.
---
Official Manufacturer Support
REFERENCES & RESOURCES