In a Nutshell:
A surprisingly capable ergonomic standing stool sporting a few surprises. Jummico Standing Desk Stool is recommended for anyone weighing 250 pounds or less, who's on a budget and in the market for an inexpensive, versatile standing stool.
* Brand Reliability is a measure of the strength and longevity of the brand, which by extension, is a measure of the level of support you can expect.
** While aesthetics is a matter of taste, Aesthetic Flexibility is a measure of how easily a given design would fit into a wide range of home or office décor schemes.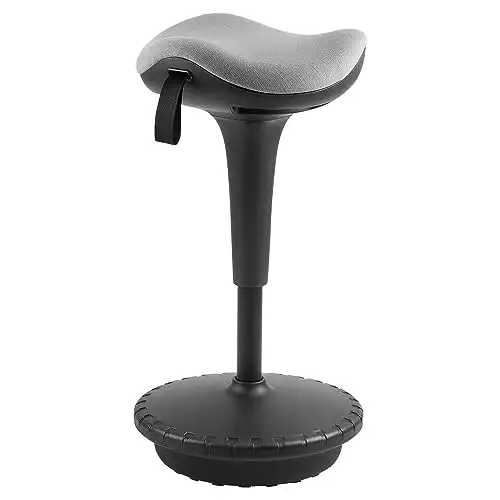 Is your current office chair just not working for you? Do you get up from it at the end of each day with an aching back and pins and needles in your legs?
Have those facts prompted you to start looking at alternative office seating options to see if there's something better you could be sitting on or in?
If you answered yes to any of those questions, you're going to be intrigued by this review. The Jummico Standing Desk Stool is a delightfully low-cost seating option that will allow you to explore the world of unconventional office seating without spending a ton of money. That's its main attraction. Then, if you decide it's to your liking when this little stool starts showing its age, it's a simple matter to upgrade to something more robust down the road.
If that sounds like what you're looking for, then keep reading. In the sections that follow, we'll tell you everything this handy standing stool has to offer and let you know about its limitations. It just might prove to be a perfect fit for you!
An Overview of the Jummico Standing Stool
Unobtrusive. That's the first word that's likely to pop into your head when you see this little standing stool for the first time. The Jummico Standing Desk Stool is not extraordinarily attractive, but it's certainly not ugly, either. It's functional. It looks like it has a job to do, and it's anxious to get to it.
If you decide you want one, you'll be able to order yours with either blue or grey upholstery, both of which tend to blend seamlessly into most home or office environments and give the stool a little flash and flair that it wouldn't have if it were offered in basic black.
Chair Specifications
Before we go any further, though, let's take a quick look at the core stats that define the model. Here they are:
There are a couple of noteworthy things to talk about here. First and foremost, this stool is probably too large from a height adjustment perspective to work well with a conventional desk. It was specifically designed for use with standing desks or drafting tables.
Second, the weight limit is fairly modest, which is going to make it a non-starter for bigger and taller folk. It should be noted, however, that the 250-pound weight limit is the norm for alternative office seating products. So in that respect, the Jummico Standing Stool is perfectly in line with the vast majority of its peers.
Finally, the stool's relatively modest weight makes it easy for you to pick it up and take it with you if your job sees you moving about the office throughout a typical workday, and you want to bring your perch with you.
The other noteworthy thing to mention in this section, and something not captured by the basic stats above, is the fact that the seat design is surprisingly innovative. We don't normally see much in the way of innovation from an off-brand like this, so the seat is a pleasant surprise indeed.
Clearly, it's inspired by the kinds of seats you find on saddle stools, but the company went the extra mile here and sculpted it for an added ergonomic benefit. It's a small detail, but something you don't often find on seats of this kind, and we have to give Jummico props for its inclusion.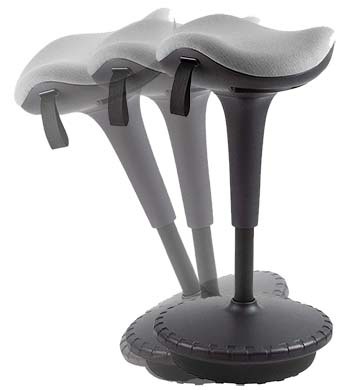 This type of seating wasn't meant for someone who spends 8+ hours a day in front of their computer. It's really more the equivalent of a task chair in the world of conventional office seating, designed to be used for relatively short periods at various points throughout the day, with the expectation that the person using it will be up and moving about at regular intervals. If that describes your typical workday, then this is a great, value-priced option to consider.
Features of the Jummico Standing Stool
Adjustability and Comfort
The stool only has one adjustable feature, and we touched on it above. You can adjust the seat height. That's it. You're not going to buy this stool because it offers a gazillion different ways of adjusting it. Nor are you going to buy it because it's luxuriously padded. It isn't. There's enough conventional block foam to make it comfortable for sitting for short periods, but again, it's definitely not something a power user will be happy with.
What it is really good at, though, is keeping your spine properly aligned, reducing lower back pain, reducing hip pain courtesy of the saddle-style seat, and improving the circulation of your lower extremities and reducing leg pain. If you suffer from any of those, or several of them in combination, this stool will almost feel like a miracle cure.
It's also good at giving you a low-intensity core workout because you'll have to move and adjust to maintain your balance constantly. That's not nearly as bad as it sounds because all of that happens more or less subconsciously while you're sitting on the stool.
That's fantastic because if you want to improve your fitness level, tone your muscles and burn more calories over a typical day, this stool will help you do that. It can be an important part of your daily office workout routine.
Unfortunately, if you have poor sitting habits before you buy one of these, you'll find the first week or so to be an uncomfortable adjustment because the stool doesn't brook any slouching. If you're going to sit on it, you're going to sit properly whether you want to or not. Some people find that first week adjusting to the new reality to be a bit uncomfortable, but once you get used to it, most people come to love it.
The final thing to mention in this section is the base. It's beveled in the same way that the similarly-priced Amazon Basics Task Stool is. If you like that design, but are looking for something with a more ergonomic seat, then this little stool definitely belongs on your shortlist of products to consider, though note that as with that stool, until you've become fully accustomed to it, when you get up from your stool, you are a bit more likely to knock it over: a small detail, but something to be mindful of.
Assembly is a Lesson in Simplicity
Like the vast majority of office furniture sold today, the Jummico Standing Stool will arrive at your doorstep in a sizeable box and unassembled. Fortunately, stool assembly only takes a matter of minutes. There aren't many parts to contend with and what few there are go together exactly as you'd expect them to.
Even better, although this is a Chinese import and made with lower quality materials, the production quality itself is pleasantly high, so you shouldn't encounter any difficulties in terms of getting the pieces to fit together like they're supposed to.
Unsurprisingly, this stool doesn't come with an expert assembly option, and even if it did, we wouldn't recommend it – why pay more than the stool is worth for an 'expert' to spend five minutes putting it together for you? It just wouldn't be a cost-effective service in any case. Kudos to Jummico for offering such an unexpectedly good quality product!
Pros and Cons of Jummico Standing Desk Stool
There's not much to say in this section of our Jummico Standing Desk Stool review. The biggest pros are that the stool is delightfully low-priced and of better quality than you'd expect. It also comes with a surprisingly comfortable seat that manages to combine elements of several different types of alternative seating in one inexpensive package. It's one-part standing stool, one-part saddle stool, and one-part AmazonBasics Activity Stool. That's impressive.
The only real negative is that it's not built to last. It will provide you with a year or two of reliable service before you'll have to start thinking about replacing it. Then again, it's so inexpensive that's neither unexpected nor much of a burden.
Final Thoughts on Jummico Standing Desk Stool Review
For the money, the Jummico Standing Desk Stool is a surprisingly great little stool. Granted, it's not for everyone, but if you're looking for an inexpensive way to test the waters of unconventional office seating and give several alternatives a try at the same time, this is a nice option to consider. On that basis, we provisionally recommend it.
---
Official Manufacturer Support
References & Resources