In a Nutshell:
One of the most feature-rich massage chairs you'll find at this price point, the Kahuna Massage Chair LM6800 is a superb value for the money! Hobbyist/casual users, chronic pain sufferers, and taller users, almost anybody, will love this chair!
* Brand Reliability is a measure of the strength and longevity of the brand, which by extension, is a measure of the level of support you can expect.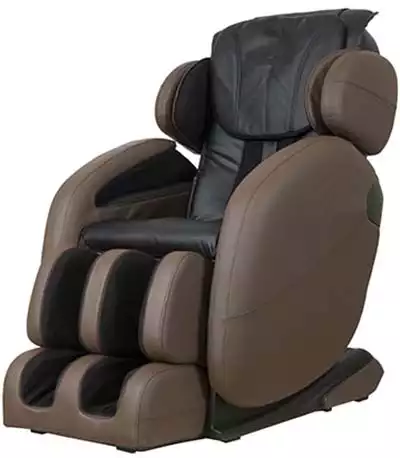 Have you been searching for a feature-rich massage chair with a budget price tag?
Are you looking for an inexpensive, cost-effective way to get immediate relief from chronic pain?
Do you like the idea of owning a massage chair, but want to find one that won't take up an inordinate amount of space?
If you answered yes to any of these questions, then the Kahuna LM6800 massage chair might just be what you've been looking for.
In the sections below, we'll detail every feature this chair has (and there are a lot of them!) to help you decide whether this massage chair is the right one for you or not. Let's get started!
Kahuna Massage Chair LM6800 Feature Overview
Hybrid L/S Track Design
Starting with the basics, the Kahuna LM-6800 massage chair is designed around a hybrid L/S track. This is significant, because while an S-Track allows the quad rollers to follow the natural curvature of the spine, which results in a superior back massage, the L-Track offers a much more comprehensive massage that extends to the thighs and glutes.
It is rare to find a chair at this price point built around a hybrid track, which makes the Kahuna L6800 all the more attractive to budget-conscious shoppers.
Space-Saving Design
Let's face it. For many people, space is an issue. As a matter of fact, one of the biggest reasons why some people opt not to get a massage chair is simply that they don't have the room for it at home. Needless to say, some massage chairs can be real space hogs.
The Kahuna LM6800 is a sizeable massage chair. But unlike many, it's built with space-saving technology. When you recline back in it for a massage, the chair pivots on its base. As a result, you only need about three to four inches of clearance between the backrest and the wall.
That's huge and incredibly convenient!
Zero Gravity Seating
It's not unheard of to find a chair at this price point with Zero-G seating, but it is somewhat rare. What makes the Kahuna Massage Chair LM6800 unique is that it's the only chair we could find in this segment of the market that offers multiple Zero-Gravity seating positions.
Note that there is some confusion on this point. When the Kahuna LM6800 was initially released, it offered only two Zero-G positions. It received an upgrade in July 2016, and was also given a third. This is something to be aware of, because if you buy a refurbished chair, it may have been manufactured before the update.
The reason Zero-G is so wildly popular as a feature is the fact that it works beautifully with the chair's massage track and rollers to increase the quality of the overall massage experience.
By placing you in a position where your knees are slightly above your heart, most of your body's weight is pressing down against the rollers, which results in a deeper, more therapeutic massage. That's perfect, especially if you suffer from chronic back pain, and a great addition to the chair.
​3D Body Scanning
This is a relatively common feature offered on a broad range of chairs at various price points, so it's no surprise to see it included here.
3D Body Scanning is an automated method of re-positioning the rollers to make sure they hit all your pressure points accurately. Before a massage begins, the chair scans you and makes adjustments based on your body shape and type.
What is unusual, however, is that the Kahuna LM6800 goes a step further. In addition to the auto-scan, the remote also gives users the ability to fine-tune the position of the rollers manually. So, if the computer misses a pressure point, you can override it to ensure that the rollers always hit the areas you need them to.
The width of the massage field can also be manually adjusted from the included remote.
​Air Massage Mode
The Kahuna Massage Chair LM6800 includes a whole-body air massage, utilizing 36 First Generation airbags.
The decision to use First Generation Airbags was likely a cost-saving move, to keep the price of the chair low. Make no mistake, the air massage this chair can deliver is quite good. You definitely won't be disappointed.
It should also be noted that users can customize the air massage through three different intensity levels on the remote.
Plenty of Massage Options
What you sometimes find in chairs at this price range is that the manufacturer tends to cut corners where massage options are concerned. That's not the case in this stance. In fact, you'll be amazed at the number of choices you can get from the Kahuna LM6800 massage chair, which include the following:
Massage Techniques​
In addition to the basic techniques, the chair offers a number of pre-programmed massages that focus on specific areas of the body. These are:
All of these programs can be customized via the remote, through three different speed and intensity levels, and of course, you retain those options when designing your own massage in manual mode.
​Zone Massage Option
If during your massage, the rollers hit a particularly tender spot, you can press the "Fixed Spot" button on the remote. This will cause the rollers to remain where they are, and massage an area six inches in diameter from that point, allowing you to work those most troublesome kinks out. A small, but significant feature addition that adds to the therapeutic value of the chair.
​Back and Calf Heat
Not all massage chairs offer heat. Most of the ones that do only offer it in the lumbar region, but this is another thing where Kahuna excels at.
Not only does its lumbar heat covers much of the back (from the lower back, almost to the bottom of the shoulder blades), but the chair also comes with heating elements in the leg massage ports, which is extremely uncommon.
There are two small disappointments with the Kahuna massage chair LM6800's implementation of their heat function, however.
First, you can't independently control the heating elements. You can turn the function on, and get heat at your back and on your calves, or you can go without it.
Second, there's no way to adjust the temperature. All you get is the default setting. Neither of these are deal breakers, but given the sheer number of features and customization options available, it's a bit of a surprise and disappointment that the heat function is binary.
Nevertheless, the combination of heat plus massage provides superior therapeutic benefits, and even with the limitations just mentioned, it is another superb feature addition.
​​​​​Body Stretch Function
If we had to identify a single feature of the Kahuna LM6800 massage chair that makes it stand out from similarly priced chairs, it would be the body stretch function.
Called "Yoga Stretch" on the remote, this feature will provide almost immediate relief for people who suffer from chronic back pain.
The stretch is a fairly aggressive one and will help take pressure off of compressed discs in your spinal column, which is the #1 cause of back pain. It may take a bit of getting used to, but you will certainly love the results!
​Calf and Foot Massage
The Kahuna massage chair LM6800's calf and foot massage is comprehensive and combines both airbags and rollers, including rollers at the soles of the feet.
The company describes the foot rollers as "dual rollers" but the cutaway they display on their website clearly shows two "dual rollers" per foot, which is a quad roller by most people's definition. This could simply be a language barrier issue.
In any case, the calf and foot massage is exquisite, although a small percentage of users have complained that the foot rollers are too intense. This can be adjusted via the remote, and if it's still too intense for you, even at the gentlest setting, one enterprising user solved the issue by wearing an extra pair of socks!
As mentioned above in the heat section, accommodating users from 5' to 6'4" tall. If you suffer from chronic leg pain, this will most likely be your favorite feature.
​Extendable Ottoman
The ottoman includes an extension module and can be adjusted by about five inches, making it a great massage chair for tall people, accommodating users from 5' to 6'4" tall, which opens the chair up to an even bigger segment of the market.
Taller people sometimes feel short-changed on the massage chair market, because relatively few chairs are designed with them in mind. The Kahuna LM6800 is (happily!) an exception to that rule.
​Surprisingly Simple Remote
Obviously, in a chair with this many features, there's going to be a bit of a learning curve, but Kahuna did a great job with the design of the remote. Despite the large number of features and customization options available, everything is clearly and logically laid out, and you won't have trouble finding the controls you're looking for.
You can be enjoying your first massage in a matter of minutes, and in just a couple hours of playing with the various settings, you'll have the chair mastered. That's quite a feat, considering how many options are available!
Pros & Cons of the Kahuna LM-6800 Massage Chair
Having read our Kahuna LM6800 review, you see how much time, care, and attention to detail went into designing this chair. The fact that it has so many features and is offered at such a comparatively low price is nothing short of remarkable.
Having said that, there are always at least a few things we wish they'd done differently or better, and we'll outline this model's biggest shortcomings just below:
Our single biggest complaint is that there's no way to alter the massage timer of the Kahuna LM6800 massage chair. You get a great massage and all these fantastic customization options, but the time is what it is. The massage lasts thirty minutes unless you simply shut the machine down.
That's hardly a deal breaker, but it is surprising, given the number of things the LM6800 does allow you to customize.
The lack of MP3 support is another minor disappointment. It's a standard feature, and so popular that it's a bit of a mystery why it was left off.
Other than those two admittedly small complaints, this is probably the perfect mass-market massage chair.
Kahuna LM6800 Review Conclusion
Filled with features, well-priced, and easy to use, what's not to like about that? If you suffer from chronic pain and are looking for a way to get relief on a budget, or if you're a hobbyist user who wants access to a range of therapeutic benefits, the Kahuna massage chair LM8600 is hard to pass up. It is a tremendous value for the money.
---
REFERENCES & RESOURCES