In a Nutshell:
Another awesome model by a company known for creating awesome models. The Kahuna SM9000 Massage Chair is a robust chair with enormous therapeutic value. Recommended for casual users will love it for its extras, and people with chronic back or leg pain will find it of incredible value.
Unfortunately, this model has been discontinued. Check out other Kahuna massage chair reviews or see upgrade. 
Do you suffer from chronic back or leg pain? Have you been looking for a robust, full-featured massage chair that can give you many of the benefits and advantages of a visit to you chiropractor, right from the comfort of your home?
Or perhaps you're a hobbyist who's looking for a comfortable massage chair loaded with options and extras, offered by a company with a reputation for quality.
In either case, you're going to love our in-depth Kahuna SM9000 review.
While this chair isn't perfect, there's a lot to like about it, and we fell in love almost immediately. Kahuna is one of our favorite companies anyway, and it's always exciting when they introduce a new model.
In the sections that follow, we'll go over everything their latest offering can do, and in the spirit of fairness, tell you about the areas where we feel that the SM9000 falls short. By the end, we hope that you'll have all the information you need to decide if this is the right massage chair for you.
Ready to get started? Let's get to it and see what it can do!
An Overview of the Kahuna SM9000 Massage Chair
Footprint and Aesthetic
The first thing you'll notice about the Kahuna SM9000 sm is that it's a big, imposing piece of furniture, measuring 53" x 29" x 48" and weighing in at more than two hundred pounds. It's specifically designed for big and tall people, and you should fit comfortably into it, even if you weigh over 300 pounds, or are very tall (up to 6'5" in height).
While some massage chairs are designed such that the leg ports fold out of sight when not in use, this isn't one of those, so there's no denying that this is indeed a massage chair. It's not unattractive, but depending on your home's décor, it might stick out like a sore thumb.
Big as it is though, it is built with space-saving technology, which means you'll be able to fully recline in it, even if it's only 3-4" from whatever wall you set it near. Even so, given its size, if you're cramped for space, you may struggle to find a good home for this one.
The SM9000 also offers chromotherapy, with soft blue LED lights on the sides. While this isn't a hugely impactful feature, many people say that the soft lighting helps them relax, and ultimately get more out of the massage experience, and it serves to give the chair something of a futuristic look.
Hybrid L/S-Track & SIX Rollers!
This section is one of the highlights of our Kahuna SM 9000 review. While quad rollers are still the industry standard, we're starting to see a few more chairs offering six rollers (two sets of three, arrayed in a triangle, with one at the top and two at the bottom of each set).
Quad rollers are so popular because they feel so much like human hands, and a six-roller array is even better on that front. This is huge, and precisely what you'd expect to see from a high-quality massage chair in this price range and offered by a company known for its commitment to quality.
The presence of the six-roller array by itself would be incredible, but of course, this is Kahuna we're talking about here, and they go farther than just that.
The rollers are heated, which provides soothing heat along the entire area of your back. Combine that with the fact that the chair is built around an L-Track that goes under the seat so the rollers can massage the backs of your thighs and the result is a massage experience that's just out of this world.
Zero-Gravity Seating
Enhancing the overall massage quality even further, the Kahuna SM9000 also offers Zero-G seating.
It's a wonderful finishing touch that leaves you feeling weightless as you enjoy your massage, and takes advantage of the simple force of gravity to press you more firmly into the seat back, which allows the rollers to massage you even more deeply.
That's an undeniably good thing. Our only quibble is the fact that given the reputation of the company and the price of the chair, we would have expected to see multiple Zero-G seating positions on offer, and sadly, the SM9000 only offers one.
That's not a deal breaker, but it did leave us wanting a little more.
An Above Average Number of Options
Okay, we admit it. We were a little underwhelmed here, even though it's true that the SM9000 offers an above average number of options.
Regarding massage techniques, you get:
So, the basics, plus one advanced technique. That's not bad, but in this case, Kahuna's reputation for excellence works against it to a degree, and for a chair of this price, we were expecting more, perhaps a second, advanced technique.
The company makes up for it though, by offering some truly exceptional auto programs. These include:
We like all of these, and Kahuna has done a great job at making them all feel different and unique, but we do have one quibble.
There's no way you can extend the massage time. Again, given the price of this model, we'd have expected that, and it is a bit of an annoyance to have to let the chair finish a program and stop, then restart it if you want more.
It's not a deal breaker, but we consider this to be a genuine failing on Kahuna's part. The company does make up for it in other ways though, by allowing you to adjust the roller speed and intensity, and active zone massage, which allows you to focus the rollers right where it hurts the most.
A Solid Air Massage
Although the company offers no information on the exact number of airbags it uses in the design, we've analyzed their drawings and put the number somewhere between 32-36. These are second generation airbags, so don't let the relatively modest number of them fool you. They deliver an exceptional air massage experience.

As with the massage rollers, the remote allows you to active air massage in specific body areas if you don't want the full-body experience, and adjust the intensity of the air massage. Both good things!
Amazing Heat!
This is another critical part of our Kahuna SM9000 review, and while we've had some quibbles about the way the company implemented some of the features we've talked about so far, we don't have any complaints about this.
As we mentioned at the start, the rollers themselves are heated, which means that you get the benefits of heat plus massage over the entire surface of your back. Most chairs that offer heat do so only in the lumbar region. This approach changes the game.
It gets better though. The seat pad is also heated in the lumbar area, providing more intense, therapeutic heat in that region, and the footwells are also heated, providing relief to your aching feet and calves. If you suffer from chronic leg pain or have a job that sees you on your feet all day, this will probably be your favorite feature (and we'll be talking about the foot and calf massage next!)
Our only quibble is that given the cost of the machine, we wish there were some means of adjusting the temperature, allowing you to dial into your preferences. Not many chairs offer this, but we've come to expect great things from Kahuna, which is why we expect more from their chairs.
Exquisite Foot and Calf Massage
This is one of our favorite features of the chair, and yet another crucial component of our Kahuna SM 9000 review. The calf massage is rendered via a series of airbags, and the foot massage is rendered via a combination of airbags and rollers.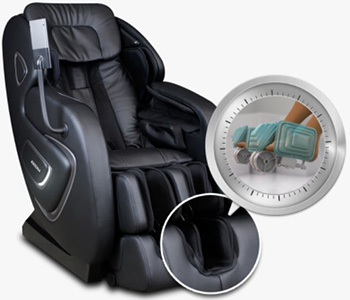 You can control the intensity of the air massage via the remote, and you can select from one of three-foot massage options: scraping, rolling or kneading.
This gives you more foot and calf massage options than we've seen in any other massage chair, offered at any price, and we couldn't be happier. This, combined with extensive therapeutic heat gives the chair tremendous therapeutic value, making it much more than a simple hobbyist chair. It's true that there are stronger therapeutic chairs on the market today, but not many. You could count them on one hand.
That puts the SM9000 in elite company indeed.
Body Stretch
Kahuna has arguably the best body stretch in the business, and it's no surprise that it's featured prominently in the Kahuna SM 9000 massage chair.
The "Yoga Stretch" that the company is known for isn't overly aggressive, but is enormously effective, and if you suffer from chronic back pain, this will help in the same way that getting a chiropractic adjustment will, with the added advantage being that you can get one anytime you like, right in the comfort of your home.
It's yet another feature that ranks high on our favorites list, and honestly, if we had to pick just one element and declare it as our absolute favorite, we'd be hard-pressed to do so.
MP3 Support
While this isn't a critical feature by any means, it's a nice touch. You can pair your smartphone with the chair's built-in Bluetooth speakers and listen to your favorite tunes while you enjoy a nice massage. Alternatively, put on your favorite music and enjoy a "Music Sync" massage.
Extendable Ottoman
In addition to being a large, roomy chair, the extendable Ottoman is another aspect of its design that makes it extremely "Big and Tall Friendly," and able to support users up to 6'5" in height.
Okay, So There's A Learning Curve
Given the number of features on offer, it probably comes as no surprise that the SM9000 has a bit of a learning curve.
Unfortunately, Kahuna makes the slope of the learning curve steeper than it otherwise would be.
The reason has everything to do with the remote. While it's reasonably well designed, it's also a little cryptic, and not well organized, in our view. Even worse, the manual doesn't really help. Some of the sections are decent, but frequently, you'll refer to the manual to get clarification on a feature, and it raises as many questions as it answers.
This is unfortunate, given how awesome the chair is, and we wish the company had spent more time on the design of the remote, and on writing a better user manual. That's not the kiss of death by any means, but it is a little disappointing.
Even so, thanks to the auto-massage options, you can be enjoying your first, relaxing massage mere minutes after getting the chair set up, but understand that you'll need to spend a bit of time experimenting to get familiar with everything it can do.
---
Pros & Cons of Kahuna SM 9000 Massage Chair
There's so much to like about the Kahuna SM 9000 that it's almost hard to know where to begin. Since it would be virtually impossible for us to name a single feature as our favorite, we'll simply list our favorites, in no particular order:
As awesome as all those things are, we did note a few shortcomings in various places of the review above. We'll summarize them here. They include:
The chair's strengths are simply amazing, and its negatives are relatively minor. In our book, that makes it one of the strongest chairs on the market today, at any price.
---
Kahuna SM9000 Review Conclusion
And that wraps up our in-depth Kahuna SM9000 review. It's a fantastic massage chair, offered by a company with a reputation for excellence, and currently selling some of the best massage chair designs on the market today.
Even without the company's generous five-year warranty, we'd recommend this one without reservation to hobbyists, or people with chronic back or leg pain. It offers tremendous value for the money. A superb chair.
---
REFERENCES & RESOURCES