In a Nutshell:
The Karman MVP502 is expensive for a manual chair, but the quality is incredible, and the comfort and vast array of customization options makes it hard to say no to. Due to its high price, this one is designed specifically for people with long-term mobility issues.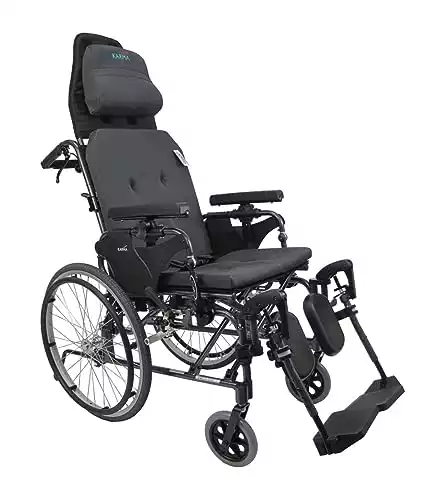 Do you suffer from long-term mobility issues? Do you have to spend several hours of every day in your wheelchair? If you answered yes to one or both of those questions, then you have probably run afoul of the biggest problem with most wheelchairs today. They're just not very comfortable, especially if you have to sit in them for long periods of time.
While it's true that you can make just about any wheelchair more comfortable with the addition of enough pillows or aftermarket cushions, wouldn't it be great if a company would offer a wheelchair that was fairly comfortable right out the gate, with no modification required?
It turns out, a company has done just that, and the results are spectacular. If comfort and versatility are key concerns of yours, then the Karman MVP502 is the chair you want. It's one of the most expensive manual wheelchairs you can buy, but as you'll see in the sections that follow, that's because it can do just about anything and is surprisingly comfortable.
That goes a long way toward explaining why this model won top honors in two different categories, both as the best reclining wheelchair and the best transport chair.
In the sections that follow, we'll go over everything this amazing design can do and point out its few shortcomings, so you've got a complete picture. Even if you decide that this model isn't right for you, we think you'll agree, this one sets the standard that all the rest aspire to meet. Let's jump right in and take a closer look!
An Overview of the Karman MVP502 Lightweight Ergonomic Wheelchair
The first thing you'll notice about the Karman MVP502 is that it looks less like a conventional wheelchair and more like a scaled down recliner on wheels. That's by design because this is one of a very few reclining wheelchairs.
It can be ordered with a seat width of either 16", 18", or 20" depending on your needs, has a seat height of 20" and courtesy of the high strength aircraft-grade aluminum it's made of, weighs in at just 33 pounds with the footrests removed. So, it is light enough that it should present no significant challenges when loading it into most vehicles and taking it with you if you need to leave the house for a while.
Despite its light weight, it can support up to 250 pounds of user weight, which is excellent, although admittedly, this limit does mean that it's not the right chair for some people.
When open and ready for use, the chair is 24", 26", or 28" wide, depending on the seat width ordered, and when folded and ready for transport, is just 14", 15" or 16" wide. It's 52" high, which is higher than most other chairs on the market today.
The MVP502 boasts extra padding in both the seat and the chair back and includes a padded pillow that serves as a comfortable headrest. The seating is V-Shaped, not dissimilar to the seat in many automobiles, which means that the person sitting in the chair isn't likely to slip or tend to slide down over time.
Best of all, the cushions are made with an anti-bacterial material, which makes the chair more sanitary, and keeping it clean and ready for next use is a simple matter.
Adjustments Galore
The main reason you'll probably gravitate to this chair over some other model is the fact that it reclines. In fact, the maximum recline angle is an impressive 125 degrees so you can get quite comfortable if you have to sit in it for extended periods. It's even possible to take reasonably comfortable naps in it, which is a big win for people who have long-term mobility issues and may have difficulty getting from the chair to the bed without assistance.
As great as the recline function is, however, it's just the tip of the iceberg where this chair's adjustment options are concerned. You'll find tension straps in both the seat itself and its back, meaning that both of them can be adjusted to maximize your comfort.
The armrests are also height adjustable, as are the leg rests, which also pivot out of the way, allowing the person using the chair to pull up quite close to the dinner table, and they can be quickly removed when you need to collapse the chair for transport.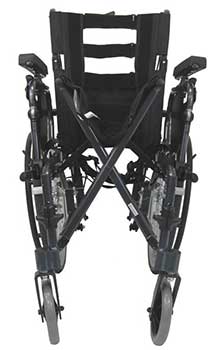 A Very Special Feature
One of the coolest features of the Karman MVP502 is the fact that it can serve as either a manual wheelchair or as a transport chair. You can order the MVP502 with either 14" transport chair wheels, or 22" wheelchair wheels, depending on your needs – or, you can simply order both and swap them out as needed. The rear wheels are easy to remove, so the operation is a fairly simple one.
What this means from a practical standpoint is that you don't need to buy a separate transport chair. If you need it in that configuration for a trip outside your home, it's a trivial matter to reconfigure the chair, and the smaller rear wheels will marginally decrease the overall weight, making it even easier to transport, and it's not all that heavy, to begin with!
Needless to say, the recline feature makes this hands-down the most comfortable transport chair on the market today, which is a big win!
On-Board Storage
The Karman MVP502 even has an onboard storage pouch, located on the back of the chair. It's not huge but is certainly big enough to store some bottled water, snacks, magazines, or other sundries.
Being on the back, and given that this chair is designed for those with long-term mobility issues in mind, it's fair to say that the storage pouch is there more for the benefit of whoever is assisting the person sitting in the chair. Because if the person sitting in the chair has trouble moving around, then accessing the storage will be a bit of a challenge.
In an ideal world, we'd love to see a second storage compartment under the seat so the person using the chair would have easy access to it from a sitting position, but we can't really fault the company for not including this. Few wheelchairs do, and when storage is offered, it's generally located on the back of the chair, which makes Karman's implementation of this feature perfectly in line with industry standards.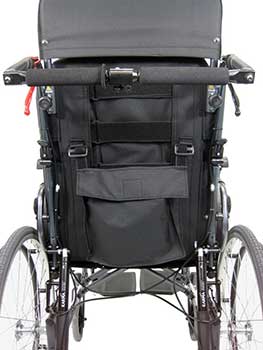 Capable of Handling a Variety of Terrains
Regardless of whether you're using the chair's 14" transport chair wheels, or the 22" wheelchair wheels, the flat-free polyurethane tires offer good traction and decent handling over a variety of terrains.
While it's true that there are other chairs on the market that are more capable when it comes to navigating a wider range of outdoor terrains, you'll find that the MVP502 handles reasonably well just about anyplace you're likely to use it.
On the whole, we judge it as being better suited for indoor use, but if you feel inclined to head outside once in a while, unless you've just got really treacherous, uneven terrain around your home, you should have no special difficulty navigating it.
Also, note that the MVP501 features hand brakes at the rear of the chair. This is important because when you have an assistant pushing you (whether in Wheelchair or Transport chair configuration), the presence of the handbrakes means that the chair handles sloping terrain relatively well, and significantly better than models that don't offer handbrakes.
Okay, So There's a Learning Curve
Unfortunately, with all the bells and whistles this model offers, and all the customization options available, there is a bit of a learning curve. That's the tradeoff. Anytime you increase the feature set of any product, its complexity is bound to increase.
Don't be alarmed by that though. You can start enjoying the chair right away, but it will take some time and experimentation to master whatever adjustments are needed to maximize your comfort.
---
Pros & Cons of Karman MVP502 Reclining Transport Chair
Apparently, there's a lot to love about this chair. It's versatile and comfortable and boasts an almost dizzying number of customization options. All good things.
Where downsides are concerned, there are only two worth mentioning, and both of them are a consequence of the design choices made in building the chair in the first place.
Price has to be mentioned here, but again, it's just not possible to make a high-quality chair that can do everything the MVP502 can do and make it inexpensive. Second, while you can start sitting in, using and enjoying the MVP502 just minutes after you get it, as we talked about in the last section, there is an undeniable learning curve so it might be a bit before you get it tweaked just the way you want it. Unfortunately, there's really no way around that. The more features you add, the steeper the slope of the learning curve.
We regard both of these things as being fairly minor considerations. As we said at the very beginning, this chair was designed for those with long-term mobility issues. Given that as a starting point, it's well worth spending a bit of extra money on the front end to get something you're going to be very comfortable in the long term.
Karman MVP502 Reclining Wheelchair Review Conclusion
This is the highest rated manual wheelchair (and transport chair) we've examined to date. It's a masterpiece of design and a truly excellent option for those with long-term mobility issues. If you have to spend several hours a day sitting in a wheelchair, then comfort really matters, and the Karman MVP502 really delivers.
In our view, if you know you're going to need a wheelchair for the long term, and you can afford to spend some time saving for one, this is the chair you want. It's well made and built to last, and we haven't found another model that can rival it for comfort. Highly recommended.
---
REFERENCES & RESOURCES
Karman Wheelchair, Official Brand Website.
Karman MVP502 Wheelchair User Manual, Karman Health.
Choosing Your Wheelchair Wheel Locks, Clinton River Medical.
Why Good Posture Is Important in a Wheelchair, Karma Mobility.
Guidelines on the Provision of Manual Wheelchairs in Less-Resourced Settings, NCBI.