In a Nutshell:
The Lane Boss Big Man Power Lift Recliner is a big, comfortable, quiet lift chair hiding a fun surprise. Recommended for anyone up to 500 pounds who's in the market for a comfortable, reliable lift chair with lots of storage and other fun extras.
* Brand Reliability is a measure of the strength and longevity of the brand, which by extension, is a measure of the level of support you can expect.
** While aesthetics is a matter of taste, Aesthetic Flexibility is a measure of how easily a given design would fit into a wide range of home or office décor schemes.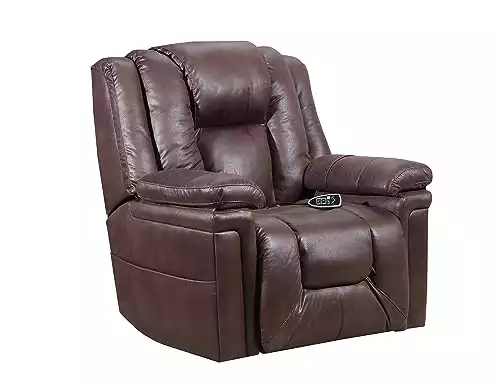 Are you a heavier individual? Have you recently had some type of surgery, or suffer from chronic pain?
Do you have a mobility issue that makes getting in and out of your favorite chair a bit of a challenge?
If you answered yes to any of those questions, you're going to like what you discover in this review.
The Lane Boss Big Man Power Lift Recliner isn't your average lift chair. It does everything you'd expect a good lift recliner to do. But as you'll discover in this review, this particular model has a few surprises in store for you that simply aren't found on most other chairs of this type.
If you've been frustrated in your search for a good recliner that's built sturdily enough to support you properly, this might be exactly the chair you've been searching for. While it's not a perfect offering, it gets a lot more things right than wrong. In the sections that follow, we'll go into detail about both the good and the bad, so you'll have all the information you need to make an informed purchase decision.
Even if you ultimately decide to go with some other chair, we think you'll be impressed by the Big Man. If you're intrigued to know more, read on, and let's see what this one can do!
An Overview of the Lane Boss Big Man 4602 Power Lift Recliner
Big and inviting, with a touch of class and elegance. That's the first impression the Lane Boss Big Man Power Lift Recliner makes on most people when they see it for the first time. The chair just looks inviting with its sleek upholstery and abundant cushioning. It almost begs to be sat in and enjoyed.
Available in neutral colors, it is designed along fairly conventional lines, which means that it will blend well with a wide range of home décor schemes. Note, however, that this is a big chair and will tend to dominate whatever room you decide to place it in, rather than politely fading into the background as is often the case with neutral-colored, conventionally designed furniture. This chair is almost sure to get noticed, and it's easy to turn it into the focal point of the room you set it up in.
Before we go further into our review, we'd like to note that if you tried to search this chair from Lane's official website, you won't find any model named "Boss" or "Big Man". Instead, you'll find the 4602 Attila Recliner. So, don't be confused if we used the names interchangeably in the next sections.
Chair Specifications
Now, let's take a quick look at the core stats that define the Boss Big Man.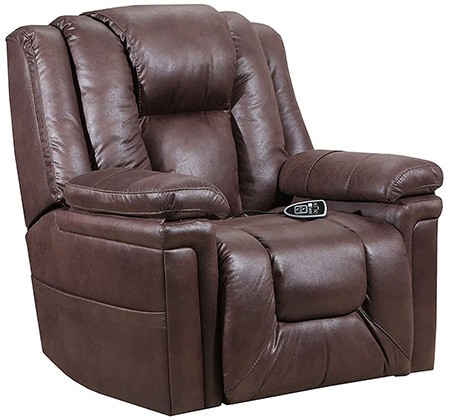 As you can see, the chair is certainly aptly named. It's a hulking piece of furniture. So, if you live in a smaller home or apartment, or if you're cramped for space generally, it may be a challenge to find a permanent home for it.
This is further complicated by the fact that the Big Man does not incorporate wall hugger technology into its design, so you'll need a good 18" of space between the back of the chair and whatever wall you place it near. Combine that with its impressive 76" length when fully reclined, and you begin to get a sense of the scale of the challenge.
Assuming the sheer size of the chair isn't a deal-breaker for you, you'll find the seat dimensions and seat height to be a good match for a chair with a 450-pound weight capacity. Even if you're near the top end of the chair's supported weight limit, the seat is likely to be wide enough to accommodate you comfortably.
That, paired with the 22" seat height, definitely paints a picture of this chair being optimized for bigger, taller, heavier users. If you're short and heavy, this is categorically not the chair you want. The seat dimensions virtually guarantee that your feet won't touch the floor when you're sitting all the way back in this chair.
Adjustability & Comfort
This is an infinite position recliner with two motors; one for the seatback and a separate motor for the footrest. You can recline one, or the other, or both, to any angle you wish. While the Lane Boss Big Man 4602 Power Lift Recliner doesn't lay completely flat, it comes pretty close, angling back to about 170 degrees, making it more than capable as a napping chair.
A third motor controls its lift function. All three of these offer smooth, quiet action that won't leave you jerked or bounced in the chair as it moves from one position to another.
In addition to offering an unlimited number of reclining possibilities, the chair is also very well padded.
Granted, there are no advanced comfort materials in use here. It's strictly spring-supported high-density foam, but there's quite a lot of it, and the seat is double stuffed, providing a delightful seating experience.
Upholstery
Lane Furniture offers this recliner in fabric and leather options. Unfortunately, if you'd prefer the leather option, the company made one misstep here in our view, and that is, cladding it in faux leather made of polyester and PU.
As such, it lacks the strength, durability, and suppleness of genuine leather. From a practical perspective, that means it will start showing its age well before you'd like it to. With heavy daily use, you'll start noticing peeling and cracking.
With meticulous care, you can probably extend this out to about two years. But after that, you're going to need to start thinking in terms of reupholstering. The fact that the upholstery is single stitched doesn't help in this regard.
Given the size of this chair and the amount of material required to cover it, reupholstering is likely to be an expensive job. The good news is, when that day inevitably arrives, you'll be able to select the perfect upholstery for you. The frame is certainly durable enough to make this a good investment, and taking the time to do it will dramatically increase the useful life of the chair.
The other problem with faux leather is this: it's not breathable. If you plan on spending several hours of every day in the chair, you're going to get hotter and sweatier as the day grinds on unless you put a sheet down under yourself. Of course, doing that detracts from the natural beauty of the chair, so it's a trade-off.
Finally, note that leather in general, and faux leather, in particular, are not pet-friendly. If you have pets, you can expect their claws to puncture your expensive chair's upholstery in about ten minutes.
But, if you want to longer-lasting upholstery, we recommend going for fabric options. The downside here, though, is it's not water-resistant and not as easy to clean as faux leather.
Storage & Extras
This is where the Lane Home Furnishings 4602 Lift recliner really shines. There are lots of extras on offer here. Most lift recliners have storage pockets on the sides of the chair, and this one is no exception. In addition to that, though, you'll find:
This last item is a real treat, because it opens up the possibility of using your laptop, your favorite heating pad, or other devices, right from the comfort of the chair and without having to bother with running extension cords all over the room.
On top of that, as is the case with most lift chairs, the Big Man features a simple, effective battery backup system, powered by 9-volt batteries. If the power should fail while you're spending time in your recliner, the battery backup system will enable you to engage the lift motor and get your feet back under you without waiting for a rescue.
Heat & Massage Configuration
This recliner is available in two configurations: Lift Recliner and Lift Recliner Heat & Massage. The Heat and Massage recliner version has the same look and specifications as the lift recliner version, except for its frame and the six-motor heat-and-massage capability.
No Assembly Required
The Big Man comes fully assembled and ready to use, although given its size and weight, if you have mobility issues, getting the chair where you want it may prove to be a bit of a challenge.
Unfortunately, Lane does not offer White Glove service. The best you can get is a curbside delivery, so you'll probably want to have an assistant on standby when the chair is delivered so you've got an extra pair of hands to get it into the room you plan to use it in.
Pros & Cons of Lane Home Furnishings 4602 Lift Recliner
As we said at the start, the Lane Home Furnishings 4602 Attila recliner is a very good chair, and it's offered by a company with an excellent reputation for post-sales service and support. It's comfortable and has lots of storage and a few other surprises to boot, which makes it incredibly versatile.
We like almost everything about it. It's one major failing, in our view, is the rather poor choice of upholstery materials. We understand the decision. Grain leather would have increased the price of the chair dramatically, and it's already relatively expensive. Fabric, while much more breathable and a better fit for long-duration seating, would not have provided the same elegant look.
Nonetheless, our view is that most people who buy lift chairs do so with the intention of spending several hours of each day in their chair, which makes leather in any form a poor choice, elegant or not.
Final Thoughts: Lane Boss Big Man Power Lift Recliner Review
Overall, the Lane Boss Big Man Power Lift recliner is a superb chair, but it will not be for everyone. If you're shorter than about 5'6," this chair will swallow you whole. If you don't have mobility issues, then there's no point in paying a premium for the lift feature you're not going to make use of.
Having said that, if you are big, tall, and on the heavy side, and you struggle to get out of your chair, and you're looking for something with tons of storage and the capacity to allow you to work and play with your favorite electronic devices from the comfort of your chair, this one's hard to beat. On that basis, we provisionally recommend it.
---
REFERENCES & RESOURCES