In a Nutshell:
The Lane Home Furnishings Canterbury Cuddler is a beautiful, well-built, comfortable recliner optimized for heavier people. Recommended for anyone weighing up to 400-pounds who's in the market for a comfortable recliner.
* Brand Reliability is a measure of the strength and longevity of the brand, which by extension, is a measure of the level of support you can expect.
** While aesthetics is a matter of taste, Aesthetic Flexibility is a measure of how easily a given design would fit into a wide range of home or office décor schemes.
Are you a bigger, taller, or heavier person?
If so, and if you've been furniture shopping recently, you've probably been frustrated by the relative lack of options designed for people like you. As someone who is 6'6" tall and weighs in at 340 pounds, I know the feeling.
Most of the furniture I found while shopping recently was completely useless to me because most of it is only designed to support between 250 to 300-pounds. I'm also a human who lives in the service of three reformed feral cats, so I absolutely did not want leather furniture, which, by my estimation, would last about 32.8 seconds before it got punctured by razor-sharp claws, which limited my options even more.
After a LOT of searching, I decided to buy the Lane Home Furnishings Canterbury Cuddler (sold as Lane Tigereye Cuddler by some stores). I'm renting a little house at the moment, but saving up for a place of my own and I'm beginning to get rid of anything I don't want to take with me to whatever place I buy and buy furniture I will want to take with me.
One of the first items on the chopping block was an absolutely hideous sofa that was taking up entirely too much space. Over the course of three days, I dismantled it to reclaim some of the wood.
Once it was gone, I needed something to sit on other than the chair at my writing desk, so I put in an order for the Tigereye on Amazon and was informed that it would be slightly over a month before I get the chair.
Since I've got cats, I also ordered a Queen-sized, fuzzy blanket I could cover the chair with when I wasn't sitting in it, and use it on cold nights. Sure, you can buy recliner covers, but I figured that the blanket would serve much the same purpose, and I could use it as a blanket when I'm sitting on the chair.
If you decide to follow suit, and in case you're curious, this is the one I got, but pretty much anything will work.
All that by way of introduction. In the rest of this review, I'll walk you through my purchase of and experience with the chair. If you're in the market for a rugged, great looking, comfortable recliner, this hands-on review will almost certainly be of interest to you.
Lane Home Furnishings Canterbury Cuddler Overview
As I mentioned in the introduction, I'm a big guy, which is why I wanted a big, rugged chair, but there were a couple of caveats:
First, as mentioned, I have cats, so I didn't want PU, bonded leather, or leather. The place I'm currently renting is only 950 square feet so I couldn't get a loveseat – it had to be smaller than that. After taking careful measurements of the space I had to work with, the Tigereye's dimensions were the best overall fit, and I loved the look of the material.
This cuddler is part of Lane's Canterbury reclining furniture collection, which features cut back dollhead arms accentuated with old gold nail trim and soft padding, as well as a hide-a-chaise reclining mechanism. The chairs in this collection are available in leather and fabric upholstery. I got one in Handwoven Tigereye fabric.
Here are the core stats that define the model:
These numbers work spectacularly for me. The chair JUST (barely) fits into the space I have to work with, the seat height is about where I keep my office chair pegged, and the width and depth give the seat plenty of room.
The chair is on the heavy side, but I regard that as a plus. I'm basically a giant, so if I need to, I can move it around without help, and the frame is a mix of hardwood and steel. I felt pretty confident it would be more than rugged enough to support me properly.
In addition to that, Lane is a good company. I've written about a number of their products before and have never had a bad experience with them, so I felt pretty confident about buying from them.
After placing my order, I settled back for a month-long wait but got a pleasant surprise. After just six days, I got a call from ABF, the shipping company that would be delivering it. The guy at the warehouse said there was a note that said delivery was scheduled for late February (it was late January when he called), but since it was just sitting there if I wanted it sooner, he'd put it on the truck.
I said sure, and he scheduled delivery for January 29, about a week after I'd placed the order.
At about 2:00 on the 29th, I got another call from the driver, wanting to be sure he could get his truck into and back out of the little road that leads to my house. It was a fair question. I live in an actual "Holler" on top of a mountain in rural Virginia, but after asking a few questions about the truck, I assured him that there'd be plenty of room to turn around.
Reassured, he told me he'd see me shortly and was pulling up to my house about ten minutes later.
It's a big chair, and the driver wasn't a big fellow, so I volunteered to help him get it from the truck and into the living room.
Even with both of us, navigating the ten steps leading to my porch was a bit of an adventure, but we made it without incident.
Then, we took all of the plastic and cardboard off of it to reduce its profile as much as we could and determined to try to fit it through the door without taking the back off.
It was too wide to fit through the door going in sideways, but we tipped it over on its side, slid the seatback in first, and then angled it through the door. It was a VERY tight fit but doable without disassembling it. Total time from the back of the truck to its final resting place in the living room, about ten minutes, which I didn't consider to be bad at all.
I signed a few papers, and the driver left me to get acquainted with my new chair.
I didn't realize that it came with the throw pillow! I figured that was just an "extra" they used to stage the chair for the picture, but sure enough, I got the pillow pictured.
With the chair positioned where I wanted it, there was nothing left to do but sit down…
Adjustability and Comfort
There's nothing at all adjustable about the recliner other than the recline function itself. I'm used to recliners with the lever-activated recline function, and I can't say I'm a fan of the "car door" style, but I'll get used to it. I don't hate it; it's just that I prefer the other style. Note that there's also a powered version of this chair with a USB port for your electronic devices.
This is a manual, three-position recliner, but honestly, I don't see myself using the "TV position." The footrest doesn't come up enough for my liking, so I'm either going to sit in it in its upright position, or I'm going to recline back.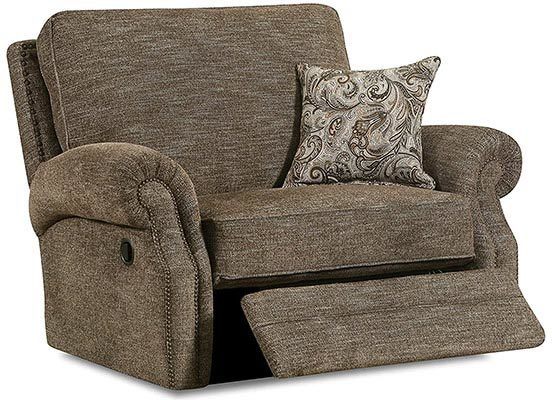 At full recline, I can still see the giant computer monitor I stream videos on, and it leans back far enough that I can easily take a nap in it. It doesn't lay completely flat, but I don't care about that and wasn't shopping for a lay-flat recliner in any case, so I'd judge it as being adjustable enough for me.
The seat is gloriously comfortable. It feels like sitting on a high-quality mattress, and the first time I sat in the chair to test it out, I put on a movie and got so comfortable that I promptly fell asleep, so it wins VERY high marks on comfort from me, but there's a catch:
Most people probably won't find it quite as comfortable as I do. Unless you're a giant, the seat is probably too wide to use both arms effectively. I can, but I doubt that will be true for most people, and if you can only use one arm or the other, it's going to detract from the overall comfort of the chair.
It's also not quite wide enough for me to use it as a cuddler. I could cuddle my cats in it, but I'm just too big for me and another human to fit in the chair. If you're closer to average size, you may (emphasis on may) be able to cuddle up with someone in it, but I wouldn't count on that.
Again, this is fine for my purposes. I was less interested in buying a chair that was built for two than I was in finding something big enough for ME that would fit in the space I had available, and in that regard, the chair is exactly what I wanted.
No Assembly Required
The chair came wrapped in plastic with thick cardboard protecting the bottom. It took about five minutes to get all of it off of the chair, which arrived fully assembled and ready to use. Note that as mentioned previously, the back DOES come off, which is handy if you can't wiggle it in your front door as I did.
Pros and Cons of Lane Home Tigereye Cuddler Recliner
This is the perfect recliner for me, but it won't be for everyone, and ultimately, it's probably more of a niche product than anything. It's too big for most people (including all "regular-sized people") but not quite big enough for two, so calling it a cuddler is a bit of a misnomer unless you have Lilliputians or Munchkins in your family.
On the other hand, it's incredibly rugged and durable with a mixed hardwood and steel frame and can probably support a whole lot more weight than the 400-pounds advertised. It's also incredibly comfortable, and the upholstery looks even better in person than it does in the photographs of the chair – and you get the pillow, which looks great on it!
Final Verdict on Lane Home Furnishings 57003 Canterbury Cuddler
I personally love Lane Home Furnishings Canterbury Cuddler. About the only thing I'm less than thrilled about is the fact that the recline mechanism isn't controlled via lever, but that's honestly a ridiculously small complaint. For me, it's as close to a 5-star chair as I could have asked for. The upholstery is visually interesting and blends easily with just about any home décor scheme. It's also incredibly soft, which enhances the overall comfort of the chair.
If you're big and tall like I am, you'll probably love it, but remember, it's a manual three-point recliner, and one of the three recline positions is kind of useless, so in practice, you'll either recline back or sit up straight.
It's not quite wide enough to count as a cuddler, but it's durable, roomy, and super comfortable. I highly recommend it for big and tall folk, especially for those who are short on space but still looking for a nice big chair to sit in. For everyone else, I can only give it a provisional recommendation. If you want a proper cuddler, you'll probably need something a bit wider.
As for me, now that I own this chair, I can tell you I've already started taking more frequent breaks because I now have something really comfortable to lounge in!
---
References & Resources