In a Nutshell:
The Lane Stallion Big Man Comfort King Wallsaver Recliner Recliner is a roomy, basic three-point recliner optimized for bigger, heavier folk. Recommended for anyone weighing up to 500 pounds who's looking for a good quality, basic recliner, offered at a fair price.
* Brand Reliability is a measure of the strength and longevity of the brand, which by extension, is a measure of the level of support you can expect.
** While aesthetics is a matter of taste, Aesthetic Flexibility is a measure of how easily a given design would fit into a wide range of home or office décor schemes.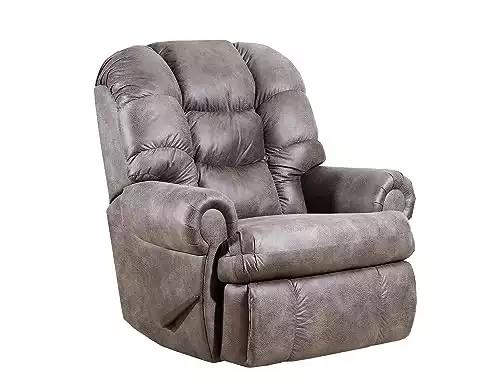 Are you in the market for good quality, basic recliner? Do you weigh more than 400 pounds?
If you answered yes to both of those questions, then you've probably found the search for a recliner that's big enough to support you properly to be an intensely frustrating one.
Most of the major furniture brands make and sell furniture that can support up to 300 pounds of user weight. A few offer options that can support between 350-400 pounds. Beyond that, though, and your options fall off markedly.
If you're willing to look into the furniture offered by some of the smaller, respected brands, though, you'll find a few hidden gems, and the Lane Stallion Big Man Comfort King Wallsaver recliner, offered by Lane Furniture, is one of those.
This is not the end-all, be-all of recliners, but it is a very good, if basic chair. In the sections that follow, we'll tell you everything it has to offer and where it comes up a bit short. Even if you opt to go in some other direction, by the time you reach the end of this review, we think you'll agree. The Stallion is definitely worth a look and belongs on your shortlist of options to consider. If you're curious to know more, let's jump right in and see what this chair has to offer.
An Overview of the Lane Stallion Big Man Comfort King Recliner
The Stallion's design team didn't take any chances where the look of the chair was concerned. It's designed along purely conventional lines. That's not a bad thing. After all, conventional styling is conventional because most users in the market like it. The Lane Stallion Big Man Comfort King Wallsaver recliner is designed to blend seamlessly with just about any home décor scheme, although given its size, it's unlikely to simply fade to the background. This chair is big enough to dominate whatever space you decide to put it in and is best used as the focal point of a room.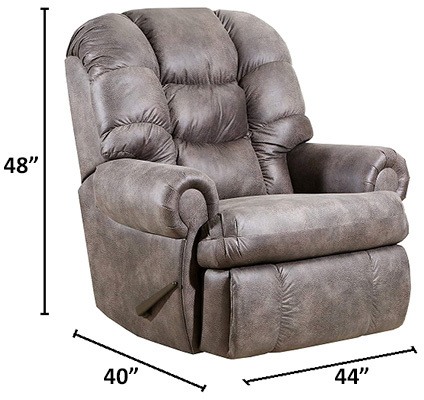 Before we talk about the specific features it brings to the table, let's do a quick stats review. Here are the basics:
These numbers paint a picture. This is a big chair designed for big people. The overall dimensions, including its length when fully reclined and the seat dimensions all support this and are a generally good match with the amount of user weight the chair can support.
Note, however, that if your weight runs close to the chair's maximum supported weight, you'll want to take careful measurements to be sure you'll fit comfortably into the chair.
Also note that with a seat height of 22", if you're shorter and heavier, the Lane 4501 Magnus Recliner is likely to engulf you completely, and you probably won't be able to put your feet on the floor while lounging in it. If you plan to spend most of your time reclining, that may not be a deal-breaker, but it is something to bear in mind.
Given the sheer size of the Stallion, if you're cramped for space for any reason, it may be difficult to find a permanent home for it. Also, be aware that the company offers curbside delivery only. Actually, getting it into the house is on you, so you'll almost certainly want to have a trusty assistant standing by on the day the chair arrives. Otherwise, getting it into position may be virtually impossible. Essentially, this is a King-sized bed that has been turned into a recliner.
Adjustability and Comfort
A couple of things to note about adjustability. This is a manual, three-position recliner.
You can either sit upright, partially recline to "TV watching position", or fully recline. At full recline, the Lane Stallion Big Man Comfort King recliner does not lay completely flat . So, this is not a sleeper recliner, but it does bring you back far enough that you could use the chair for napping if you wish.
Also note that although Lane refers to this chair as a wall hugger, the company hasn't quite mastered the art, and you'll still need about 10" of clearance between the seatback and whatever wall you choose to place it near. Some wall huggers only require 3-4" of clearance. So, this is an area where Lane could improve, but it's usually not a deal-breaker.
Where comfort is concerned, the Stallion again sticks to the basics. This model relies on spring-supported block foam, which is present in generous quantities and provides a comfortable seating experience that falls short of luxurious.
There's nothing wrong with the approach. Most of the furniture sold today use the same combination of materials, but if you're looking for next-level comfort provided by advanced materials like comfort coils or memory foam, this isn't the chair you want. Even so, you'll find it to be delightfully comfortable, especially if you're only using it for a few hours a day. It's more than good enough for that.
Unfortunately, the chair is upholstered in bonded leather. There are a few problems with this. First, bonded leather, while being real leather, is created by fusing leather scraps together. As such, it's not as supple or as durable as genuine grain leather.
With moderate daily use, you can expect that the upholstery will hold up well for two and a half years before it starts peeling and cracking. If you use it for several hours a day, you may start noticing the upholstery breaking down after a year to a year and a half.
Given the relative fragility of the upholstery, this is not a pet-friendly piece of furniture, either. Finally, leather isn't a breathable material, so the longer you sit in the 4501 Lane Stallion Big Man Comfort King recliner, the hotter you're apt to get. Again, this isn't an issue if you only plan to use the chair for a few hours a day, but if you're looking for a recline to spend long stretches of time in, this one is going to get hot.
If there's a silver lining to the somewhat disappointing upholstery it is the fact that the use of bonded leather helped keep the chair reasonably priced so that mere mortals can afford it. It should also be noted that the frame and recline mechanism are both solidly constructed and will last you for years with proper care, making this chair a good candidate for reupholstering with the more durable material of your choosing when the time comes.
Storage & Extras
This will be a short section. As a basic recliner, you'll find no storage or extras on offer here. The company focused all their efforts on making a big, comfy chair. That's what you're getting. If you want something that features built-in storage, this isn't the chair for you.
No Assembly Required
If you decide you want one of these, the Lane Furniture 4501 Stallion recliner will arrive at your door fully assembled and ready to use. As we mentioned, though, the company does not offer White Glove service. They'll bring it to the door, but getting it into the room you plan to use it in will be your responsibility. Having an assistant on standby for the day the chair arrives is pretty much a must.
Pros & Cons of Lane 4501 Magnus Recliner
We like the Lane Magnus Recliner, but we don't love it. It's a good, basic recliner designed for people up to 500 pounds. As such, it serves a segment of the market that doesn't get a lot of attention. If you're struggling to find a good, comfy chair that's big enough to support you, this is a great option to consider. If you're looking for extras and lots of bells and whistles, this model will leave you wanting.
Final Thoughts: Lane Stallion Big Man Comfort King Wallsaver Recliner Review
While the Lane Stallion Big Man Comfort King Wallsaver Recliner is an undeniably good chair, it's essentially a niche product. If you weigh less than 400 pounds, you can easily find other models that offer more; infinite recline positions, advanced comfort systems, built-in storage, and the like.
If you weigh between 400-500 pounds, there are very few recliner options available to you, and this is one of the best. Given that, we highly recommend it for people who are 6' tall or taller and who weigh between 400-500 pounds. For everyone else, we provisionally recommend it.
---
References & Resources: