In a Nutshell:
The LivingXL Heavy-duty Portable Chair is an incredibly robust and rugged portable chair, that's not bad looking, either. Recommended for anyone who weighs between 500-1000 pounds and loves the great outdoors.
* Brand Reliability is a measure of the strength and longevity of the brand, which by extension, is a measure of the level of support you can expect.
** While aesthetics is a matter of taste, Aesthetic Flexibility is a measure of how easily a given design would fit into a wide range of home or office décor schemes.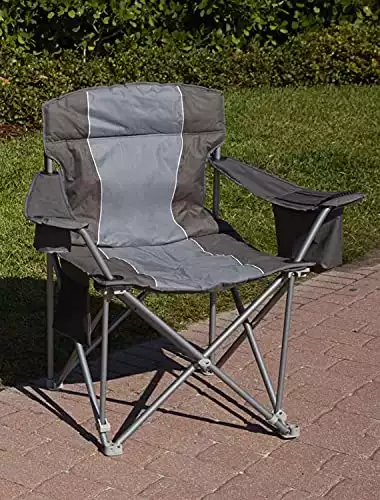 Do you struggle with your weight? Do you love the great outdoors?
If you answered yes to either of those questions and if you weigh more than 500 pounds, you've probably struggled to find a camp chair big and rugged enough to properly support you.
Most of the high weight capacity camp chairs top out at a maximum supported weight of 500 pounds; that accommodates the vast majority of the big and tall market. But if you happen to weigh more than that, pickings are slim where camp chairs are concerned. That's why we felt we had to review this one. It's one of the few camp chair options available for the 500+ pound segment of the market.
In the sections that follow, we'll tell you everything you need to know about this chair to decide if it's a good fit for you. If your interest is piqued, read on!
An Overview of the LivingXL 1,000-lb. Capacity Heavy-Duty Portable Chair
The first thing you'll notice about this chair is that it's big, roomy and surprisingly good-looking. Even better, it comes in three different colors. So if you decide you want one, you can get yours in two-tone grey, blue and grey, or black and grey. Options are always nice, and while there aren't a ton of them here, we think you'll be pleased with the selection here in our LivingXL Heavy-Duty Portable chair review.
In terms of basic statistics, here's what you're looking at where this chair is concerned:
These are good numbers. The seat width and depth provide plenty of room for bigger users, the seat height is generous, the seatback is big enough to provide proper support, and of course, the supported weight limit is out of this world, literally twice that offered by most big and tall camp chairs.
Even better, on the left arm of the camp chair (as you're sitting in it) you'll find a drawstring mesh pouch that measures 14" x 15", which is roomy enough to hold several of your favorite beverages, trail snacks, or other assorted supplies you may need while enjoying the great outdoors. On the opposite arm, you'll find a cup holder and a second, smaller mesh pocket, useful for holding small valuables you don't want to lose track of.
Adjustability and Comfort
There's nothing adjustable about the LivingXL 1,000-lb. Capacity Heavy-Duty Portable chair, but note that you can buy an optional canopy for it if you want to add some protection from the sun.
Where comfort is concerned, you'll be pleasantly surprised. The nylon material is breathable, and the chair is sturdy enough that you won't feel like it's about to collapse under you at any second, which will allow you to relax and enjoy the day.
There is a catch, however. Depending on your build and body shape, you might get poked in the back of your legs or the outsides of your thighs by the metal frame, which definitely detracts from the comfort. Should this happen, it's easy enough to rig up a DIY mod for the chair that will solve the problem.
Just cut some block foam (2" to 3" thick, or even more than that if you want added comfort), and cover it with the material of your choice. This will put an extra layer of padding between you and the metal bits that should solve the problem, especially if you cut the foam to be just slightly deeper than the seat depth so that when you sit on it, your legs curl it around the lip of the seat.
No Assembly Required
If you decide you want one of these, with or without the optional canopy, there's nothing you have to do to get it ready for first use. The chair will come collapsed in the box, but it's a simple matter of taking it out, unfolding it, and having a seat. Fortunately, there are no complicated locking mechanisms here, so folding and unfolding the chair is a simple, straightforward matter.
Pros and Cons of LivingXL Heavy-Duty Portable Chair
This is a surprisingly well-made chair. It's rugged, durable and will serve you well. In addition to that, it's one of the few pieces of outdoor gear designed to accommodate people who weigh more than five hundred pounds.
The only real catch here is the fact that LivingXL is a tiny, virtually unknown brand. We don't have any information on the quality of the support they provide. However, most small brands struggle in this area. So, if you do wind up having a problem with the chair, getting help could wind up being an adventure.
Given that, if you weigh less than five hundred pounds, we'd recommend buying from a more established brand. If you're north of that, though, this is one of the few options you have available.
LivingXL Heavy-Duty Portable Chair Review Conclusion
We like this chair quite a lot, but note that it's mostly a niche product. As we said in the last section here in our LivingXL Heavy-Duty Portable Chair review, if you are bigger but weigh less than five hundred pounds, you're almost certainly better off buying from a brand that has a bigger footprint and an established track record for support. If you're heavier than that, though, this is a fantastic option. On that basis, we provisionally recommend it.
---
References & Resources: