In a Nutshell:
The LQGPSX Indoor Outdoor Rocking Chair is a great looking, comfortable, easy to use chair with storage. Loaded with value. Recommended for anyone weighing up to 500 pounds who wants to enjoy the great outdoors in comfort and style.
* Brand Reliability is a measure of the strength and longevity of the brand, which by extension, is a measure of the level of support you can expect.
** While aesthetics is a matter of taste, Aesthetic Flexibility is a measure of how easily a given design would fit into a wide range of home or office décor schemes.
Do you love rocking chairs? Have you been frustrated in your search to find one that was capable of supporting more than 300-pounds, which is the informal industry standard?
If you answered yes to either of those questions, we completely understand. Most companies just don't make furniture sturdy enough for bigger, taller folk, and that's a shame.
Fortunately, although mainstream brands don't offer many options, a number of smaller brands have stepped into the area and are offering furniture designed with big and tall people in mind. This rocker is one such product.
No, you probably haven't heard of LQGPSX. Neither had we before we started researching this chair for this review, so if you're brand conscious, you've probably placed a mental strike against this model right out the gate. Also understandable, but if you're willing to look past the fact that the brand is virtually unknown, you'll find a lot to like in this chair. It's not perfect, but it could be for the right user. Are you that user? Read on, and let's find out!
An Overview of the LQGPSX Indoor Outdoor Rocker
The first thing you'll note about this chair is that it looks like it would be more at home outside than in. The chair is marketed as an indoor/outdoor rocker, and technically it is. There's nothing to stop you from hauling it inside and sitting down. But, it's got a metal frame, and most people don't have a lot of metal-framed furniture in their homes.
Even so, there are viable indoor uses for the chair. Maybe not in your living room (though if you wanted to put it there, you certainly could), but it would be a great addition to a game room or sunroom, absolutely. If you use it indoors, though, you're going to want to be mindful of your floors. It's probably better suited to a carpeted room, but with proper protection on the skids, it could be made to work on a hardwood floor too.
In any case, the bottom line is that it looks like an outdoor rocker, with a frame constructed of tubular steel. While there are no color options to choose from, you can opt to buy the chair either with or without cushions. Without cushions, it's definitely an outdoor chair. Spending a little extra on the cushions, which run from the top of the seatback to your calves, makes it a bit of a better fit as an indoor rocker.
Speaking of the cushions, take note of how far down the length of the chair they extend. The reason for that is that this chair not only rocks but reclines as well! If you decide you don't want to use it as a rocker, it can pull double duty as a reasonably comfortable recliner. We'll have more to say about that later on. For the time being, it is enough to simply draw your attention to it.
Chair Specifications
Beyond the look and feel of the chair, let's talk about the numbers that define it. Here are the basics:
As you can see, this is a sizable piece of furniture. But, given that it's constructed using tube steel, it's surprisingly lightweight. It's also capable of supporting a generous amount of user weight. With a seat height of 18," it's a good fit for taller, heavier folk.
Adjustability And Comfort
Unlike most rockers, LQGPSX Rocker is adjustable. It reclines, and you can change and lock the angle of the seatback, which brings the leg rest up.
It's also worth noting that this chair can be reclined into multiple Zero-G seating positions, which is fantastic and gives the chair a powerful, well-implemented ergonomic feature we had not expected to see.
Zero-G is not only incredibly comfortable, but it also helps to reduce chronic back pain and has been documented to help lower blood pressure. On top of that, if you've recently had some type of surgical procedure, sitting in a Zero-G position will facilitate faster healing because it improves blood flow.
You can also adjust the chair by switching it from recliner to rocking mode by flipping the stationary legs into or out of position, which by definition, means that you can recline or you can rock. However, you can't do both at the same time.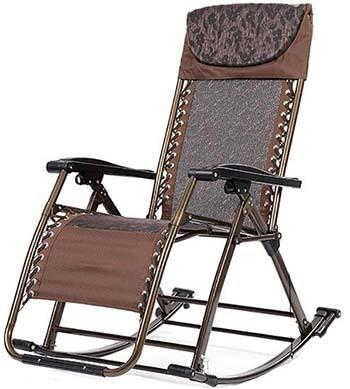 In addition to that, this chair is also collapsible, which makes it easy to store when it's not in use. That's another reason we only reluctantly agree with the classification of this chair as a piece of indoor furniture.
Most furniture designed for indoor use doesn't collapse. That's typically the hallmark of occasional seating (folding chairs) or camp gear. Again though, there are just enough legitimate indoor uses for this chair that we went along with the company's classification. It wouldn't be our first choice as an indoor chair, but it might work for some.
Where comfort is concerned, Zero-G is a big part of the equation. But, if you pay for the padded variant, even without Zero-G, you'll find it surprisingly comfortable. The padding isn't over the top, but there's certainly enough of it that you won't be shifting uncomfortably in the chair.
If you opt to save a bit of money getting the non-cushioned variant, it's still okay. Again, the Zero-G options make it better, but it's not something you'll want to lounge around in for hours at a time.
No Assembly Required
One nice, unexpected perk associated with buying this chair is that it arrives at your doorstep collapsed, but otherwise ready to use. No assembly required. Just take it out of the box, put it where you want it, and have a seat. That's all there is to it.
Pros and Cons of LQGPSX Indoor Outdoor Rocking Chair
So, where does that leave us? This chair has a lot going for it, but it does have a few issues you should be mindful of before committing to a purchase. As we see it, here are the best features this model has to offer:
The biggest negatives, as we see them, are as follows:
LQGPSX Indoor Outdoor Rocker Review Conclusion
We like this rocker, but we don't love it. It's a good, versatile chair that's better suited to outdoor environments but could be used inside in a pinch. If you're a DIYer, you won't mind the fact that you probably can't count on the company to provide post-sales support. Given all of those things, we provisionally recommend it.
---
Official Manufacturer Support
References & Resources