Is your mobility issue preventing you from enjoying outdoor spaces as you once did? Are you looking for a fantastic, robust, highly customizable chair that can take you just about anywhere you want to go?
If you answered yes to either of those questions, you're going to love our Magic Mobility Power Chairs review.
Magic Mobility is one of the major players in Australia's mobility industry, and although they aren't as well-known in the US, they're one of the most respected companies in their corner of the world.
In fact, in our recent roundup review, two of their products, the Frontier V6, and the Extreme X8 won honors, with the V6 being listed as the best-in-class (and best overall value) general-purpose all-terrain wheelchair, and the Extreme X8 placing fourth.
Long story short, this company makes amazing products.
In the sections that follow, we'll give you all the details on their four main products, talk about the other models the brand sells, and most of all, tell you about the staggering array of customization options you'll have available if you opt to buy a chair from them.
If that sounds good to you, let's jump right in and see what this company from down under has to offer!
An Overview of the Magic Mobility Power Wheelchairs
Magic Mobility USA power wheelchairs are divided into two categories: outdoor chairs and indoor/outdoor chairs. This distinction, however, is "fuzzy," because except for the Extreme X8, all their outdoor chairs can also technically be used indoors.
For the purposes of this brand review, we're most interested in the four models designated for outdoor use. There are four of these, and we'll start by taking a high-level view of them in table form:
Magic Mobility Power Wheelchairs Comparison Table
Pros:

Best overall value of the Magic Mobility lineup

Pros:

More capable indoors than out, while still being able to handle a good range of outdoor terrains.

Pros:

More capable outdoors than indoors, while still being able to navigate indoor spaces nimbly.

Pros:

4-wheel drive model that can handle just about anything you can throw at it.

Cons:

Best overall value of the Magic Mobility lineup

Cons:

Not quite as robust or capable of challenging outdoor terrains as the V6 or X8.

Cons:

Not quite as robust or capable of challenging outdoor terrains as the V6 or X8.

Cons:

Heinously expensive. 55" turning radius. Fairly steep learning curve.

Recommended for:

Anyone looking for a full-featured, robust mixed-use general-purpose mobility aid.

Recommended for:

Anyone interested in a highly customizable indoor/outdoor mobility aid capable of handling anything up to lightly challenging and some moderately challenging terrains.

Recommended for:

Anyone interested in a highly customizable indoor/outdoor mobility aid capable of handling anything up to moderately challenging terrains.

Recommended for:

Outdoor use only. People who can afford an indoor chair plus a pricey outdoor one will be able to take advantage of everything this one has to offer.
Note that while we will be taking a brief look at the indoor/outdoor machines in a later section of this review, the models listed there are minor variations of the V6 and the two V4 (FWD and RWD) frames. We'll draw your attention to the relatively few, subtle differences in a later section.
These four models offer something for everyone. Magic Mobility has built one of each. The Frontier V6 is a mid-wheel drive, the V4 is offered in front-wheel or rear-wheel drive configurations, and the Extreme X8 is the company's four-wheel drive model. So, if you have a preference, you'll be able to get precisely the drive train you want.
Although there are some differences between these models, all four have a lot in common, so here, we'll only be looking at the basic stats of the Magic Mobility wheelchairs. Everything else, we'll cover in later sections of this review.
Magic Mobility Frontier V6 Power Wheelchair
Our Pick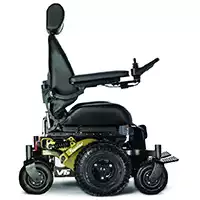 We were fairly surprised when a mid-wheel drive model won top honors in the category of general outdoor use because certain terrain types (especially soggy, wet ground or sandy beaches) prove challenging to mid-wheel drive chairs, on account of the way the weight is distributed.
Courtesy of the Magic Mobility V6's articulated frame, however, this model glides almost without effort over most types of terrains, and as with its cousin, the Frontier V4, it features quick-release wheels that make it a snap to pop on tires that are more suitable for indoor use. That, combined with its impressive turn radius, makes it a winner, both indoors and out, which is why we ranked it the highest of all of Magic Mobility's models.
Specifications
Magic Mobility Frontier V4 Rear Wheel Drive
Rear wheel drive models can sometimes struggle on sloping terrain, making it slightly less adept in the great outdoors than its cousins. On the other hand, its smaller size and impressive turn radius make it even better for indoor use. The smaller size and slight weight reduction over the V6 also gives it a smidge more range per battery charge, although the difference is small enough that it can't be considered compelling.
Specifications
Magic Mobility Frontier V4 Front Wheel Drive
Magic Mobility Frontier V4 offers a great mix of features, and in our view, is the second-best chair the company makes, behind the Frontier V6. The front wheel drive configuration makes the chair a sturdy little mountain goat on sloping terrain, and its lighter weight again allows it to eke out slightly more range on a charge than its big brother, the V6. It also tends to handle a little better indoors (again, owing to its smaller footprint).
Our recommendation will be this: If you plan on primarily using a chair outdoors, but need something for occasional indoor use, get the V6. If you plan on mainly using the chair indoors, but need something really capable for outdoors, get the V4 FWD. Occasional outdoor users who won't be tackling steep slopes would probably find a better fit with the V4 RWD model.
Specifications
We've written a separate review on the Magic Mobility Extreme X8, which you can find below. We urge you to take a look at it for complete details, but we'll summarize it here for you as well.
Specifications
This chair is a beast. Its four 14" x 3" wheels and four-wheel drive drivetrain enable it to conquer just about any terrain you find yourself on, but it comes with two major drawbacks over the V6 and the smaller Magic Mobility V4.
First, it's got a steeper learning curve associated with it. Second (related to the first point), it's an outdoor chair, exclusively, with its mind-bogglingly poor 55" turning radius, which takes a fair amount of practice to get used to. Even in some outdoor spaces, you're likely to get hemmed in and find yourself having to execute an awkward multi-point turn to get yourself sorted out.
Even so, if you're looking for a go-anywhere outdoor brute, the Magic Mobility X8 is the one you want.
Magic Mobility Power Chairs – Indoor/Outdoor Models
Three of Magic Mobility's four outdoor models can be used indoors, too. The only one of the four models you can't use inside is the Extreme X8 – the turning radius just won't allow it unless you live in a palace.
Technically, the company lists eight different indoor/outdoor models, but these are merely minor variations of the V4 and V6 frames.
Here's a list of Magic Mobility USA's Indoor/Outdoor models, with a few relevant notes:
Doesn't Magic Mobility Make Manual Wheelchairs Too?
Until recently (Valentine's Day, 2018), Magic Mobility USA carried a small line of manual wheelchairs that were as excellent as their powered products. These are sadly no longer available, except on the secondary market, so we won't cover them in detail. We did, however, want to make mention of it in case you'd heard of the "Jewel Wheelchair" and came here looking for one.
Magic Mobility Power Wheelchairs Features
Adjustability & Comfort
In addition to offering a wide range of extras (which we'll talk about next), another advantage to owning a Magic Mobility wheelchair is that virtually every aspect of your chair can be tweaked or modified in some way to maximize your comfort.
The following items are adjustable, whichever model you gravitate to:
These things, taken together, mean you can tweak your ride, so it fits you like a glove, optimizing your comfort.
On-Board Storage & Extras
This is another thing that Magic Mobility does really well. In fact, of all the mainstream mobility aid manufacturers we've found, this one comes closest to matching 21st Century Scientific's impressive array of extras. Here's what you have to choose from:
Color and Finish Options
Color options fall into two categories: Frontier options and Extreme X8 options. We'll list both just below:
Frontier Color Options
Extreme X8 Color Options
Note that for the Frontier, the first three are stock colors. The rest are considered premium colors and are offered for an additional charge.
Seating Options
Note that in addition to these, a variety of custom upholstery options are available.
Multiple Headrest Options
The stem-based options are all articulated and can be positioned precisely to maximize comfort.
A Variety of Arm Pad/Armrest Options
A small feature, but one we regard as a very nice touch. When you buy most wheelchairs, whatever the default armrests are, that's what you're stuck with. That's not the case here. You can specify between:
Leg Rest Options
Three choices here: Manual elevating, power elevating, or gas elevating. You can also choose between a single post footrest or swing away leg rests, which make transferring into and out of the chair a bit easier.
Several Magic Mobility Frontier V6 reviews agree that the single post footrest is recommended for the Frontier V6 because the swing-away leg rests may interfere with the casters. You can certainly outfit your V6 with the latter, but if you do, be aware that there may be times when they get in your way.
Foot posts can be ordered singly or double, and either fixed, flip-up, or angle adjustable, at your preference.
Three Different Control Options
Controller Mount Options
In addition to that, the joystick controller has three different mounting options:
Power Options
Not everyone will need these, but if you do, then this is a compelling reason to consider a chair in the Magic Mobility product lineup. The following power options are available:
Other Add-Ons and Accessories
As impressive as the above list is so far, we're still not done! The following optional gear is also available:
Note that unless otherwise noted, all of these are available on any model the company makes. Also note that the company takes special requests, so if you want or need an accessory not listed here, they'll be happy to work with you and see if they can figure out how and where to include it!
What About Portability?
All of the models and variants built on the Magic Mobility Offroad V4 and V6 chassis are delightfully portable. Granted, these are all serious pieces of machinery, weighing in at over two hundred pounds each (depending on the model and accessories selected).
Even given their weight; however, you won't have any difficulty fitting them into a van, full-size SUV, or the back of a pickup truck, although anything less than that might prove daunting, if not impossible.
The X8 is the outlier here, and isn't as portable as the others, although it too can fit nicely into a truck bed or roomy van. If you don't have any of those types of vehicles, you'll probably want to invest in a lift so that you can get your chair from point A to point B.
World Class Customer Service and Support
This is another nod in favor of the brand. Magic Mobility is one of the major players in the Australian market, and they have a sterling reputation for post-sales service and support. The products they make are rugged and reliable, but if you ever do have any issues with them, help is just a phone call away.
In fact, you'll get to experience firsthand how awesome their customer support team is long before you have your first problem with the chair because if you decide to buy one of their products, given the sheer number of configuration options, you'll be working with a customer service rep quite extensively.
Not every option works in conjunction with every other option, and your rep will walk you through the pros, cons, and tradeoffs associated with the choices you've made.
Also, they'll be your point of contact if you've got any special requests (custom upholstery options, a hidden storage compartment, or anything else you can dream up), so you'll be in good hands before you even finalize your purchase.
Conclusion – Magic Mobility USA Brand Review
All of Magic Mobility's products are a cut above, which is why the company dominated our list of general-purpose outdoor all-terrain wheelchairs.
Although we regard the V4 as the weakest of the bunch, if you're in the market for an exceptional front-wheel drive or rear-wheel drive model, and the other brands you've been investigating have left you a bit underwhelmed, you won't be disappointed. Mostly, it's going to come down to how you plan to use the chair and what your needs are.
With exceptional engineering and world-class quality paired with top-notch customer service and support, it's hard to find a serious weakness in any of their designs, other than the price. You will pay a premium for these chairs. That's an unavoidable consequence of their amazing quality and longevity.
We recommend all of the Magic Mobility Power Chairs highly, with a special nod to the Frontier V6.
---
REFERENCES & RESOURCES