Are you looking for a great massage chair? Confused by all the different brands and manufacturers on the market today?
We understand, and this short piece was designed to help clarify things or at the very least, make the waters a little less muddy.
Don't miss our best massage chair review to see the top massage chairs on the market compared.
Our Selection Criteria
Where is it made?
Where massage chairs are concerned, one of the first and most important considerations is where it is made, but this is more complicated than you might think.
Embedded in that single question are three others:
Where was it designed?
Where were the parts made?
Where was it assembled?
Different massage chair brands answer this question in various ways, and it helps shape and define each company's strategic advantages.
For instance, many companies design, engineer, and build their chairs 100% in China. This gives them a powerful cost advantage, but the chairs tend to be of lower quality and longevity.
Some companies choose a hybrid approach, with design and engineering performed in one country (Japan and the US, primarily), critical components made in advanced countries (Japan, US, Taiwan), and put together in China.
Still, others do the design, engineering, and assembly in an advanced company but buy non-critical components from China. These chairs are the most expensive. Luxury brands have higher overall quality and longevity and usually have the best support.
Ultimately then, it depends on what you're looking for.
What are you looking for?
If you're cost-conscious, then the massage chair brands you'll be most interested in will be the ones where all the work is done in China. If you're more interested in quality and support and are willing to pay a bit more, then you're looking for brands made such that only the non-critical components come from China.
The biggest problem with brands that do their assembly in Chinese factories is the fact that it's much harder to do proper quality control, which is the reason the premium brands insist on local assembly.
Confused yet? Let's take a look at the major individual massage chair brand names and see what makes them tick, in an effort to clear things up!
We'll start first with the US and Japanese-owned brands because at least some of these are made in their respective countries, even if the parts are sourced elsewhere. Broadly speaking, these are what people typically think of when they talk about "the good massage chair brands," and there are more of them than you might think!
US Massage Chair Brands
We'll start first with the US and Japanese-owned brands because at least some of these are made in their respective countries, even if the parts are sourced elsewhere. Broadly speaking, these are what people typically think of when they talk about "the good massage chair brands," and there are more of them than you might think!
Known for their exceptionally high quality, the design, engineering and critical components are all sourced in the US, with a few non-critical parts coming from Taiwan. The Luraco brand is targeted primarily toward therapeutic users.
Design and Engineering are mostly conducted in the US, with support from Japan, and the chairs themselves are manufactured in Taiwan. Human Touch chairs are of consistently high quality, but they are primarily known for their striking design aesthetic.
US Jaclean is a US company that owns the Daiwa brand. Engineering and design are handled in the US and Japan, with non-critical parts supplied by China, and assembly is done in China. These chairs also tend to be more focused on therapeutic users.
These chairs are designed and engineered in the US, but parts and assembly are Chinese. Kahuna specializes in two things. They build great chairs designed for big and tall people and are known for their "Yoga Body Stretch," widely considered to be the best and most effective in the industry.
Similar to Kahuna, the engineering and design function is in the US, but these Infinity chairs are built, and parts sourced in China.'
Design and engineering are of US origin, but all parts and manufacture are Chinese-based. Omega seems to be patterning itself after Human Touch, placing an increasing emphasis on aesthetics, and many of their designs reflect this, although their chairs are of a slightly lower quality.
Japanese Massage Chair Brands
Makers of the Dreamwave, which is often referred to as the best massage chairs in the world. These Inada chairs tend to be pricey, but are extremely well designed, durable, and come with world-class customer support.
These Panasonic chairs used to be designed and built in Japan, but in 2012, the company relocated their manufacture to China. Quality has not notably decreased.
Similar to Apex (see below), these chairs are designed and engineered in Japan, but components are sourced in China, and the chairs are assembled there. Fujita chairs tend to be tightly focused either toward therapeutic or hobbyist users, depending on the model.
Also, their feature implementations tend to be extremely hit or miss, with some being exceptional, and some being horrendous. If you're interested in a Fujita, be sure to research thoroughly, because while some of their designs are excellent, others will leave you wishing you'd gone in a different direction.
Osaki chairs are good, but not exceptional. All phases of design and construction are done in China. As Chinese chairs go, these should be considered premium, and at the top-end of current Chinese manufacturing capabilities.
These chairs are a hybrid, with the engineering, design and major components coming from developed nations, while non-critical components and assembly occur in China. While Apex has some relatively inexpensive chairs, they are especially known for their high-end models.
Design and engineering handled in Japan, but all parts and manufacturing occur in China. Surprisingly high quality for a value-priced line. These Cozzia chairs have proven to be consistently competitive with much more expensive chairs, and offer a solid value for the money.
Korean Massage Chair Brands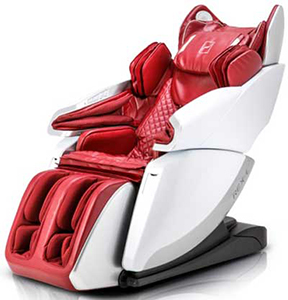 A recent entrant into the industry, these BodyFriend chairs are sleek, beautifully designed, and filled with high-tech features. They have been described as being "massage chairs for Hipsters," and are excellent by any reckoning.
Design, engineering, and critical components are all done in South Korea, with non-critical components coming from China.
Value-Brands
The following brands are exclusively designed and manufactured in China.
The companies that sell chairs here tend to have a minimal footprint, meaning that post-sales support may be spotty, and since every aspect of the manufacture of these chairs takes place in China, the user manuals may or may not be helpful, depending on the quality of the translations.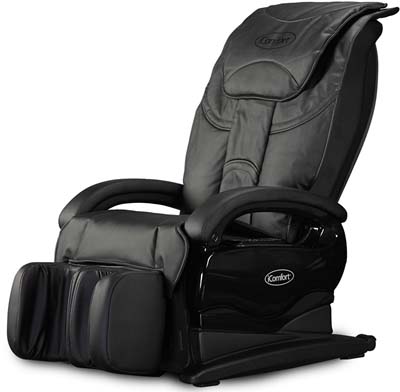 There is one notable exception here. Relaxonchair uses local (US) assembly, and in this space, their chairs are noteworthy for their unexpectedly high quality and modest price.
We have to carve out a little space to talk about the massage chair made by Merax.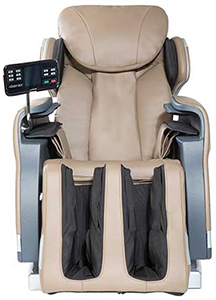 Merax is a Chinese manufacturing company best known for making CD and DVD covers. For reasons that aren't quite clear, they got into the massage chair business and currently offer a single model.
It utilizes Chinese components, design, and engineering, and outdated components, and yet somehow, succeeds wildly. Obviously, the chair is not without its limitations, but is of almost shocking quality, and delivers a much better massage experience than you might expect.
Final Thoughts on Our Selection of Massage Chair Brands
The value found on each of these companies' products will depend on what you're looking for, and how much you're willing or able to spend. The best brands tend to be those that do the bulk of the work (design, engineering, and assembly) in developed nations like Japan, the US, and Korea, but there are exceptions to that generalized rule.
Our Recommendations
In our view, the following are the most highly recommended brands:
Luraco
Human Touch
Kahuna
Inada
Apex
Cozzia
BodyFriend
Relaxonchair, with an honorable mention to Merax.
You won't go wrong with any of these! Note that this is a general assessment, and it is certainly possible to find highly rated models offered by most any of the brands in production today, so careful research remains the best way to find the perfect chair for you.
Other Brands to Consider
In alphabetical order:
Recommended Reading
Our research on the best massage recliners under 500 dollars
References & Resources