In a Nutshell:
The Master Massage Apollo is a true workhorse that can stand up to just about anything you can throw at it. The best value on the portable massage chair market today. Recommended for everyone. It's a great chair, offered at an unbelievably good price.
Are you interested in starting your own business as a massage therapist? Are you already in the business and looking to upgrade your equipment?
If you answered yes to either of those questions, you're going to like what you see in our Master Massage Apollo review.
There is a dizzying array of portable massage chairs on the market today, and finding the right equipment at the right price can be a daunting challenge, especially since you've got to balance your search with starting or expanding your business.
We've tried to help cut through the clutter. Recently, we did a roundup of the best portable massage chairs on the market today, and identified the best of the best. The Master Apollo massage chair not only placed a respectable third in that review but also won the distinction of being the best overall value. It's a tremendously capable chair, offered for an unbelievably good price.
In the sections that follow, we'll give you all the details about everything this well-built piece of equipment can do, and fill you in on its limitations and the areas where it's a little lacking. That way, you'll have all the information you need to decide if it's a good fit for you and your business. If that sounds good to you, let's jump right in and see what the Apollo can do!
An Overview of the Master Massage Apollo Portable Massage Chair
The first thing to note here in our Master Massage Apollo review is that the designers of Apollo opted to stick with a tried and true design. This chair doesn't break any new ground, and it doesn't try to get fancy. Master Massage has been making portable massage chairs for a long time. They know what works and they (wisely, in our view) stuck to it.
Small Footprint
It measures 29" x 19" x 50" and as such, stands a bit taller than many of its peers, but retains a fairly small footprint. That matters because if you're planning on leaving it in one place and having your clients come to you, then you won't have any trouble finding a permanent home for it.
On the other hand, it's one of the lightest chairs featured in our roundup review (only the Earthlite Vortex weighs less at just fifteen pounds, which means it's a snap to fold this chair up and take it on the road if yours is a mobile business that sees you going to various client locations.
Max Supported Weight
Don't let its light weight fool you though; this chair is a beast! It's capable of supporting a massive 650 pounds of weight, which is far above most other chairs on the market today. From a practical standpoint, it means that you'll almost never have to turn a client away because he's "too heavy" for your chair or be forced to look around frantically for some other alternative. In the overwhelming majority of cases, the Master Massage Apollo can handle it!
Although your clients won't be spending tons of time in the chair (at least not in a single sitting), the ergonomic design and generous padding will ensure that they're comfortable while you're doing your work, which is another nod in the chair's favor. Plus it's got some other creature comforts built in with your clients in mind that we'll cover in the next section.
Features of the Master Apollo Massage Chair
This is the heart and soul of our Master Massage Apollo review, and here, there's a mix of good and underwhelming, but as you'll see, Master Massage got just about everything right.
Color Options
Let's start with the underwhelming to get that out of the way. You can have the Apollo in any color you want, as long as you order it in black. This stands in stark contrast to our top picks on the roundup review, which offer their chairs in a staggering variety of colors.
While lots of color options are nice, let's face it, your clients won't keep coming back because you have a pretty teal chair. They'll keep coming back because you give a great massage, and black is a versatile color that works well in just about every setting, so unless you just have to have a chair of a particular color, this isn't a deal breaker.
Upholstery
The other somewhat disappointing aspect of the chair is the upholstery. It uses high-quality PU, but at the end of the day, it's still PU, and if you're looking for a better upholstery option, then the chair you want is the Dolphin II, which you can order with top grain leather upholstery, providing an even more luxuriant seating experience for your clients, and a more durable upholstery solution.
Note that the upholstery on the Apollo isn't bad by any means. It's quite good and reasonably durable. It's just not top of the line.
Adjustability
Where adjustability is concerned, the Apollo shines, giving you six different configuration possibilities, enabling you to position your clients perfectly for whatever kind of massage you're giving, and whatever areas of their body you're working on.
In addition to that, the Apollo offers height adjustments on the face pillow, the sternum pad, the seat, and the armrest. The face pillow is also articulated, allowing you to fine-tune its position to accommodate clients of all shapes and sizes.
Wide Seat
It's also worth drawing your attention to the Apollo's seat, which is about 25% wider than the seats on other chairs. This, combined with the generous soft-cell padding for the seat cushion (which is functionally similar to memory foam, but a lot less expensive) ensures maximum client comfort while they're in your care.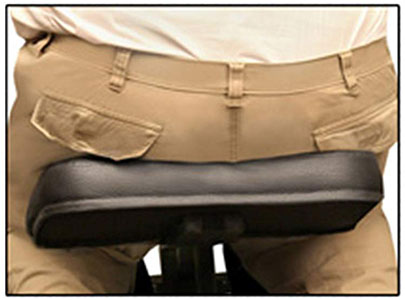 Extras
Regarding extras, there are two that deserve a special mention. First is the handy "sundries pouch" located under the seat, which serves as a convenient place to store glasses, jewelry, and other small items for your clients during their massage.
Second is the well-designed luggage-style carrying case. Unlike the carrying cases offered by most other companies (when they're offered at all – and some companies make you buy the carrying case separately), this one has wheels. Combined with the light weight of the Master Apollo Massage Chair, this makes moving it from one location to the next a lesson in simplicity.
---
Pros and Cons of the Master Apollo Massage Chair
We like just about everything about this piece of equipment, but our Master Massage Apollo portable massage chair review wouldn't be complete if we didn't point out some of its shortcomings.
In fairness, and from a practical day-to-day-use perspective, we don't think this model has any genuine weaknesses, but there are a couple of things that may cause you to gravitate to some other model. These include:
Again though, we don't regard either of these things as deal breakers, because neither impact functionality. If they're important to you though, then you'll likely be happier with some other model.
---
Master Massage Apollo Review Conclusion
And that wraps up our Master Massage Apollo review. By any reckoning, it's a fantastic product. Rugged, built to last and offered by one of the best companies in the industry at an attractive price.
In our view, it's the best value on the market today. Whether you're just starting out in the business, or you're already established and shopping for new and better equipment, we recommend it.
---
REFERENCES & RESOURCES
Master

, Official Brand Website.
Equipping Your Massage Practice, American Massage Therapy Association.
The Pros And Cons Of Mobile Massage, Self Growth.
Why Massage Therapy Is Necessary for an Active Healthy Life, BodySmart Health.