In a Nutshell:
The Mega Motion Easy Comfort is solidly built and well-designed. It skimps on extras and isn't the most attractive, but if you're looking for basic functionality and a high weight limit, this one's hard to beat. Recommended for ideal for heavier users (highest supported weight in its class, up to 500 pounds)
* Brand Reliability is a measure of the strength and longevity of the brand, which by extension, is a measure of the level of support you can expect.
** While aesthetics is a matter of taste, Aesthetic Flexibility is a measure of how easily a given design would fit into a wide range of home or office décor schemes.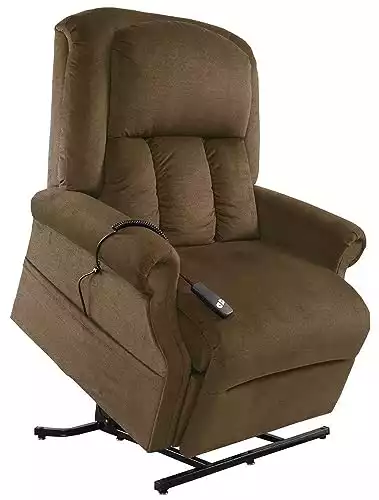 Are mobility issues keeping you from enjoying life to its fullest?
Do you feel a surge of frustration and embarrassment when you have to call for help to do simple things you once did with ease — like standing up after sitting in a chair for a while?
Few things can damage your self-esteem and leech your independence away more quickly than that. And though regaining a measure of your self-reliance can be daunting, a quality lift chair can help you with that.
A Quick Note on Lift Chairs
Outwardly, these chairs look a lot like typical living room recliners. But they're anything but typical. Equipped with motors that gently guide you to a standing position and help you get your feet back under you, it's one of the things you can buy for use in your home that will decrease your reliance on others and give you back at least a portion of the mobility you once enjoyed.
The problem is that there are tons of lift chairs on the market today, and finding the best fit for you can be challenging. We've helped take a lot of the guesswork and frustration out of the equation by conducting a roundup review of the best lift chairs being sold today. And the Mega Motion Easy Comfort Superior earned an honorable mention. For the right user, it's an excellent choice.
Are you that "right" user? Possibly. In the sections that follow, we'll give you full details on the chair so you can decide for yourself. If that sounds good to you, let's jump right in and see what it can do!
Mega Motion Easy Comfort Lift Chair Overview
This is a big freaking chair. That's the first thing you'll notice about it. It looks pretty comfortable and inviting too, but its sheer "bigness" might pose a problem if you have a smaller home or apartment.
It's a classic, low-key design, not beautiful, but not ugly either. More functional than anything. If you're looking for a lift chair that's as much a work of art as a useful piece of furniture, this one's probably not for you, but as you'll see, underneath its unassuming shell lurks a powerhouse of a chair.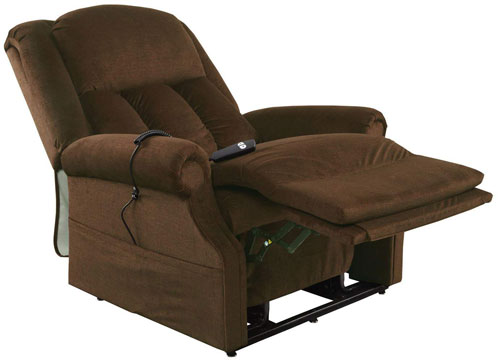 In any case, its unobtrusiveness works to its advantage and makes it easy to fit into your home décor scheme, whatever it might be.
Chair Specifications
Regarding raw numbers, here are the chair's key stats:
Upholstery
Note that while many lift chairs are upholstered in leather (or pleather), this one takes a different approach and is covered in soft fabric, offered in a variety of colors, including:
Seat Padding
Mega Motion gets everything right here. Let's start with comfort. It's a plush, well-padded chair that's a joy to sit in. The padding is standard block foam, but there's a lot of it, and the split back design offers a very comfortable seating experience.
Upholstery
As mentioned in the section above, the upholstery is high-quality fabric. If you're looking for a leather-clad recliner, sorry – that option isn't available with the Easy Comfort, but if you don't mind fabric upholstery, you won't be disappointed.
Recline and Lift Controls
The remote is easy to master and offers its users the best of both worlds: You'll find three preset recline positions (reading, reclining, and lift), and if the presets aren't to your liking (and they may not be), the remote also allows you to go freestyle, adjusting and fine-tuning the angle of recline to taste.
We like that very much. Some chairs have preset recline positions and don't allow you to deviate from those settings, which we find confining, and we were very glad to see both options available here.
Put those two elements together, and you get a chair ideal for napping. You won't have any trouble at all easing it all the way back and taking a siesta.
Powerful Motors
Tucked away beneath all that padding are two quiet, powerful motors, one for controlling the recline function and the other for controlling the lift. Both offer smooth action, so you're not going to get jolted unexpectedly when you start pushing buttons on the remote.
Extra Features
There are only two "extras" to mention about the Mega Motion Lift Chair, one small one and one important one.
Storage Pockets
One small extra is the storage pockets. Two storage pockets are available, one on each side of the Mega Motion Easy Comfort Superior. They're nice and roomy, with more than enough space to hold the remote, your favorite books and magazines, and any other small items you want to keep close at hand while you enjoy time in your chair.
Backup Battery
The second extra is a very big deal – a battery backup system.
Imagine the following scenario: Before you got your new lift chair, you couldn't stand up without calling for assistance. The lift chair you purchased doesn't come with a battery backup, and while you're napping, a thunderstorm knocks the power out. What do you do?
Well, if you're home alone in that case, there's not much to do. You're stuck in the chair until someone finds you or until the power comes back. That will never happen with Easy Comfort.
If the power fails, the battery backup will kick in, and you'll be able to get your feet back under you without having to call for help or wait for someone to find you.
It seems like such a small thing…until you need it. Then it's the most important feature of the chair. In our view, buying a lift chair without a battery backup is like buying a car without a spare tire. It's just asking for trouble.
Minimal Assembly Required
Unfortunately, you'll have to do some work before the Mega Motion Lift Chair is ready for you to curl up in. When it arrives at your house, it'll come in two boxes. There aren't many pieces to worry about, and assembly doesn't take too long, but even a straightforward assembly can pose a significant challenge if you suffer from mobility issues.
With an assistant, you can have it ready to enjoy in under twenty minutes. If you'd rather not be bothered, you can order "White Glove" service from the company, and they'll put it together for you. It's somewhat expensive, but if you're looking for a hassle-free, hands-free experience, that's the way to go.
About Mega Motion
One thing we haven't mentioned yet is that Mega Motion is a subsidiary of Pride Mobility, one of the top players in the mobility market and makers of a wide range of wheelchairs, mobility scooters, and the like.
The company makes exceptional products and offers world-class post-sales service and support. Even if you ignore the great features we've discussed to this point, that alone makes Easy Comfort worth considering. Of course, it does offer some great features, which makes it even better.
Mega Motion Easy Comfort Superior Pros & Cons
In our view, here are the main reasons you'll love this chair:
Having said that, there are a couple of issues that might make you look in some other direction:
Mega Motion Lift Chair Review Conclusion
While most lift chairs on the market today are built with older people in mind, this one takes a different approach and is made with heavier people in mind first and foremost.
In many ways, the Mega Motion Easy Comfort Superior is a self-selecting chair. If you're big, tall, or heavy, you will be drawn to this model instantly. If not, then you'll almost certainly recognize that it's' "too much chair" for you and look at something that's a better fit for your body type.
Similarly, if you're looking for tons of gadgets, gizmos, and extras, this chair will leave you unimpressed. If you're looking for a rock-solid design that has the basics well-covered, is comfortable, and is offered by one of the leaders in the industry, then this chair is going to excite you.
With that in mind, we highly recommend the chair for the following users:
If that describes you, then this chair belongs to your short list of contenders. If it doesn't, then there's almost certainly a better "fit" for you elsewhere in the market. We recommend it…for the right user.
---
References & Resources: