In a Nutshell:
A reasonably attractive, well-designed all-purpose office chair, optimized for larger folk. Merax Deluxe Series Office Chair is provisionally recommended for anyone, however there are better if slightly more expensive options available.
* Brand Reliability is a measure of the strength and longevity of the brand, which by extension, is a measure of the level of support you can expect.
** While aesthetics is a matter of taste, Aesthetic Flexibility is a measure of how easily a given design would fit into a wide range of home or office décor schemes.
Are you a bigger, taller individual?
Are you looking for a decent office chair for home use that's not an eyesore and doesn't cost a ton of money?
If you answered yes to either of those questions, then the Merax Deluxe Series Office Chair might be the right choice for you.
We'll be quick to point out that Merax's big and tall chair isn't perfect, but its strengths outweigh its weaknesses by a substantial market, and it's offered for a song, which makes it a solid choice.
In the sections that follow in this review, we'll take a deep dive, highlighting its best and worst attributes so you'll have all the information you need to make an informed purchasing decision.
The value segment of the office furniture market is a crowded, bustling place and there are lots of chairs to choose from, so the Merax Deluxe has plenty of competition. While it's not the final word in big and tall office chairs, it does offer solid value for the money. Let's jump right in and take a closer look!
An Overview of the Merax Deluxe Series Office Chair
Unobtrusive.
That's the first word that sprang into our mind when we first laid eyes on the Merax Deluxe Series Office Chair. It's a big piece of furniture, which you'd expect for a big and tall chair, but it's designed along fairly conventional lines. It's not flashy or showy, or particular elegant, but it does blend in well with most home décor schemes, and that's a good thing.
Chair Specifications
Where basic stats are concerned, here's a quick rundown of the Deluxe:
We like that the height adjustment range and the maximum weight limit of the chair both support the basic design premise of the model as a chair geared toward bigger and taller folk. Those elements have good synergy with the seat height and width too, so the Merax Deluxe has the basics well covered.
The steel base is the primary element that allows the chair to accommodate the added weight load, and while we applaud it, we'll also note that there are other big and tall chairs on the market that can support even more weight. For example, Flash Furniture's Hercules 24/7 is comparably priced (slightly more expensive) and can support an additional 100 pounds of user weight.
Overall, the first impression the chair leaves you with is that while it won't win any beauty contests, it is sturdy, comfortable and functional — all good things.
Features of the Merax Deluxe Series Office Chair
Adjustability and Comfort
The Merax Deluxe doesn't win high marks in terms of adjustability. The height adjustment range, while well-suited for bigger, taller people is slightly less than the 4" range you find on most office chairs.
Also, this model doesn't have a tilt and lock feature, so you can't lean back in it to relax, although it does have a small range of rocking motion, which is something. Still, tilt-and-lock is pretty basic functionality, and we'd have expected to see at least something on that front.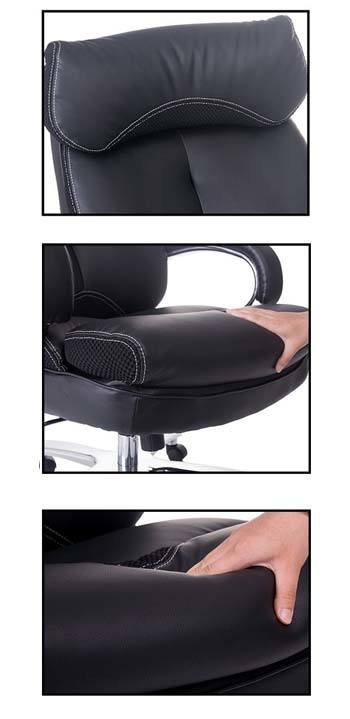 Despite the relative lack of adjustability, it is a comfortable, well-padded chair, utilizing generous amounts of standard block foam with PU stretched over it.
Although we can't say we're impressed with the upholstery choice, it's incredibly common in chairs offered at this price range. To the company's credit though, they did make some effort on this front by incorporating double stitching on the armrests, seatback, seat and on the headrest pillow. It's a nice touch that proves Merax knows what they're doing.
Where ergonomic features are concerned, the Deluxe is about the middle of the road. You'll find four elements here, all of them moderately well implemented. The chair's lumbar support is the best of the bunch and although it's not at all adjustable, it does add to the chair's overall comfort and the vast majority of users will be pleased.
Many Merax Deluxe Series Office Chair reviews agree that the head and neck support is the second most robust ergonomic feature, and the built-in headrest pillow is surprisingly comfortable. This, however, is something of a missed opportunity, given the lack of a recline feature, which blunts the effectiveness of the feature.
The seat design is adequate and does provide some leg support which will help improve circulation while sitting in the chair but falls short of being a true waterfall-edge design, and the armrests are both padded and ergonomically shaped but lack any means of height adjustment. Overall then, it's a mixed bag with decent feature implementations that fall short of excellence.
There's a bit of a disconnect between the durability of the base and the quality of the materials used in the construction of the rest of the chair, including the upholstery. While the base and lift mechanism can certainly stand up to the rigors of heavy daily use, the upholstery can't take it. It'll start breaking down a lot sooner than you wish it would.
The upshot is that Merax clearly understands office furniture and the biggest drawback of leather (even faux leather) upholstery: the relative lack of breathability. Merax took some steps to counter this limitation. Along the side of the seat and seatback, they took the step of incorporating mesh fabric, which does help some on the breathability front.
Even so, the low-quality leather doesn't lend itself well to heavy daily use, which puts real limitations on this design.
Does Not Come Assembled
As you might expect, when this chair arrives at your door, it will come in a large box containing several pieces. Merax does a better than average job with assembly instructions, and while the production quality of their chair isn't top-tier, it's good enough that you won't have any trouble with the holes lining up correctly.
Expect the assembly process to take the better part of an hour if you're doing it solo, with the most challenging part being to attach the seat back to the seat itself, via the stationary arms. If you have an assistant handy, you'll be able to shave ten to fifteen minutes off of the total assembly time.
Pros and Cons of Merax Deluxe Series Office Chair
The Merax Deluxe is undoubtedly an above average chair, and for the right user, could be an excellent choice. It does, however, fall well short of excellence, being a mixed bag of average and above average feature implementations and a few serious shortcomings.
As we see it, here are the best features the model has to offer:
The main negatives of the Deluxe are as follows:
Perhaps our biggest frustration with the Merax Deluxe lies in the fact that we've seen outstanding models from the company, and we know what they're capable of. While this chair does offer good feature synergy in some areas, it completely fails in others.
This model, with its ruggedized base, would have been an ideal candidate for durable fabric upholstery, which would have made the addition of the mesh fabric pockets unnecessary and made the chair much more able to withstand the rigors of heavy daily use.
Pair that with a property designed waterfall-edge style seat, and incorporate a tilt and lock function to take full advantage of its comfortable headrest pillow and this chair could have been a top-tier contender.
Merax Deluxe Series Office Chair Review Conclusion
At the end of the day, we regard the Merax Deluxe Series Office Chair as an above average chair that would be a good fit for big and tall users looking for a reasonably-priced chair for light to moderate daily use. While it's true that there are better chairs on the market, these tend to cost at least a little more.
We provisionally recommend the model, and we hope that Merax will work to improve it. With a few changes, this chair would have scored significantly higher.
---
References & Resources