In a Nutshell:
Merax High-Back Ergonomic Gaming Chair has a decent feature set. Provisionally recommended if you can find it on sale, if you find the aesthetic appealing, and if you're only looking for something for the light to moderate daily use.
(Treat the Value score as 4.25 if you can find this chair on sale – on sale final score = 3.625)
* Brand Reliability is a measure of the strength and longevity of the brand, which by extension, is a measure of the level of support you can expect.
** While aesthetics is a matter of taste, Aesthetic Flexibility is a measure of how easily a given design would fit into a wide range of home or office décor schemes.
Are you on a budget, but looking for a great, low priced gaming chair? If so, you've probably come across one or more links to the Merax high-back ergonomic gaming chair and may be tempted to give it a try.
While we love Merax as a company, and readily acknowledge that they make surprisingly good office furniture, we regard this one as equal parts hit and miss. We still provisionally recommend it, but it's got some issues, so before you commit to a purchase, we urge you to read this review, so you have all the information you need to make an informed decision.
It's not that it's a bad chair, it's just that it has some genuine limitations to be aware of. Not to worry though; in the sections that follow, we'll put this model under our microscope and fill you in on what works and what doesn't.
If that sounds good to you, let's get down to business!
An Overview of the Merax High-Back Ergonomic Gaming Chair
Merax is perhaps best known for making CD and DVD cases. There's nothing about the company that screams 'We make excellent office furniture!' and yet, some of the models they offer fare surprisingly well, punching well above their weight class.
Unfortunately, this particular model isn't one of those. We regard the Merax High-Back Ergonomic Gaming Chair as being slightly above average, but a bit pricey for what you get, which is why we noted that if you can find the model on sale (and you frequently can), it becomes a much more viable contender, IF you can live with the chair's very real limitations.
Before we start talking about that though, let's start with some basic stats to give you a general overview so you'll have a better understanding of what you're getting:
There are a couple of interesting things to talk about here, some good, and some not. Let's start with the good.
Stylistically, it's a good-looking chair. Very edgy and modern, which is helped along by the fact that it's offered in a variety of bold, two-tone colors (blue/black, red/black, or white/black).
It's also a relatively lightweight chair, which means that you won't have any difficulty moving it from place to place. Although, we'll note that the casters or chair wheels may get bogged down in thick, plush carpet. The chair also has an impressive recline range, which we like.
Granted, this model doesn't come with an ottoman, but with a bit of applied creativity, you could engineer one to use with it, and recline back while relaxing or playing your favorite video games, which is a good thing, and one of the mainstays of gaming chair design.
On the other hand, though, check out the height adjustment range compared to the maximum weight limit. The height adjustment range strays into Big and Tall territory, but the weight limit doesn't support that design decision.
That's not a surprise; the base is, after all, non-reinforced nylon. It's possible to ruggedize nylon to allow it to support more weight, and this chair would have been greatly aided had the company chosen to go that route or use an aluminum or steel base.
In our view, the disparity counts as a strike against the model. Unfortunately, as you'll see below, it's not the only one.
Features of the Merax Racing Style Gaming Chair
Adjustability and Comfort
There's more adjustability here than first meets the eye, which we're happy about. For starters, as you saw above, the seat moves up and down in an industry standard 4" range, although again, we'll point out the disconnect between the height adjustment range and the Merax High Back Racing Gaming Chair's maximum supported weight.
In addition to that, the tilt and lock lever on the side of the seat allows you to select any angle of recline between 90 and 160 degrees, which makes it quite versatile.
Comfort-wise, the high back racer is moderately padded with block foam and covered with PU. It's certainly not the most comfortable chair you can buy, but for light to moderate daily use, it's not bad, either.
You'll also find some reasonably well implemented ergonomic features including decent head and neck support, lumbar support a sculpted seat that can't quite be described as waterfall-edge style, but comes reasonably close, and ergonomic armrests.
This brings us back around to the subject of adjustability again, because the headrest pillow and the lumbar support pillow are both moderately adjustable in that they're held in place via Velcro straps, which does give them a bit of play in terms of their position.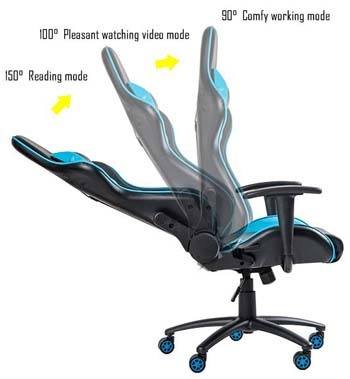 Unfortunately, Velcro isn't a strong fastener, so if you move around much in the chair, the pillows are apt to shift with you, and you'll probably find yourself having to readjust both periodically.
In our view, it would have been better to build in some type of adjustment mechanism with a locking function, but this was the cheaper approach and was likely implemented in a bid to keep costs down, which we have to say, the company only moderately succeeded at.
Merax is asking a pretty penny for this chair, and we don't feel that it's a great value at full price. Fortunately, you can often find this model on sale, and at its sale price, it's a much stronger value.
The armrests are ergonomically sculpted and lightly padded but are not upholstered and aren't adjustable. We don't mind the relative lack of padding, but at the full asking price, we would have expected height adjustable arms.
Does Not Come Assembled
It should come as no great surprise, but this chair will arrive at your house in a big box and in several pieces. Fortunately, Merax does a better than average job where assembly instructions are concerned, and while their production quality isn't top-tier, the holes on the various pieces line up well enough that assembly isn't particularly challenging.
Combine that with the fair that it's not an especially heavy chair and you shouldn't have any real issues with getting it ready for first use.
Merax Ergonomic Gaming Chair Pros and Cons
As we said at the start, the Merax High Back Racing Style Gaming Chair is very much a mixed bag, with some things we like and others that we don't. In our view, here are the chair's best features:
Now for the not so good:
Really though, here's the biggest issue we have with the Merax High Back Gaming Chair:
Gamers tend to spend lots of time playing games. Gaming chairs then, need to be able to stand up to the rigors of heavy daily use. This chair can't.
The base is lightweight nylon, the upholstery is PU which will start showing its age quickly, and the chair doesn't boast enough padding to make it a comfortable chair for sitting in for extended periods.
Merax High Back Racing Gaming Chair Review Conclusion
We wanted to like the Merax High-Back Ergonomic Gaming Chair more than we did. The simple truth is that it's a slightly above average office chair, but a relatively poor gaming chair.
That said, it's a good-looking design, and we provisionally recommend it if you're the right kind of user. In our view, the right type of user will have the following characteristics:
There's no doubt in our minds that people who check all three of the boxes above exist, but they're not a huge segment of the market.
If the three bullet points above describe you, and you can catch this model on sale when it's a much better value for the money, we recommend it. If not, this almost certainly isn't the gaming chair you want.
---
References & Resources