In a Nutshell:
The Modern Luxe High Back Executive Office Chair is a surprisingly sturdy, capable chair, offered for a song, and in a color not often found in the office chair world. Recommended for taller users with a slim or medium build who are on a budget and looking for a cream-colored/off-white chair.
* Brand Reliability is a measure of the strength and longevity of the brand, which by extension, is a measure of the level of support you can expect.
** While aesthetics is a matter of taste, Aesthetic Flexibility is a measure of how easily a given design would fit into a wide range of home or office décor schemes.
Are you a taller person who's in the market for a new office chair?
If money's tight, the search can be frustrating because while there are tons of companies offering low-priced office furniture for sale, the quality varies markedly from one company to the next and with so many options available, many people wind up with a kind of analysis paralysis.
If that describes your current situation, we can help, and the Modern Luxe High Back Executive Office Chair is an excellent option to consider. Although offered by an off-brand, we were pleasantly surprised by the production quality of the chair and found it to be surprisingly full-featured given its almost shockingly low price.
Even better, it's offered in a creamy off-white color, which, while not for everyone is a nod in its favor in our book and certainly sets it apart. We'll be quick to say that it's not a perfect chair, but for the money, we were impressed.
In the sections that follow, we'll go over everything this chair can do, what it gets right and fill you in on its limitations. Even if you ultimately decide this chair isn't for you, we think you'll agree; it's an interesting model and well worth taking a closer look at.
An Overview of the Modern Luxe High Back Executive Office Chair
We almost have to start by talking about the color of the Modern Luxe High Back Executive Office chair. Most office furniture is either slate gray in the case of mesh or black. A few models are upholstered in brown bonded leather, but you very seldom see an office chair offered in cream/off-white.
We like that and count it among the chair's positive attributes. It's still a neutral color, and the chair itself is designed along reasonably conventional lines which makes it reasonably attractive and able to blend in seamlessly with a variety of home or office styles.
Color aside, let's take a look at the basic stats that drive and define the model:
There are a couple of interesting things to talk about here. First, the seat height, depth, and the height adjustment range all mark this as a chair suitable for big and tall folks.
Unfortunately, the model's modest weight limit of 225 pounds doesn't support that. This, then, is a chair that's great for taller people, but not so great for big boned taller people.
If you're on the short side, the Luxe High Back is probably not going to work for you, because even at the lowest setting, the seat is 20" off the ground. That, combined with its impressive seat depth will make it hard for a short person to use effectively.
If you sit all the way back, your legs most likely won't touch the floor. If you sit forward far enough so that your feet touch the floor, you'll lose out (mostly or entirely, depending on how long your legs are) on the back support. Ultimately then, that makes the chair a bit of a niche product aimed at taller users with slim or medium builds. If that doesn't describe you, you still might be able to use the chair, but you'll need to take careful measurements.
A good office chair is more than a collection of basic stats, however, so in the next section, we'll take a more in-depth look at what it has to offer in terms of features you'll find useful.
Adjustability and Comfort
The Luxe features a trio of surprisingly well-implemented ergonomic features. We'll talk about them from the weakest to the strongest.
The first thing to mention then is the ergonomic headrest. While we'd rate it as the weakest of the three features, this model offers better head and neck support than many other chairs in its price range, so overall, we'd still rate it as above average. That matters because the Luxe has a great maximum recline angle of 150 degrees.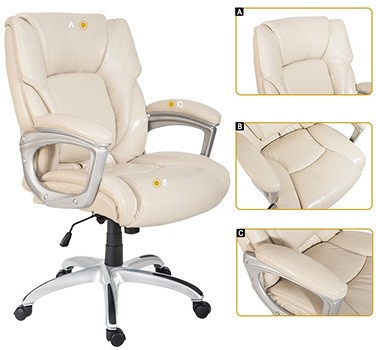 Many office chairs at the low end either don't recline at all or recline to a maximum of 120 degrees. The industry average is about 135 degrees. This model reclines to a maximum angle of 150 degrees, which we find to be fantastic.
Modern Luxe sells an optional footrest that matches the chair if you're interested, or, if you're a bit of a do it yourselfer, it's easy enough to engineer a makeshift ottoman. Whichever way you decide to go, that addition makes this chair even more versatile. It's not a true recliner, obviously, but it is comfortable enough to stretch out and relax in after the work is done.
Then there's the waterfall-style edge seat. We're impressed at how well the company was able to implement this feature because the chair has a tremendous amount of padding. That can make it tricky to get the waterfall-edge seat to work the way it's supposed to, but the company did a superb job.
Even if you spend several hours in the chair, you won't find that you lose circulation in your legs. In our view, this is one of the clearest points of evidence that proves Luxe Modern knows what they're doing when it comes to building quality office furniture. Kudos to Luxe on this feature! A job very well done.
The real star of the show in this chair, however, is the lumbar support. Luxe has taken an innovative approach here. Not only is the support excellent, but it's also adjustable. You'll find a loop of leather that tucks into the seam between the seat and the seat back.
Pulling in this will allow the bottom of the lumbar support to pop out, allowing you to adjust its position so it can provide support for your lower back even in cases where you're leaning forward in your chair and would otherwise have none.
We've never seen any other chair do it like that, and we have to say, we like it. Again, kudos to Luxe for heading off in their own direction. It's not often that you see a genuine innovation coming from an off-brand, and we'd love to see more of this type of thing.
In terms of comfort, the Modern Luxe Inno Series Executive Office Chair definitely doesn't disappoint. While the padding is conventional block foam, there's a lot of it. You'll find more than five inches of padding in the seat alone! The padding in the seatback isn't quite as plush but it never is, and there's more than enough to provide a delightful seating experience.
Unfortunately, there's a drawback. The chair is upholstered in faux leather. It's just not as durable as we'd like to see, and it will start showing its age after about a year of heavy use. You can probably stretch that to two years if you only use the chair lightly to moderately.
In our view, this chair would have been even better if the company had covered in fabric. It would have been more breathable, more resistant to wear and better able to stand up to the rigors of heavy daily use.
As it stands, the faux leather will make you sweat if you spend more than a few hours at a stretch in it which is rather disappointing because it's got enough padding that if it was upholstered with something more breathable, you'd definitely want to.
Moving on to the armrests, they're well-padded and comfortable but not adjustable at all and not ergonomically designed. There's not much to say here except to note that they are generously padded and we were pleased to see that the double stitching used elsewhere in the chair also put in an appearance here.
The only other thing to talk about here in our Modern Luxe High Back Executive Office Chair review is that the when you lock the tilt control mechanism, the Luxe still allows you to rock back and forth slightly in the chair. It's a small touch, but one we like.
Assembly Required
It probably comes as no surprise that if you order this chair, when it arrives at your door, it will be in a large box and in several pieces. The assembly instructions aren't great, but they're not awful and the production quality is good enough that the assembly process won't leave you howling in frustration.
Although you will probably encounter at least one screw hole that won't line up perfectly or has rough edges, so watch your hands and be prepared to do a bit of wrestling where getting the parts to fit neatly together is concerned.
Overall, if you're assembling the chair on your own, you can expect it to take the better part of an hour. If you have a trusty assistant, it probably won't take longer than thirty minutes and once it's done, about the only thing you'll have to do is periodically re-tighten the chair arms, which will tend to loosen every six months or so.
Pros & Cons of the Modern Luxe High Back Executive Office Chair
So where does that leave us?
Clearly, the Luxe High Back isn't for everyone, but it does have many features that mark it as a well above average chair.
We love the overall dimensions, but those are self-selecting features. As we said before, if you're a shorter person, this won't be the chair for you. In a similar vein, if you prefer a more traditional color for your next office chair, you'll almost certainly give this one a pass.
On the other hand, it is delightfully comfortable and surprisingly adjustable. The maximum recline angle is awesome and makes it useful for relaxing as well as working.
We were also impressed with the double stitching everywhere and its well-implemented ergonomic feature. Modern Luxe clearly knows how to make good furniture and assuming the dimensions of the chair are right for you; you'll be pleased by them.
In our view, there are two negatives associated with the model, one minor and one significant. The minor issue is with the chair arms. Although well-padded and comfortable, they're not adjustable in any way.
It's certainly not a deal breaker, but given how well the company implemented the ergonomic features on this chair, we feel that adding ergonomic (and adjustable arms) would strengthen the overall design.
The second issue is with the upholstery. Although the double stitching is an unmistakable sign of quality, at the end of the day, the chair's covered with an attractive but low-quality material that will start showing its age quickly and will make you sweat if you spend extended periods in the chair.
Modern Luxe High Back Executive Office Chair Review Conclusion
Overall then, we regard the Modern Luxe High Back Executive Office Chair as being well above average but falling short of greatness. That, combined with the fact that it's definitely a niche product makes it impossible for us to give it a strong recommendation.
We do, however, provisionally recommend it for taller users of slim to medium build who are looking for a modestly-priced office chair with well-implemented ergonomic features. It's a great choice for the right user.
---
Official Manufacturer Support
References & Resources