In a Nutshell:
The Modway Edge office chair has a high-end design and impressive features for a chair that comes in under $150. The ergonomic support is found in every aspect of the chair, making this our top pick for a budget-friendly ergonomic office chair.
* Brand Reliability is a measure of the strength and longevity of the brand, which by extension, is a measure of the level of support you can expect.
** While aesthetics is a matter of taste, Aesthetic Flexibility is a measure of how easily a given design would fit into a wide range of home or office décor schemes.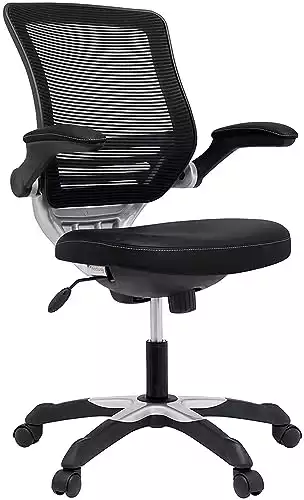 Choosing your office chair is a big decision. After all, this is the chair you'll be sitting in for the foreseeable future, so you want something comfortable and durable. In some cases, you may be looking for a budget-friendly option as well. If that's you, then our Modway Edge Mesh Office Chair review is the perfect place to be.
Join us as we look at this stylish office furniture in great detail, breaking down the brand, features, pros, and cons of the Modway Edge office chair solution.
Modway Edge Mesh Office Chair Overview
Modway is a brand known for their affordable office furniture. With over 5,000 different products in their catalog and warehouses on each coast of the United States, they have over one million square feet of space dedicated to their products.
Modway specializes in wholesale transactions, but they sell to individuals as well. They've even expanded their line of furniture into things like boxed mattresses and area rugs. They focus on mid-century styles that have a hint of contemporary influence.
A lot of Modway furniture is purchased by Hollywood studios for its unique design and excellent pricing. Who knows, perhaps one of your favorite television shows have a Modway office chair in it. It's very possible.
The Edge line of office chairs has a unique mesh back that provides a breathable material for comfortable seating experiences. This is combined with modern ergonomic solutions to create a chair that maintains a contemporary style while incorporating some unique design choices specific to Modway.
Join us as we look deeper into the features that this office chair offers for its budget-friendly price tag.
Modway Edge Office Chair Features
The Modway Edge Office Chair makes a striking first impression. Here is a look at the features it offers for a price tag under $150.
Durable Materials and Parts
With Iron for the frame and a combination of vinyl materials for the upholstering, the Modway Edge Vinyl Office Chair offers sturdy and durable materials. A two-tone nylon base also supports the chair on solid wheels.
The mesh back is taut and flexible, offering a breathable material that keeps you fresh, even during the harsh summer months.
Unparalleled Ergonomic Support
Lumbar support is combined with a padded waterfall seat to improve circulation in the legs. This combination allows you to sit comfortably for long periods of time, especially during workdays that run late.
Modern Design
The design is fundamental when it comes to modern office chairs. You want something professional, but modern, and you need something that will fit into an office setting. Modway meets all of these needs by combining fundamentals with contemporary ideas.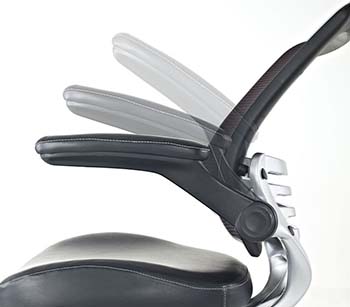 The Modway Edge Mesh Executive Office Chair's base and seat are fueled by classical design, while the back adds contemporary design in the form of a mesh and lumbar support built into the backrest.
Synchronized Tilt
Both synchro tilt and tension control allow you to tilt backward while keeping your feet on the ground. The Edge series of office chairs also features one-touch height adjustment.
Modway Edge Mesh Office Chair Specifications
| | |
| --- | --- |
| Product Dimensions | 26 x 26 x 37-41 inches |
| Material | Iron, Plywood, Polypropylene, Nylon, Polyester, Fiber |
| Weight Capacity | 330 pounds |
| Seat Height Range | 17 – 21 inches |
Color and Model Variations
The Modway Edge Mesh Office Chair comes in seven different colors: black, blue, brown, gray, red, tan, and white. The Edge collection of Modway chairs is also available in various designs, such as drafting stools or leather variations as well.
The currently available model is the one we are reviewing today, which is the vinyl seat and mesh back.
Modway Edge Vinyl Office Chair Pros and Cons
For the price under $150, there's a lot more going on with the Modway Edge Office Chair than you would expect. Let's take a look at what it does right, and what it could have done better:
PROS
CONS
Right off the bat, we were impressed with the ergonomic features and options on this office chair. Lumbar support and a waterfall seat are both excellent options to have in your office chair. The modern and contemporary design would also look great in any office setting.
A price point under $150 is one of the reasons why we chose this as top office chair in our selection of chairs under $150 and $100.
The assembly of the chair has been met with some complaints from customers, leading us to believe that the chair could have been easier to assemble. Some customers have also reported that the chair starts to show wear and tear after a year or so of constant use.
In the pursuit of ergonomics in this mesh chair, there are also some sacrifices in comfort overall. The mesh back and the plastic lumbar support do not offer the same level of comfort as something like leather, but they do still provide that breathable nature that people want from a mesh chair like this one.
Our Verdict: Modway Edge Mesh Office Chair
This Modway Edge Mesh Office Chair review showcases the many reasons why we love this affordable ergonomic office chair. If you need an office chair that offers a modern design and plenty of features you would typically find in high-end chairs, the Modway Edge is an excellent solution.
If you prefer more padding on your chairs, there are other ergonomic options for similar prices that focus on leather and thicker padding.
---
REFERENCES & RESOURCES: