In a Nutshell:
While drafting chairs do offer specific functionalities, this Modway Veer Drafting Chair is one of our top picks for an ergonomic office chair, based on the quality of its design and features.
Ergonomics is a complicated thing when you're talking about office furniture. Things like height, the angle of your arms, and even your feet touching the floor are all factors. Drafting chairs are a special type of ergonomic office chair for artists, architects, and anyone who needs additional height.
Our Modway Veer Drafting Chair review will help you decide if this is the type of chair you need to improve your posture, comfort, and overall workplace quality. Read on to find out everything there is to know about this drafting chair.
Modway Veer Drafting Chair Overview
Modway's variety of furniture spans across 5,000+ SKUs stored in warehouses that span from coast-to-coast of the United States. Their contemporary designs add a flourish to otherwise high-quality office furniture.
We have featured several Modway products on our best of lists and for a good reason. Modway furniture is often used in Hollywood sets because of its excellent design and eye-catching appeal. The company continues to expand their catalog, but we will always love their ergonomic office furniture.
Now, when it comes to drafting chairs, these are a little different than your typical office chair. Specifically, they are designed with elongated cylinders and higher height options. Since the seat is too high for anyone to touch the ground, drafting chairs also have foot rings to rest your feet on.
If you're sitting at a typical office desk, a drafting chair is going to be too high, even at its lowest setting. If you're sitting at a drafting table or standing desk, then a drafting chair like this one is a perfect fit.
Modway goes the extra mile with their chair, offering a variety of adjustable features to enhance the ergonomic value. They also include their iconic mesh design to keep the airflow high and the chair comfortable to sit in.
Join us as we look at the features of this drafting chair in greater detail.
Modway Veer Features
Now that we've identified what makes a drafting chair stand out from the pack let's talk about what makes this option from Modway genuinely unique.
Breathable Mesh
Modway chairs are known for their design, part of which includes a breathable mesh on the back and seat of the chair. This allows for proper airflow through the chair, keeping you cool and relaxed, even during the hotter summer months.
Padded Waterfall Seat
The padded seat has a waterfall design that keeps your feet on the ground and circulation moving through your legs. This is an excellent design feature that enhances the ergonomic value of the chair overall.
Lock and Tension Adjustment
A convenient tilt lock and tension knob is easy to reach while seated. This will give you the option to lock the Modway Veer Office Chair in place or adjust the tension for tilting back and forth.
Foot Ring and Pneumatic Lift
A chrome-plated foot ring gives you a place to rest your feet while sitting. The elongated cylinder and pneumatic one-touch height adjustment also let you make quick changes without ever leaving the chair.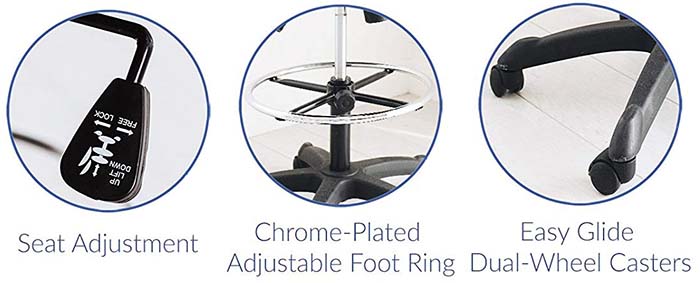 Adjustable Armrests
The armrests of the Modway Veer Drafting Chair are adjustable across a range of heights. You can flip the armrests up by 90 degrees as well if you don't need them, and require additional space.
Modway Veer Office Chair Specifications

Product Dimensions
22.5 x 25.5 x 50 inches
Product Weight
32 pounds
Weight Capacity
330 pounds
Colors
Black, Blue, Red, Gray
Modway Veer Office Chair Color Variants
Pros and Cons of Modway Drafting Chairs
Drafting chairs are often found in stool form, but this option from Modway includes a variety of ergonomic chair features. Here is a look at the pros and cons:
PROS
CONS
There's a lot to love about the Modway Veer Drafting Stool-Chair. The extra height that a drafting chair offers is crucial for ergonomics when you're working at a drafting table or a high desk. The adjustable height and armrests, along with tilt and tension lock offer a lot of customization.
The design of the chair includes a mesh back and waterfall seating as well, both of which enhance the comfort of the chair. A chrome-plated foot ring gives you a place to rest your feet, also hugely important when you're dealing with ergonomics.
The downsides are few, but they are there. Drafting chairs, in general, are not an ideal solution for everyone. The extra height is a great touch, but your legs won't fit under a standard desk, even if the chair is at its lowest height.
Finally, there's no adjustable lumbar support to be found, which is something we like to see in our ergonomic chairs.
The Verdict: Modway Veer Drafting Chair
When constructing a Modway Veer Drafting Chair review like this one, we take into account every aspect of the chair, and the things it will be used for. Looking at this chair through that lens, this is one of the most ergonomic drafting chairs on the market.
---
References & Resources