In a Nutshell:
The Moon Lence Compact Backpacking Chair is a lightweight and portable piece of furniture designed to go everywhere with you. While it's not quite as durable and long-lasting as other options out there, it has a great price and some stand out features.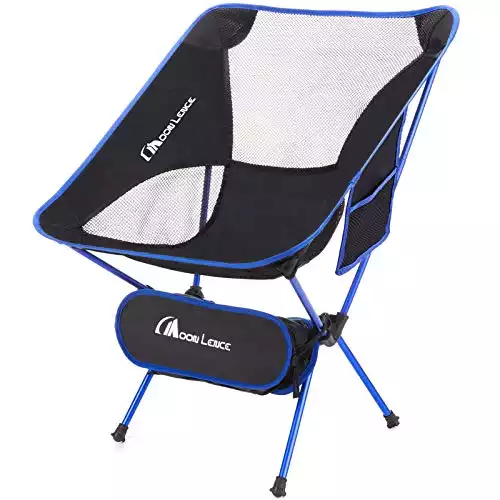 When you're planning an outdoor trip, what kinds of things do you pack? A tent, supplies, and food are all probably at the top of your list, but what about a place to sit? The answer to this question lies in backpacking chairs like the one in this Moon Lence Compact Backpacking Chair review.
The ideal piece of outdoor furniture is one that goes with you effortlessly. It should also be durable and comfortable for any type of environment. That's a tall order, so let's find out if this backpacking chair meets or exceeds those requirements.
Moon Lence Backpacking Chair Overview
Moon Lence is a brand that sells a variety of outdoor furniture on Amazon. Their product catalog covers several types of backpacking chairs, tables, and inflatable sleeping bags.
This portable backpacking chair comes in several different colors, along with a lounge option that offers a higher back and head cushion. The simple folding mechanism and carrying bag allow you to take it with you on any kind of outdoor excursion.
The use of a shock-cord pole frame makes it easy to deploy the chair as the bungees naturally pull into the correct shape. Breaking it down is also very simple, as the chair will fall into place once you disengage the joints.
Other features, like washable material, also make this a quality chair an excellent choice for those who want something rugged to take with them on their outdoor adventures. Let's take a look at the features you can expect from this Moon Lence Compact Backpacking Chair review.
Moon Lence Compact Backpacking Chair Features
Features like portability and lightweight design are incredibly important, but also subjective. To properly understand what makes a backpacking chair unique, one must dive deeper into the chair's offerings.
These are the features you can expect from this Moon Lence Backpacking Chair:
Durable Materials
The frame of the chair is made from lightweight aluminum, while the material is a waterproof mesh that is both durable and breathable. 1000D Oxford cloth is used on all other parts of the chair's backing.
The joints are structured for easy assembly, but also for strength, which allows the chair to support 242 pounds of weight, despite only being two pounds on its own. Finally, the anti-skip feet ensure that you'll have a stable place to sit on any surface.
Ergonomic Design
This backpacking chair has ergonomics in mind. The standard model offers a slight recline and a deep seat so you can relax your back and shoulders. The second model also includes a high backrest and head cushion for additional comfort.
You can choose the second model option if you are someone who is taller than average. The added height to the back will make the chair more comfortable overall for these types of users.
Easy to Clean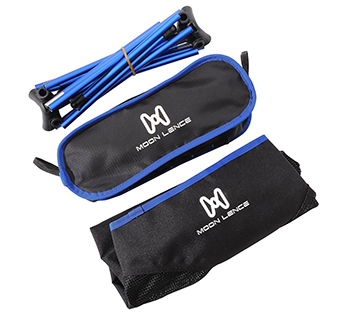 The material on the chair is washable with soap and water. Since the chair has a waterproof design, you won't have any trouble getting dirt or mud off with a quick clean.
Portable and Versatile
At only two pounds, the Moon Lence Backpacking chair is very lightweight when compared to other camping chairs, some of which weigh upwards of ten pounds. The ability to quickly set up or break down the chair is also a nice touch.
The cables that tie the frame together are very similar to the ones used in tents. They naturally pull toward their intended shape, thus making it quick and easy to snap them into place.
Moon Lence Ultralight Portable Backpacking Chair Specifications
Color and Model Variations
The Moon Lence Compact Backpacking chair comes in two models: a standard design, and on with a higher back and headrest included. The height of the original model is 15 inches, while the higher back lounge chair is 39 inches in height.
The lounge chair model comes in blue and red. The standard model comes in cyan, dark blue, light blue, new blue, new red, orange, red, and yellow. There is a small price difference between the standard and lounge chair models.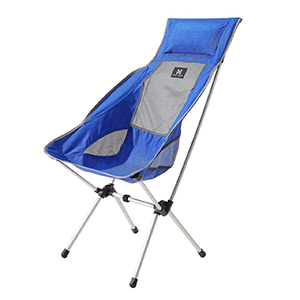 Pros and Cons of Moon Lence Backpacking Chairs
Backpacking chairs are often trade-offs when it comes to the features and design. In some aspects, the Moon Lence Compact Backpacking Chair does a lot of things better than the competition.
In other respects, it falls short. Here is a breakdown of the pros and cons:
Customers have plenty of nice things to say about the Moon Lence Backpacking Chair. Many people tend to prefer the standard model over the lounge chair for general comfort, but the original model is far more portable in terms of size.
The shock-cord that pulls the frame together keeps it from getting tangled or messy. You can easily put the chair together and snap everything in place without issue. Finally, the price point is extremely fair, given the features it offers.
Moon Lence Camp Chair -VS- Competitor Camp Chair
The chair does feature washable material, but some customers have reported that the material begins to fray over time. The overall lifespan of the chair isn't as long as the durability would have you believe.
Finally, the weight capacity comes in at 242 pounds, which is lower than we have seen with other chairs. The weight capacity is usually around 250 pounds at the low end. It's important to remember that, while there are some downsides, the chair is largely an excellent value for the price.
Our Moon Lence Compact Backpacking Chair Review Verdict
Our Moon Lence Compact Backpacking Chair review explains why this chair managed to reach the upper levels of our top backpacking chairs list. It is a portable, lightweight, and relatively durable solution for anyone planning a trip into the great outdoors.
---
REFERENCES & RESOURCES