In a Nutshell:
If you're bargain hunting, the Noooshi Portable Folding Massage Chair is worth a look. Recommended for anyone new to the business who doesn't have a lot of money to spend, or anyone looking for an inexpensive backup or secondary chair.
*Add 0.25 stars if you find this item on sale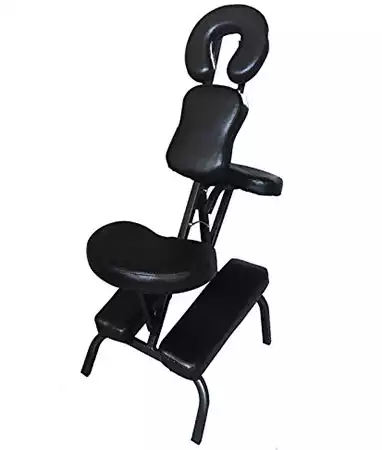 Are you a newly minted massage therapist? If you're not, are you currently training to become one and looking forward to the day when you can go into business for yourself? If either of those is true, then congratulations! It's an exciting career opportunity with virtually unlimited potential!
Of course, the first thing you'll need once you have completed your training is some equipment, and if you've already been looking at the possibilities, then you know how expensive top of the line equipment can be.
Recently, we did an exhaustive search for the best portable massage chairs for sale on the market today, and the Noooshi massage chair placed a respectable third in the budget segment of that article.
Our Noooshi Portable Folding Massage Chair review is a direct outgrowth of that, and in the sections that follow, we'll outline what this little chair can do, and tell you about its shortcomings, so you'll have all the information you need to decide if it's a good "fit" for you and your business.
If that sounds good to you, then let's jump right in!
An Overview of the Noooshi Portable Folding Massage Chair
The first thing you'll notice about the Noooshi massage chair is that design-wise, it's very similar to a top of the line portable massage equipment. It's got the same look and feel, so if you trained on something different and more upscale, this one would feel very familiar.
Size & Portability
It measures 30" x 18.9" x 44.9" and weighs in at just under 21 pounds (20.7, to be precise), so it's heavier than top-grade equipment, but not by a wide margin, which means it's still reasonably portable. As is generally the case with budget-priced equipment, there aren't any color options available. It comes in basic black, and that's that.
Features and Extras of the Noooshi Portable Massage Chair
Adjustment Options
Our Noooshi massage chair review wouldn't be complete if we didn't mention what is perhaps the biggest drawback of this chair, and other bargain-priced portable massage chairs. While their more expensive cousins can be reconfigured five or six different ways, the Noooshi portable folding massage chair has relatively few adjustment options. You can:
That's it. Granted, those options allow you to accommodate clients of all shapes and sizes, but they don't come close to matching the possibilities that a more expensive model opens up.
Comfortability
Comfort-wise, it's about what you'd expect. Standard foam padding, covered over with black PU upholstery. This is not a chair that's going not stand up well after years of daily use. On the other hand, if you can find it on sale, you won't have a lot invested in it, so when it starts showing its age, it's easy enough to relegate it to a backup chair, or just ditch it and buy another one (or something better and more long-lasting).
Max Supported Weight
We'll say this though; it's a pretty sturdy little chair. Our top picks are only rated to hold 300 pounds of user weight, and this one clocks in at a maximum supported weight of 350. It's not a huge difference, but it does paint the Noooshi massage chair as being a pretty rugged little chair, which is a definite selling point.
No Carrying Case
Unfortunately, the Noooshi portable folding massage chair doesn't come with a carrying case, so you'll have to pick one up separately. That's certainly not a deal breaker. If you find this model on sale, you can buy a decent carrying case and still wind up with a great value for the money, but given what these chairs are primarily used for, it would have been awfully nice of the company to provide a means of toting the chair around.
Pros and Cons of the Noooshi Massage Chair
Okay, so where does that leave us? As you can see, there are some good points to the chair, and some not so good points. It's a bit of a mixed bag. In our view, these are the reasons you're likely to decide to buy the Noooshi massage chair:
Here are the reasons you'll be inclined to keep looking:
While this last point isn't the kiss of death, it is true that the limited adjustability can hurt the overall growth of your massage business and is something to consider carefully.
After all, ultimately, what's going to keep your clients coming back is the quality of your massage. If you don't have a chair that can be reconfigured to put them into the optimal position for the massage you're giving, you're essentially battling your own equipment, and that's never a good thing.
Noooshi Portable Folding Massage Chair Review Conclusion
And that concludes our Noooshi Portable Folding Massage Chair review. As you can see, we have decidedly mixed feelings about it. For the right user, it is (or can be) a decent choice though.
So, who is that "right user?" Someone who:
If that's you, the Noooshi portable massage chair has a lot to offer. If that's not you, some of the other models from our roundup review will undoubtedly be a better fit. On that basis, we provisionally recommend it.
---
Official Manufacturer Support
References & Resources