In a Nutshell:
Not the prettiest thing to look at, but an amazingly capable and versatile chair offered by a small, but excellent brand. NOUHAUS Ergo3D Ergonomic Mesh Office Chair is recommended for smaller or averaged sized power users, interested in a chair that can stand up to the rigors of heavy daily use.
* Brand Reliability is a measure of the strength and longevity of the brand, which by extension, is a measure of the level of support you can expect.
** While aesthetics is a matter of taste, Aesthetic Flexibility is a measure of how easily a given design would fit into a wide range of home or office décor schemes.
Are you in the market for a new office chair?
Are you more interested in excellent ergonomic features and don't care too much about brand name shopping or aesthetics?
If you answered yes to either of those questions, you might have just found your next office chair.
Nouhaus isn't a well-known brand, but as you'll see in the sections that follow, they certainly know the office furniture market. This is an amazing chair. Granted, it's got its limitations, and it's 'not for everyone, but if you like what you see when we take a deep dive into its features, you'll be hard pressed to find a better value for your money.
If you're intrigued and want to know more, let's jump right in and see what the Nouhaus Ergo3D Ergonomic Mesh Office Chair brings to the table!
Nouhaus Ergo3D Ergonomic Mesh Office Chair Overview
Ungainly. That's the word that sprang to mind when we first laid eyes on this chair. It's not outright ugly, but it certainly won't win any beauty contests. Don't let its lackluster appearance fool you though. Lurking beneath the surface, there's a versatile, capable office chair that can take just about anything a small or average-sized person can throw at it.
Chair Specifications
Here are the core statistics that drive and define the model:
Let's dig into those stats a little bit and work out what they mean. First and foremost, this isn't a good chair for big and tall folks. The seat depth doesn't support it. The maximum supported weight isn't a good fit, and neither is the seat height adjustment range.
For everybody except big and tall folks though, this is a great fit. The height adjustment band makes it a fairly versatile chair, useful for people as short as about five feet, and extending up to maybe 6'1" or 6'2" provided the relatively modest max. weight limit is kept in mind.
Moving beyond the basic statistics, since the Nouhaus Ergo 3D Ergonomic Office Chair is all mesh, it's incredibly rugged and breathable and is more than capable of standing up to the rigors of heavy daily use.
Even better, it's available in a modest selection of colors (black, burgundy, gray or blue), which makes it even easier for the chair to blend seamlessly with whatever home décor or color scheme you've got in the room the chair is destined to find a home in.
Nouhaus Ergo 3D Ergonomic Office Chair Features
Adjustability & Comfort
There are a couple of different dimensions to comfort. The first is, of course, padding and breathability. Mesh chairs don't typically have much, if any padding, so they don't do well on that front, but the breathability of the material makes them more comfortable than you might imagine, especially if you find yourself spending several hours a day in the chair.
To be genuinely comfortable though, a good mesh chair has to have at least a few well-implemented ergonomic features, and this is where the Nouhaus Ergo 3D ergonomic task chair really shines, having three of those.
Ergonomic Features
The first is the chair's lumbar support. Here, the company utilizes a proprietary technology they call Dynamic Variable Lumbar (DVL), which takes advantage of the seatback's segmented design. The amount of lumbar support you get from the chair shifts and changes dynamically as you shift position in the chair, so you're always getting the right amount of support, no matter how you're sitting.
Second, although the seat isn't a waterfall-edge design, it is sculpted and provides most of the same benefits.
Third, the Nouhaus features an articulated headrest, providing excellent head and neck support.
Given the price of the chair, we were impressed by how well these three were implemented, but we were especially taken with the lumbar support, which is superior to a fair number of more expensive models you can buy. Kudos to Nouhaus on that front!
Armrests
Although the armrests are not ergonomically sculpted, they're tremendously well-implemented and another of the many bright spots in the chair's design because they're so adjustable. You can move the armrests up or down, adjusting the height to taste.
You can also slide them backward, closer to the seatback, or forward, closer to the edge of the seat. On top of that, you can move the armrests in or out, putting them closer together or farther apart to provide a better, more customized fit for you. That's superb and a level of customization you typically only find on chairs costing a whole lot more money. We love it.
Recline Function
If that wasn't enough, the Nouhaus Ergo3D Ergonomic Mesh Office Chair offers a recline range that starts at 90 degrees and extends to 135 degrees and the chair even includes extras that take the form of a spare set of casters. You get one set that's optimized for use on hardwoods and other flat flooring surfaces and a second set that works better on carpet. Just to add a bit of additional icing on the cake, this chair also comes with an impressive five-year warranty!
Does Not Come Assembled
You probably won't be surprised to hear it, but like just about every other office chair on the market today, the Nouhaus does not come assembled. It will arrive at your door in multiple pieces in a very large box.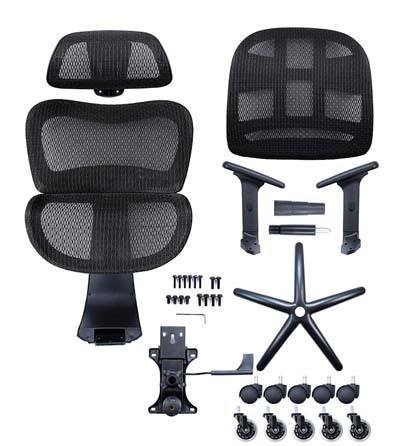 Although the production quality is a step or two down from excellent, it's still quite good so you won't have to worry about the pieces not fitting together properly, and the instructions are clear and easy to understand.
In addition to that, since the seatback utilizes a segmented design, none of the individual pieces are terribly large, which makes them easy to handle if you're putting the chair together on your own.
Given the larger number of total pieces, you should expect it to take upwards of 45 minutes to get the chair put together, but you won't have any particular difficulty doing it solo. If you do have a second pair of hands available, you can probably shave ten or fifteen minutes off of the total assembly time.
Color Variations of Nouhaus Ergo3d Ergonomic Mesh Office Chair
Pros and Cons of Nouhaus Ergo 3D Ergonomic Mesh Office Chair With Headrest
Honestly, we like almost everything about this chair. Its key features are very well implemented, and those things are the primary reasons why people buy an office chair in the first place.
That said, there are a couple of points to bring up that might steer you away from this model.
The first is the seat depth and maximum supported weight. As we said at the start, this isn't a chair designed for bigger and/or taller people. If you fall into that category, even if you love this model, it's just not going to work for you.
Second, there's the matter of aesthetics. This isn't a big deal for many people but it is for some, and again, this chair won't win any beauty contests. If you care more about function than form, you'll be fine with it, but if you find the look of the chair to be off-putting, there are more attractive options available.
Final Thoughts on Nouhaus Ergo 3D Ergonomic Task Chair
This review may be the first time you've ever heard of Nouhaus, but we suspect that it won't be the last. Although this isn't a big, well-known brand, it's clear that they know a lot about making great office furniture.
It's a rare off-brand that can implement so many different features so well, offer good production quality, extras, an impressive warranty and keep the price low. That's quite an accomplishment even for a well-established brand with a national or global reach.
We're impressed, and we think you will be too. In addition to that though, if this chair is any indication (and we're pretty sure that it is), we strongly suspect that we'll be seeing more of Nouhaus' products snagging spots in our roundup reviews. We view the Nouhaus Ergo3D Ergonomic Mesh Office Chair as an underappreciated gem and assuming the measurements are a good fit for you, we recommend it.
---
References & Resources