In a Nutshell:
The Oakworks Massage Chair Portal Pro 3 offers excellent value for the money. A rugged, reliable, go-anywhere massage chair made by one of the best companies in the industry. Recommended for massage therapists with established businesses looking to upgrade their equipment with an eye toward the long term.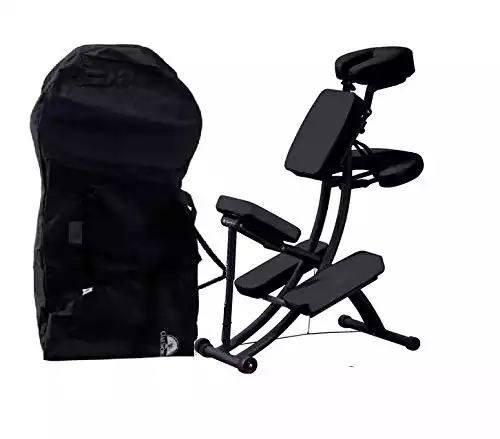 Are you an established massage therapist looking to upgrade your equipment to something top-of-the-line? Are you new to the business with enough money to spend that you can afford top-notch gear from day one?
If you answered yes to either of those questions, you'd love our in-depth review of the Oakworks Portal Pro 3 portable massage chair. In our recent roundup review, the Portal Pro 3 placed a solid second as the best portable massage chair on the market today, and with good reason. It's an exceptional piece of equipment that provides solid value, offered by one of the Titans of the industry.
In the Oakworks Portal Pro 3 massage chair review that follows, we'll outline why this would be a great choice for you and let you know a couple of the minor quibbles we have with the product as offered. There's nothing deal-breaking here, but we want to be as complete as we possibly can, so you've got all the information you need to make an informed decision about which model to buy.
If that sounds good, let's jump in and see what this chair can do!
An Overview of the Oakworks Portal Pro 3 Portable Massage Chair
The first thing you'll notice about the Oakworks Portal Pro 3 chair is that the designers didn't take any chances. They stuck with what works and offered a chair that boasts a proven, time-tested design. This chair probably looks and feels a lot like the ones you've trained on, which is good news for people just starting out as it will feel familiar.
Chair Dimensions
Dimensionally, it's got a relatively modest footprint, measuring 32" x 20" x 46".
Portability
It's as rugged as anything else on the market today, though, and courtesy of its lightweight aircraft-grade aluminum frame only weighs nineteen pounds. While that's not the lightest chair we've reviewed, it's pretty close, which means that if you run a mobile operation that sees you bringing your equipment to client sites, you won't have any difficulty in collapsing the Portal Pro 3 down and toting it from one site to the next.
Max Supported Weight
It also supports up to 350 pounds of user weight, which is a slightly higher limit than our top pick, the Dolphin II. Again, not the best in class, but more than enough to accommodate most of the clients you're likely to be seeing.
Extras and Add-Ons
The Oakworks Portal Pro 3 Massage Chair is sold as part of a package deal, which includes the vinyl, zippered, duffle-style carrying case. Unfortunately, that's all it includes.
Most other massage chairs that offer a sternum pad (and most do) provide it free when you buy the chair. Here, you've got to buy it separately, which we regard as a bit of marketing trickery designed to make the price of the Portal Pro 3 seem lower than it actually is because you'll probably need it.
The company also sells a masseuse stool (again, sold separately), that can be ordered at the point of sale.
We "get" why the stool isn't part of the package, although that would have been a nice touch. The reality is that most companies don't offer that kind of thing as a "free extra" where the sternum pad usually is. We were a bit disappointed on that front.
Upholstery Options
On the flip side, when you place your order, you'll be able to select from a staggering variety of upholstery colors, which include:
It's a nice selection that will let you establish a consistent color scheme for your massage business. While that's certainly not essential, if it's important to you, this is certainly a nod in the Portal Pro 3's favor.
Adjustability
Regarding adjustability, there's a lot to like here. The Oakworks Portal Pro 3 massage chair package is highly configurable, allowing you to put your clients in various positions (either front or rear facing), and giving you complete 360-degree access to them while rendering the massage.
In addition to that, you can height adjust the face cradle/pillow, seat, sternum pad, and armrest, and the face pillow is fully articulated, allowing you to fine-tune its position for optimal client comfort.
Comfortability
The ergonomic design, coupled with the generous padding, makes for a comfortable seating experience for your clients, although we were underwhelmed by the fact that the upholstery is PU, with no option to upgrade to top-grain leather.
Granted, it's high-quality PU and will stand up well to daily use, but given that this is top-tier equipment, we were expecting a bit more from Oakworks on this front.
Pros and Cons of the Oakworks Portal Pro 3 Portable Massage Chair
As you can see by this point in our Oakworks Portal Pro 3 massage chair review, we like almost everything about this model. Rather than rehashing all its strengths, we'll use this section to point out the two things that may make you look in some other direction.
First is the fact that the "leather upholstery" is underwhelming. It's not bad by any means. In fact, as PU goes, it's top of the line. At the end of the day though, it's still PU. Given the cost and durability of the model, we would love to have seen an option to upgrade to top-grain leather, and we feel certain we're not alone in that.
The only other minor complaint we've got is that we wish the "package deal" on offer included more stuff rather than putting you in a sales funnel and having you buy the extras you'll need separately (the sternum pad, especially).
Neither of these is a deal breaker; we think you'll love the chair. It stands up well to daily use and transport and will age well. If you buy this model, it will provide you with years of reliable service. At the end of the day, that's what matters most.
Oakworks Portal Pro 3 Review Conclusion
And that brings us to the end of our Oakworks Portal Pro 3 review. By any reckoning, it's a great chair. Although we do wish the company had added more to their package deal (the stool for the masseuse would have been a natural component), we highly recommend this chair to anyone who's established in the business and interested in upgrading to top-tier equipment or anyone starting out who can afford it right out the gate.
---
REFERENCE & RESOURCES