In a Nutshell:
An excellent value for the money. A surprisingly full-featured chair for the price. You won't be disappointed!
While it's feature-rich, Ogawa Refresh Plus Massage Chair is better suited for casual or hobbyist users than people with therapeutic needs (although, depending on where you hurt, this might be a good choice).
Are you on a bit of a budget? Looking for a full-featured massage chair that will gently knead your troubles and stresses away without breaking the bank? If so, our in-depth Ogawa Refresh Plus review will leave you smiling.
Although this is Ogawa's entry-level offering, it should be appropriately considered as a mid-range massage chair. As such, it will cost a little more than the entry-level models offered by most other companies, but Ogawa is known for its quality, which is definitely a case of getting what you pay for.
As you'll see in the following sections, this chair is best suited for hobbyists and general use, although it has some hard-hitting therapeutic features. So, depending on your specific needs, the Refresh Plus could serve you well as a therapeutic device.
We'll cover everything this model can do and point out its shortcomings and limitations so you can decide if it's the right chair for you.
An Overview of the Ogawa Refresh Plus Massage Chair
Aesthetics
You can tell at a glance that the Refresh Plus is a massage chair. While some models are built such that their leg massage ports get tucked out of sight when they're not in use, this isn't one of those.
Since the leg ports are always visible and the chair sports softly glowing LED lights to provide ambiance and help you relax, there's no denying that it's not an ordinary piece of furniture. That's not a bad thing, but it does mean that it will probably clash with the rest of the décor of whatever room you've got it in.
It's also a relatively large piece of furniture, measuring 55.9" x 30" x 44.1" and weighing in at 176 pounds. If you've got limited living space, it might be somewhat challenging to find a permanent home for this chair.
Unfortunately, the Refresh Plus is not designed with space-saving technology either, which means you'll need about 10" of space between the back of the chair and whatever wall you're planning to set it near.
The Roller-Based Massage
The roller-based massage is the central, defining feature of any decent massage chair, and here, the Refresh Plus is a mixed bag.
Let's start with the good: The chair uses quad rollers, which are the current industry standard, and offers not one but two Zero-G seating positions.
Zero Gravity Seating
Zero-G seating dramatically enhances the quality of the basic massage experience and allows the chair to render a deeper, more therapeutic massage by using your body's weight to press you more firmly against the seat back, which allows the rollers to work their magic more efficiently on your back.
Undeniably a good thing, especially since the chair offers two different options on the Zero-G front.
Massage Track
Now for the bad news: The Refresh Plus is built around an S-Track, so if you're looking for a chair that will give you a good upper thigh or glute massage, this one isn't it.
True, it tries gamely to bridge the divide between your back and the leg massage ports by offering a vibrating seat massage, but this is a poor substitute for a proper L-Track that allows the rollers to travel under the seat. It's not awful, but if you're looking for a world-class massage from your neck to the backs of your thighs, then down to your calves via the leg massage ports, you're looking for an L-Track chair.
Having said that, if your back is your main area of concern, then there's no point in paying for a longer track than you care about using, and the S-Track will serve you well. It comes down to understanding your wants, needs, and desires.
Roller Technology
Also notably absent from this design is 3D Roller technology. In models that offer it, it provides an even deeper, even more therapeutic massage by allowing the rollers to move away from the massage track and press more deeply into the muscles of your back.
Zero-G is a poor substitute for 3D rollers, and the two technologies work beautifully together. Still, again, this is more of a hobbyist chair than a therapeutic one, and this is a good example of the differences between the two.
Body Scan Technology
Each time you sit in the chair, it automatically scans your body and makes subtle adjustments to the rollers' position to ensure that when they activate, they're hitting all your pressure points.
Sometimes though, the tech gets it wrong. That's not a fault of Ogawa's implementation; it's something that happens to all chairs that use Body Scanning tech. If it happens to you, it's no biggie. You can make manual fine-tuning adjustments to the rollers' position to ensure they're exactly where you want them.
More Options Than We Were Expecting
While the basic massage as described above is good but falls short of true excellence, we have to admit that we were impressed with the number of options on offer. Regarding techniques, you get:
That's better than you'd expect from a chair in its price range, and the inclusion of two advanced techniques is nice (even better that one of them is Swedish!)
Better still, from the control tablet (you don't get a remote, but rather, a full-sized Android tablet, which we'll have more to say about later on), you can control both the massage strength and the speed of the rollers through five levels of intensity. On top of that, you get six different auto-programs:
It also offers both partial and spot massage functions, in addition to manual mode, if none of the above work for you.
Our complaint here is that the chair uses the same app and tablet the company's flagship model uses. It allows the user to create an unlimited number of custom massage programs at the touch of a button. Given the identical tech, we would love to have seen that feature included here.
An Excellent Air Massage
The Refresh Plus has 42 Second Generation airbags and renders a very good air massage adjustable from the tablet through three different intensity levels. As with the roller-based massage, you can, at your option, selectively activate airbags to enjoy just a neck and shoulder massage, just a massage of your arms and hands, just a massage of your calves and feet, or turn them all on for the whole-body massage experience. We love it.
Lumbar Heat
Any time a massage chair includes heat in any form, it's a good thing because heat plus massage delivers superior results than a massage by itself. If you suffer from chronic​​​​ lower back pain, the presence of lumbar heat, especially when used in conjunction with a massage of the most intense setting while using one of the Zero-G seating positions, will provide you with real therapeutic benefit and will probably be your favorite feature of the chair.
Of course, in a perfect world, we'd love to see more extensive heat, and we regard this as a missed opportunity on Ogawa's part. Adding heat to the leg massage ports would have given the design another powerful therapeutic feature and made it that much more appealing to an even wider audience without significantly increasing the cost. Sadly, heat is limited to the lumbar region only.
Body Stretch
Although this is technically listed as one of the auto programs, we regarded it as a separate feature and wanted to carve out space in our review to discuss it.
If you want a great body stretch with maximum therapeutic value, then either get Ogawa's flagship chair, the Smart 3D, which utilizes a very aggressive Thai stretch, or a chair made by a company like Kahuna, which is known for the quality of their body stretch technology.
If you just want a chair that can perform a basic body stretch and don't necessarily need it for therapeutic reasons, then the Refresh Plus' body stretch will work just fine.
Don't misunderstand us here: The body stretch you'll get from this chair is perfectly acceptable, especially if you don't have a genuine therapeutic need for it. It's just that it's not "next level" good like you find on some other models. Even so, we count the fact that it is present at all as a very good thing!
Calf & Foot Massage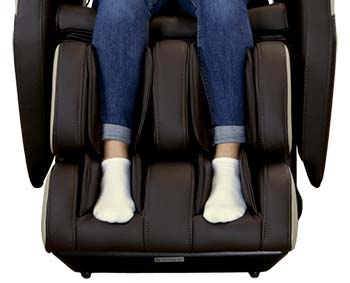 The calf and foot massage on the Refresh plus is quite good, and in fact, we regard it as being better than the calf and foot massage of their flagship model, the Smart 3D. That's because the Refresh Plus utilizes a combination of foot rollers and airbags to render this portion of the massage, whereas the more expensive Smart 3D uses only airbags.
In our view, this feature implementation isn't as strong as it could be though. The presence of heat in the foot wells would enhance its therapeutic value greatly, but even without heat, if you have a job that sees you spending several hours a day on your feet, this will probably be your favorite aspect of the chair. It feels glorious.
An Entertainment Suite
Earlier, we mentioned that the Refresh Plus didn't have a remote. Instead, the company gives you a full-sized (wired, not wireless) Android tablet, and it is from here, once the Ogawa app is installed, that you can control every function of the chair.
You can also make sure it's fully charged at all times, thanks to the built-in USB charging port, which opens up a wide range of entertainment possibilities. Connecting the tablet to the chair's Bluetooth speakers will enable you to listen to your favorite music, watch movies, surf the web, or play games while enjoying a nice massage from the comfort of home. What could be better than that?
In addition to that, the Ogawa app, which is very well designed and easy to use and master, comes with a special diagnostics section that will help you troubleshoot common problems you might have with the chair.
Don't worry; if you get stumped or there's a problem that the app can't help you resolve, human assistance is just a phone call away, and Ogawa is known for its exceptional post-sales service and support.
Yep, This Chair Has a Learning Curve
If you're not tech savvy, the presence of the tablet and the app-based control center can be a little daunting. Don't let it get the best of you! The app is quite simple to use. Although it may take you about an hour to familiarize yourself with everything the Refresh Plus can do, you can be up and running in a matter of minutes and enjoy your first massage, thanks to the magic of those aforementioned auto-programs.
If you consider yourself tech-savvy, it'll probably take you half that time (or less), which says good things about the strength of the app's design. You won't be disappointed.
Pros & Cons of the Ogawa Refresh Plus Massage Chair
We like this chair. It's a solid design that offers features that are as good and, in many cases, better than its competitors. In our view, its strongest features are these:
Having said that, there are some things we wish the designers had included. In no particular order, these are:
Final Thoughts on Ogawa Refresh Plus Massage Chair Review
And that brings us to the end of our Ogawa Refresh Plus massage chair review. It's a solid design by any reckoning and deserves its high rating.
Having said that, though, this chair is much more geared toward the casual or hobbyist user than it is for users with genuine therapeutic needs. It's important to understand the distinction because this is probably not the right chair for you if you have a specific therapeutic need.
On the other hand, if you're looking for something plush and comfortable to fall into at the end of a long work day and let the machine rub your worries away, this has got everything you need (and then some) to make that dream a reality.
We therefore highly recommend this model for casual and hobbyist use.
---
References & Resources: