In a Nutshell:
The Osaki OS 802E Massage Chair is a simply designed, bare-bones massage chair offered for a song. Recommended for anyone weighing 265 pounds or less who's on a tight budget and looking for an elementary massage chair offered by a company with a solid reputation in the industry.
* Brand Reliability is a measure of the strength and longevity of the brand, which by extension, is a measure of the level of support you can expect.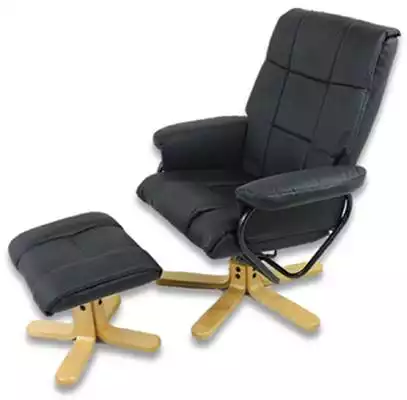 Unfortunately, this product has been discontinued. Check some of the Osaki Massage Chair we've reviewed.
Are you on a tight budget and looking for a simple, cost-effective way to help manage your pain from the comfort of home?
If so, you know what a challenge it can be to find a decent massage chair that doesn't see you spending thousands of dollars.
Most of the massage chairs available in the budget segment of the market are offered by no-name brands that import their wares from China for resale here, and most of them utilize a simple, vibration-style massage.
Very rarely do you see one of the bigger, more established brands offering massage chairs at the extreme low-end of the market, so it's always noteworthy when one of them does. The Osaki OS-802E is one such chair, and although it's far from perfect, for the money, you'll be hard-pressed to find a better value.
In the sections that follow, we'll tell you everything this surprisingly capable little chair can do, and we'll be quick to point out its shortcomings. That way, you'll have all the information you need, right at your fingertips, so you can decide for yourself if this is the low-cost massage chair you've been looking for. If that sounds good to you, read on, and let's take a closer look!
An Overview of the Osaki OS 802E Massage Chair
Let's start our Osaki OS 802E review with the obvious.
At first glance, this chair doesn't present as a massage chair at all. It looks like a casual recliner you find in living rooms all across the country. That's a good thing because massage chairs aren't known for their graceful lines and good looks. This chair can easily pull double duty as a recliner, and unless someone spots the remote that comes with it, they may not even realize that they're sitting in a basic massage chair.
The chair is clad in PU, which we regard as unfortunate since it's not at all breathable, and sitting in it for long periods will make you sweat. PU will also start showing its age rather quickly, even under optimal conditions.
Even so, that's hardly unusual for chairs at this price range, so we can't really count it as a strike against the model. Also note that it comes with an ottoman and that you can order your 802E in your choice of colors: Black, Brown, or Beige.
Aside from the somewhat fragile upholstery, another potential drawback to consider is this: the 802E can only support a relatively modest amount of user weight. If you weigh more than 265 pounds, this little chair is simply going to be a non-starter for you. On the other hand, it's delightfully compact. Even if you live in a smaller apartment or are otherwise short on space, finding a permanent home for this model won't be much of a challenge at all.
Dual Rollers and a Short Massage Track
We said at the start that most budget-priced massage chairs only offer a simple vibration-style massage. They use a fixed frame design with stationary vibrating heads to render the massage. It feels okay, but that kind of massage can't compare to one rendered by rollers moving along a massage track.
The Osaki OS 802E massage chair delivers this experience. While it only uses dual rollers (most chairs on the market today utilize quad rollers), the massage experience is heads and shoulders better than you'll get from stationary massage heads.
The rollers are capable of delivering a perfectly acceptable kneading-style massage or moving up and down your back and vibrating, with three different vibration settings on offer.
These are all fairly slight variations, but when combined with the chair's three different intensity settings, they do give you some good customization options to play with.
Note that higher-priced massage chairs have a much longer track, though. This one only allows the rollers to move 18.5" up and down the seatback. That's not great, but again, it is far better than getting a chair with stationary massage heads, which is mostly what you find at this price range.
Now, Let's Talk About What This Chair Doesn't Do
The above represents the sum total of what you get from this massage chair. There are no pre-programmed massage routines on offer, although the remote is well designed and easy to use. It will only take you about five minutes to master this little chair, which is a good thing. Even people who don't consider themselves tech-savvy will have an easy time. The remote is much simpler than your TV remote so that it won't be an issue.
Note that the 802E doesn't have a heat function. This, however, is fairly easy to replicate. Just plug a heating pad into a nearby outlet and sitting back on it while the massager is running, and you're in business.
Also, most of the fun features you find in more expensive chairs are absent from this design. There are no LED lights for Chromotherapy, no built-in USB port, Bluetooth speakers, 3D Body Scanning technology, or Zero-G seating options, and there's no massage timer either. This chair is about as basic and bare-bones as it gets.
Pros & Cons of Osaki OS 802E
So, given its limited functionality and the vast array of features the 802E doesn't offer, why would you want to consider buying this chair? Ultimately, it comes down to the following factors:
It's modestly priced and delivers a competent back massage that's of much higher quality than you'll find on just about any other massage chair in its price range.
It's offered by a well-respected brand, so you're getting a much higher quality chair than just about any other, comparably priced model.
And it comes with Osaki's impressive 3-year warranty. That's significant because most of the massage chairs sold at the budget end of the market come with a one-year warranty, and many only offer a 90-day warranty, which is a clear indication of the difference in quality.
Osaki OS 802E Review Conclusion
We'd like to emphasize here in our Osaki OS 802E review that the ideal user for this chair is someone who:
The more of those bullet points that apply to you, the happier you're going to be with your purchase. The less of them that are applicable, the more underwhelmed you're going to feel. For the money, though, this is a fantastic little chair, and on that basis, we recommend it.
---
References & Resources: