In a Nutshell:
If you're suffering from chronic lower back pain, the Osaki OS-Pro Marquis Heated Massage Chair is something you should consider. Optimized to offer relief to people with lower back pain problems, casual users may find that the OS Pro Marquis offers a massage that's too intense for every day, non-therapeutic use.
Have you been suffering from mild to excruciating chronic pain, particularly in the lower back?
Have you been searching for a massage chair that can deliver a deep and intense massage with heat therapy?
If so, then the Osaki OS-Pro Marquis Heated Massage Chair is perfect for you. It is absolutely unique in the Osaki lineup, and tailor-made with chronic pain sufferers in mind.
We'll give you an in-depth look at it, and everything the chair has to offer so you've got a complete picture before making a purchase decision. But before we get into specifics, there are a couple of things to keep in mind.
Osaki OS-Pro Marquis Massage Chair Overview
The first thing to say about the Osaki OS-Pro Marquis Heated Massage Chair is that the model has been discontinued by the company. For now, they are still readily available and you can still find them for sale. However, the more time that goes by, the more difficult these chairs are to be found.
The second thing to mention about this massage chair is that in many ways, it was a bold, but not entirely a successful, experiment. While many of the ideas incorporated into the design were revolutionary, their execution was perhaps not as seamless as they could have been. However, these have since been more tightly integrated into the chair's overall design in later models.
That said, the Osaki OS-Pro Marquis includes a number of great features that you don't normally find in chairs in the mid-range price point, making it an extremely attractive option to consider. Let's take a closer look at precisely why.
Osaki OS-Pro Marquis Heated Massage Chair Features
From a design perspective, the Osaki OS-Pro Marquis looks virtually identical to the Osaki 7075R. Although as you will see, some of its functionalities are quite different.
It should also be noted that when this chair was initially released, there were some confusion on several vendor sites, which listed the Osaki OS-Pro Marquis Massage Chair as having the zero-gravity feature. It's easy to see how and why this mistake was made, given that so many of Osaki's other chairs do have it. This one, however, is an exception; no zero-gravity feature present in this chair.
Sliding Base
This feature is highly popular with a large segment of the massage chair market, and we couldn't write a complete Osaki OS-Pro Marquis review without giving it a special nod.
The sliding base allows the chair to pivot at the base when the ottoman is engaged, so that it takes less than four inches of space to utilize the chair. Given that most people have limited space, this feature is absolutely essential for most home users, especially for those who live in apartments.
S-Track Massage
The Osaki Pro Marquis features an S-Track, which is generally considered to deliver a superior massage experience because the track follows the natural curvature of the human spine. Note that given the absence of the zero-gravity feature, the quality of the massage is somewhat diminished, but only marginally so.
Therapeutic Heat
This is the first instance where we see the not-entirely-successful implementation of an innovative feature: its heat therapy function. Basically, the Osaki OS-Pro Marquis massage chair has two heat sources: one is stationary and placed in the lumbar area, while the other is like a heating pad that can be placed in any area.
It's interesting, and honestly, you won't find this feature executed in this fashion in many other massage chairs. However, some users have questioned whether it's strictly necessary, given that you can simply use a heating pad you already own, without having to pay for one with the chair.
Body Scan
As with many of the chairs made by Osaki, the OS-Pro Marquis features a body scan system. Before a massage begins, the chair scans the body and makes subtle adjustments to the position of the rollers, allowing for a massage of better overall quality.
Chromotherapy
Another feature that's present in a number of chairs sold by Osaki is the soft blue light emitted by strategically positioned LED lights on the panels of the chair. When in a darkened room and combined with soothing music, it can make for an unbelievably relaxing massage experience.
Airbag Massage
This feature is fairly common in Osaki chairs, but not completely rendered in the OS-Pro Marquis. What's notably absent in this particular model is a head and neck massage feature when in airbag mode. Nevertheless, the rest of the body (arms, legs, calves, and feet) is covered by airbags built into the chair.
Sound System
Another nice innovation in the Pro Marquis with a less than optimal implementation is its sound system.
In order to utilize it, the songs have to be loaded onto the SD card included in the chair. In later models, this feature has been implemented more efficiently, either by providing a USB connection or adding Bluetooth compatible speakers.
Nonetheless, having a built-in sound system at the mid-range price point is a solid win, regardless of the implementation!
Some Customization Options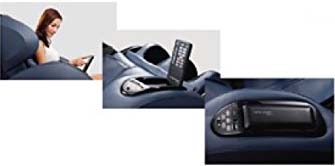 One thing that is at least somewhat lacking in the OS-Pro Marquis is the fact that compared to other massage chairs in the Osaki lineup, the number of massage options of the chair is somewhat limited.
This model only features six massage presets, where most other chairs feature 8 to 10 options, which means you give up a bit in terms of the level of customization.
It should be noted, however, that the Osaki OS-Pro Marquis Massage Chair delivers a strong, deep massage, where most other chairs in its price range deliver much less.
Pros and Cons of the Osaki OS-Pro Marquis
There's a lot to like about the Osaki OS-Pro Marquis Wall-Saver Massage Chair. It has a robust feature set, and includes options not commonly found in chairs priced in the mid-range. Although as we have pointed out earlier, the implementation of some features leaves a little to be desired.
Notably absent in this chair are the head and neck air massage functions as well as an LED remote, which are quite common in other massage chairs offered at its price point.
Its real stand-out feature is the fact that the OS-Pro Marquis is one of the few chairs in its price range that delivers a deep, intense massage. In fact, if you're looking for a chair that delivers a light, relaxing massage, this one probably isn't for you. It's really designed for people who have a therapeutic need for high intensity massage, combined with heat therapy.
Osaki OS-Pro Marquis Review Conclusion
The Osaki OS-Pro Marquis Heated Massage Chair is an excellent choice for those who suffer chronic pain, especially in the lower back. The combination of the deep and intense massage and heat therapy makes it ideal for those seeking relief from their chronic pain.
It is also ideal for people who have limited space, but still want a powerful massage chair at home. Casual users, on the other hand, would be better served by a different chair.
---
References & Resources