In a Nutshell:
While it's certainly pricey, the Oslo Collection Mac Motion Recliner is a beautiful contemporary living room chair that offers a lot of ergonomic support for those with small-of-the-back pain.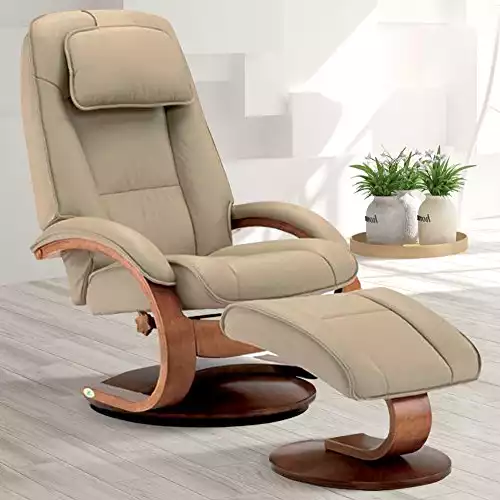 A vast majority of adults will suffer from lower-back pain at some point in their lives. While this can be extremely uncomfortable, today's modern living room chairs offer options design to relieve this kind of pain. Our Oslo Collection Mac Motion Recliner review covers one such chair.
Join us as we dive deep into the features, pros,and cons of this offering to find out if the Oslo Collection is one brand of furniture that you should add to your own collection.
Oslo Collection Mac Motion Recliner Overview
Mac Motion chairs are the brand that creates and sells the Oslo Collection of living room chairs. The brand has over 35 years of experience under its belt, along with several successful models. Mac Motion is focused on providing innovative seating experiences inspired by European designers.
The company's slogan is "The Future of Motion," indicating their focus on chairs that move with you. The Oslo Collection Mac Motion Recliner is a high-end piece of furniture that combines a contemporary design with crucial features like lumbar support, high-quality leather, and much more.
Let's take a look at the various features this chair offers, and whether it's worth the fairly expensive asking price.
Top Features of Mac Motion Oslo Collection Recliner
For the price, you would be forgiven for expecting the Mac Motion Oslo Collection Recliner to present a number of high-end features. While it may have a lot of things you're expecting, here is a breakdown of everything included with your purchase:
Easy Recline
This living room chair features a simple and intuitive reclining feature that lets you lean back until you're almost lying down. This makes the chair perfect for watching TV, taking a nap, or reading a book.
360-degree Swivel
Freedom of movement is crucial for people looking to purchase a chair for lower-back pain. That's why a 360-degree swivel option is available on this chair, to let you reach nearby objects or turn without having to stand up.
Lumbar Support
Solid lumbar support is crucial for someone with lower-back pain. Thankfully, the Mac Motion Oslo Collection Recliner includes this much-needed feature to ensure your spine and lower back are suitably supported.
Top Grain Leather
The chair is upholstered in high-quality Top Grain Leather that fits well into any living room setting, while also adding a dose of luxury to any room.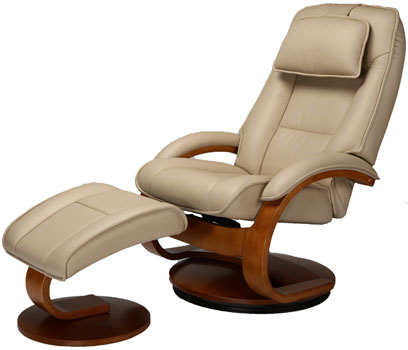 Separate Ottoman
An angled ottoman is included with the chair, providing you with a comfortable place to rest your feet at a natural position and height.
Product Specifications
Pros and Cons of Oslo Collection Mac Motion Recliners
The included features here are quite impressive, but this isn't a perfect piece of furniture. Below is a look at the pros and cons of this chair:
There's no denying the aesthetics of this chair. The European-inspired design pairs extremely well with the contemporary look and feel. Suffice to say, it's a beautiful chair. That beauty extends to the materials as well. A combination of top grain leather and polished wood frame are wonderful choices.
The lumbar support is both expected and welcome in this type of living room chair, so we were pleased to see that as well. Finally, the option to swivel and recline are both flexible features that add more functionality to this already capable piece of furniture.
On the other hand, the Oslo Collection Mac Motion Recliner is quite expensive. This won't be a budget-friendly chair anytime soon, but it does represent quality and luxury well, given the price point.
That being said, for the higher price bracket, we would have liked to see heating or massage features included. There are plenty of other chairs in this price range that offers such options, so it shouldn't be outside the realm of possibility.
Any addition of high-end features would have gone a long way to justify the price point, but that doesn't stop this from being a high-quality chair regardless.
Our Verdict: Oslo Collection Mac Motion Recliner Review
Our Oslo Collection Mac Motion Recliner review focuses on a chair that will fall outside many typical budgets. For this high-end price, you do receive some impressive features, but it's lacking a few options we would have liked to see.
We recommend this chair to the discerning customer that wants a luxury piece of furniture that will easily fit into any modern living room.
---
REFERENCES & RESOURCES