In a Nutshell:
In our view, the Nomad All Terrain Wheelchair is hands down the best adaptive hiking chair being sold today. It's rugged, durable, and built to go anywhere. This is more chair that the vast majority of people will really need or use. Not designed for casual use, but meant for those who want to push themselves to the limit, step off the trail and truly experience the wilds.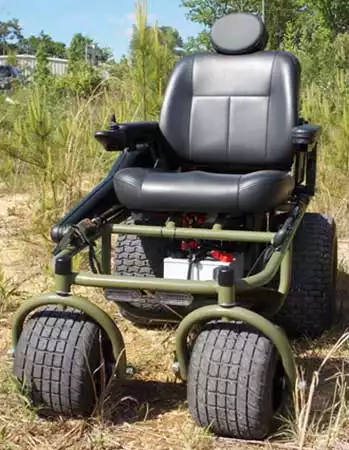 Were you an outdoorsman and adventurer before your mobility issue took the wind out of your sails?
Are you looking for a way to get back in the game and enjoy wild places as you once did?
If you answered yes to either of those questions, then you're going to like what you read in this review. Outdoor Extreme is a fantastic company, and both of their products, this one and their Beach Cruiser placed highly in our recent roundup review of the best all-terrain wheelchairs being sold today.
While we think you'd be happy with any of the hiking chairs listed in the roundup review mentioned above, in our view, the Outdoor Extreme Mobility Nomad takes things to the next level.
In the sections that follow, we'll tell you everything it can do, and point out its very few minor flaws. Even if you ultimately decide this isn't the adaptive hiking chair for you, we think you'll agree; the Nomad is magnificent. Let's jump right in and see what it can do.
Outdoor Extreme Mobility Nomad All Terrain Wheelchair Overview
The Nomad wheelchair's design is deceptively simple and almost minimalist. At first glance, it looks a bit like a stripped-down dune buggy, constructed from 6061 schedule 40 aircraft-grade aluminum, with a Captain's chair provided for seating.
It's a rear wheel drive design and features big, burly all-terrain rear tires capable of powering you over just about any terrain you'll encounter, on or off the trail. All four of its tires are 3-ply, extra wide, with deep treads, and on top of that, you'll find two rear-mounted anti-tippers which will keep you stable even on the most extreme uphill slopes. In short, the Nomad is a beast.
Nomad Wheelchairs Specifications
Here are the basic stats of the chair:
In Detail
Readers who have spent time pouring over multiple reviews on this site will no doubt note that these stats are identical to the Beach Cruiser's stats. The two chairs are built on the same frame, and feature only nominal differences, with the Beach Cruiser being explicitly optimized for beach use, and the Nomad being optimized for wilderness use.
Two things jump out at us on this list. First, the top speed is relatively modest, at just 5 miles per hour. If the chair were optimized for some other use, that would be a bigger disappointment than it is, but hiking isn't a sprint.
In practice then, the Nomad's top speed is fine for what it was designed for, although we do note that you can find other chairs that can easily outpace it on flat, level terrain.
The range, however, is a different matter. Ten miles is adequate for casual, and even moderate use, but in a chair designed for wilderness trekking, it leaves something to be desired. Unfortunately, you can't purchase extra batteries to extend the range, so you'll almost certainly want to pack in some solar panels to provide on-the-go charging for whatever expedition you're planning.
Adjustability — It's Got the Basics Covered
The Nomad isn't as adjustable as some chairs, but it does have the "Big Three" covered. You can adjust the footboard and the armrests to provide a better fit, and the armrests are also hinged, which makes transfers into and out of the chair an easier proposition.
The highlight though, concerning adjustability is the fact that the Nomad's seat reclines. That, combined with the chair's rear dual-shock suspension system makes for a surprisingly comfortable ride, no matter what kind of terrain you're on.
Even better, since the seat reclines, once you get where you're going, you can kick back and take a short siesta if it suits you. Always a plus.
As with this model's sister chair, the Beach Cruiser, the Nomad features a built-in horn, backlit controls, five pre-set speed controls, and weather-resistant hardware. It also comes with an onboard and off-board charging unit, which makes it a pretty refined model right out the gate, even if you don't opt for any sort of customization.
Storage, Customization Options, and Extras
This category is something of a mixed bag. Outdoor Extreme doesn't offer many upgrades and customization options, but the ones that are available are pretty good. These include:
Not bad, but certainly not best in class. It's not hard (at all) to find some other company that offers a larger and more robust suite of customization options. On the other hand, with a bit of applied creativity, most of the aftermarket products you can buy to upgrade your ride can be made to fit the Nomad.
The one glaring omission, in our view, is the complete lack of an onboard storage option. This is a genuine weakness in the design. After all, the Nomad All Terrain power wheelchair is designed to take you deep into the wilds and go just about anywhere. If you're going to do that though, you're going to need gear, not to mention solar panels to extend the Nomad's range. It'd be nice if you had somewhere to put it.
The upshot is that the model's design leaves plenty of room for you to add your own storage solution. That's certainly workable, but given the Nomad's price, it's just not something you should have to figure out on your own. Onboard storage should absolutely have been included.
If you like having lots of color choices though, the Nomad will leave you positively beaming, with more than six thousand color options to choose from, and four different chair upholstery options (black, grey, brown, or tan).
A final note in this section: Outdoor Extreme Mobility gets its tires from Wheeleez, so when it's time to replace your tires, doing so is an easy proposition.
Not Really Portable
The Nomad is somewhat collapsible, in that the seat folds down, which makes the footprint slightly smaller. That's a good thing, but even with that, this model can't truly be described as portable. Its footprint is too large, and it weighs too much to be easy to toss in the back of your SUV and go somewhere.
To get from one place to another, you'll need one of the following:
Absent one of those solutions, you're going to find it quite a challenge to take the Nomad to where you want to go.
Simple, Intuitive Controls
The control system is simple, elegantly designed, and delightfully intuitive. While it will take you a few minutes to get a feel for the Nomad's handling, and further experimentation each time you venture onto a type of terrain you've never handled before, mastering the basic controls will only take you a few minutes.
Pros & Cons of the Nomad Power Wheelchair
We've spent pretty much this entire review singing the praises of the Nomad so we won't rehash its many positive points here.
Instead, since there are so few genuine weaknesses of the model, we'll draw your attention to them.
The two most significant points of weakness on the Nomad are:
There's one other issue, but it's smaller than the two we just mentioned. The Nomad has a strictly average range. True, you can remedy this by toting a few solar panels with you wherever you go, but of course, that forces you to confront the issue of the model's lack of storage.
Conclusion – Nomad All Terrain Power Wheelchair Review
As impressive as the Outdoor Extreme Mobility Nomad is, we regard this as strictly a niche product. The reality is that the vast majority of people with mobility issues wouldn't use a fraction of this chair's capabilities, and if you're not going to use the Nomad to its fullest potential, then there's not much point in paying a hefty premium for those capabilities.
On the other hand, if you're an outdoorsman and an adventurer, and you have the money to spend, this is the hiking chair you want. Rig up some onboard storage and buy a few solar panels, and the Nomad will take you anywhere you dare to go.
---
References & Resources