In a Nutshell:
The Outrider Horizon is a bold, stunning, fully customizable adventure vehicle. Recommended for an outdoorsman looking for a spectacular "go-anywhere" vehicle…if you can afford it. Not for the faint of heart, and not for people with severe mobility issues (in part, due to the low seat).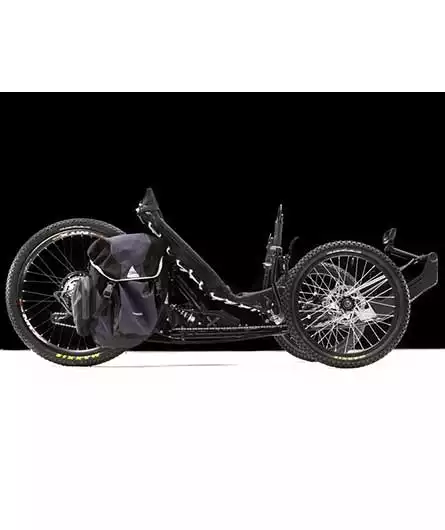 Has your mobility issue been keeping you from enjoying the great outdoors as you once did? Do you miss the open road, the trackless wilds, and the freedom to go anywhere you want to?
If you consider yourself an adventurous, outdoorsy type, then the Outrider Horizon is the mobility aid you've been dreaming of, primarily because you can customize just about every aspect of your craft so that it's precisely how you want it.
Unfortunately, there are a couple of significant caveats to that. Not to worry, in the sections that follow, we'll go over every detail of these fantastic machines so you'll have all the information you need to decide if they're the "right" mobility aid for you.
As we said in our recent roundup review, Outrider USA doesn't make mobility aids – they make fully customized adventure vehicles that people with mobility issues can use.
That might sound like semantics, but it's actually an incredibly important distinction that we hope to make crystal clear in this review.
Ready to read all about the last adventure vehicle/mobility device you'll ever need? Let's jump right in!
An Overview of the Outrider Horizon Adventure Vehicle
The first thing you'll notice about the Outrider USA Horizon is the fact that it's not your grandfather's outdoor mobility aid.
Many wheelchairs or mobility scooters have a blocky, cumbersome look to them. That's not at all what you get here. The Horizon is a sleek three-wheeled trike (two wheels in the front, one in the back) that sits low to the ground.
This low seating arrangement (just 16.5" off the ground) may be a deal breaker for some, especially if you have a severe mobility issue, because transferring into the vehicle might be problematic, and it may not be possible for you to sit in that position for extended periods of time.
If that describes your situation, then this isn't the mobility aid you're looking for. If, on the other hand, the low-slung seat isn't a problem, and your mobility issue isn't especially severe, the rest of this review is probably going to leave you salivating in anticipation and wonder.
Outrider Horizon Basic Specifications
Here are some of the stats for the Horizon. Note that this list of stats is somewhat shorter than the list you'll find for so many other mobility aids, primarily because just about everything can be customized to taste.
Drivetrain and Transmission
Each Outdoor Horizon Electric Adventure Bike utilizes a carbon belt-driven electric drivetrain and dual-range electronic transmission, offering low range for climbing and navigating challenging terrains, and high range for cruising the open road.
Suspension System
Even better, the independent front and rear (adjustable) air-shock suspension system ensures a smooth, comfortable ride no matter what sort of terrain you find yourself in or on. Its hydrophobic seat cushion keeps your hindquarters dry even if you're splashing across streams or driving in the rain. And, the Shimano hydraulic disc brakes ensure lots of stopping power no matter the driving conditions.
Comfort
There's surprisingly little to say on this topic, although we'll expand on it in the next section here in our Outrider Horizon review. For now, we'll merely say that the seat is ergonomically designed, so although you're low to the ground, it offers a surprisingly comfortable ride. But as an adventure vehicle, we'll also be quick to add that this isn't a vehicle you'd want to consider taking a nap in, even with the (optional) headrest included. This was a machine built for going and doing, not relaxing!
Adjustability
While there's not much about the craft that's adjustable once you've got it in hand, as you'll see, you can customize it to just about any configuration you want. So, as long as you take careful measurements before you place your order, you'll wind up with a vehicle that fits you like a glove.
On-Board Storage & Extras
Oh boy, here's where it gets interesting. Let's talk about the different ways you can customize your Outrider Horizon Electric Adventure Bike. At the point of sale, you've got lots of decisions to make, including
Customization
In addition to that, if you have a particular need or request, the company is very willing to work with you. Perhaps you need a wider seat or a longer frame, there is some flexibility here. Just call or write with your specifications, and the folks at Outrider USA will do all they can to accommodate you.
You can even order a pull-behind coach that will enable you to pull up to two-hundred pounds of additional gear, supplies, groceries, solar panels for charging, or anything else you want to bring with you on your next big adventure.
Note: The company is currently working on a snap-on enclosure that will make it more useful and comfortable in extreme weather conditions too!
What About Portability?
Portability is one of the downsides. The vehicle is relatively large and not well suited to portability. On the other hand, as indicated on Outrider USA's website, this vehicle was designed such that it could replace your car in terms of a transportation device and given its impressive maximum range (with four batteries), that's not an idle boast!
Even so, if you have a full-sized pickup truck, or if you invest in a lift, you could use your existing vehicle to get it from point A to point B if you wanted or needed to.
It Takes Some Getting Used To (Moderate Learning Curve)
The Outrider Horizon bike is unlike any other mobility aid on the market today, so even if you've got experience using and driving other types of motorized scooters, wheelchairs, or ATVs, this one's going to take a bit of getting used to.
Don't worry, it's not hard to learn to use and master, but expect to spend your first couple of days just getting familiar with its handling and control. Once you've mastered it, you'll wonder how on earth you ever got along without it.
A Masterful Outdoor Adventure Vehicle – Not Designed for Indoor Use
This will be a very short section.
The Horizon is strictly an outdoor vehicle. It will take you anywhere you dare to go in the great outdoors, but it's just not possible to drive this brute around inside. Even if you could, why would you want to? This machine was made for the open road, the deep wilderness, and every outdoor space in between.
---
Pros & Cons of the Outrider Horizon Extreme Machine
In case you couldn't tell, we love the Horizon, but by now, you're probably wondering what the downside is? Sure, sure, it's got a low-slung design, and that might make it tricky for some people to get into and out of, but that can't be all, can it?
Unfortunately, not.
As amazing and versatile as the Horizon is, it's got one drawback, and it's a doozy.
Even the base model, without any of the cool upgrades, will cost you more than a high-quality used car. When you add all the bells and whistles you're likely to want, you could probably put a decent down payment on a house. They're amazing vehicles that can take you just about anywhere, but they are expensive!
Their stratospheric price sadly puts them out of reach for a significant chunk of the market, but if you can afford one, you'll almost certainly never need another outdoor mobility aid. They're rugged, durable, built to last, and made by an American company using only the highest quality materials. Oh, and did we mention that their support team is US based and top notch, too? It is!
In short, we love everything about the Horizon, except the price.
---
Final Verdict on the Outrider Horizon Bike
By any measure, the Outrider Horizon Handcycle is an absolute masterpiece. It would probably be overselling it to call it a work of art, because it's got a rough and tumble appearance, but it's an engineering marvel that's up for any challenge or adventure you'd like to undertake.
With the "right" set of customizations (maxing out the batteries and buying a pull-behind coach), this adventure vehicle could replace the car you're driving right now and give you a level of freedom you may have thought was lost forever, due to your mobility issue.
That kind of quality doesn't come cheap though, and although we recommend this vehicle without reservation, we acknowledge that it's not for everyone. Here are the people most likely to be interested in and happy with a Horizon:
If this describes you, your search is over. This is the vehicle you want, no question about it. If those things don't describe you, we'd recommend continuing your search.
---
REFERENCES & RESOURCES