In a Nutshell:
Attractive and attractively priced outdoor furniture. The Ovios 4 piece Rattan Outdoor Furniture Set is recommended for anyone weighing up to 400 pounds who's in the market for well-priced outdoor furniture to start their collection.
* Brand Reliability is a measure of the strength and longevity of the brand, which by extension, is a measure of the level of support you can expect.
** While aesthetics is a matter of taste, Aesthetic Flexibility is a measure of how easily a given design would fit into a wide range of home or office décor schemes.
Are you a fan of outdoor entertainment? Have you been struggling to find the right furniture set to facilitate that?
If so, and especially if you're a heavier individual, or you regularly entertain people who are, finding furniture that's ruggedly built enough to properly support you and your guests can be a frustrating challenge.
Sadly, most of the major brands have shied away from making and selling high weight capacity outdoor furniture. Most of the companies that do operate in that segment of the market offer individual products, but relatively few offer complete furniture sets.
That's a pity because furniture sets make the prospect of creating an attractive, eye-catching outdoor décor scheme a simple matter. A well-designed set has an inherently complementary aesthetic, allowing you to build around it to flesh it out.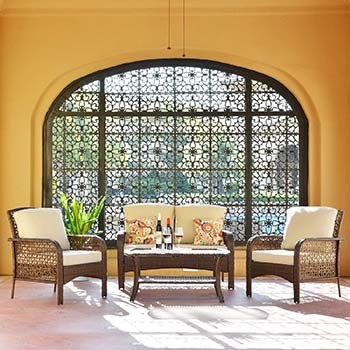 The good news is that some great companies have happily accepted the challenge and moved into the vacuum created by the absence of the major players. Ovios is one such company, and you've probably never heard of them. We hadn't, before researching this piece.
A smallish brand that imports their goods from China for resale here, Ovios works hard to provide good customer service. Although their products aren't world-class in terms of quality, they are a cut above what we've come to expect from low-cost imports. We're not even huge fans of rattan furniture, and this set managed to overcome our bias and impress us, which is to say we think you'll find this set well worth a look.
We'll be quick to admit that the Ovios 4 piece rattan outdoor furniture set won't be for everyone. In the sections that follow, we'll give you the full details, outlining both the best features this set has to offer and its various shortcomings. Even if you ultimately decide that this isn't the furniture you're looking for, we think you'll be pleased by what you discover here. If your interest is piqued, read on and let's take a closer look.
Overview of the Ovios 4 Piece Rattan Outdoor Furniture Set
The first thing to draw your attention to, and the first thing you'll notice when you see the Ovios 4 piece rattan outdoor furniture set is the fact that it's rattan. Well, actually, it's got a tubed steel frame that provides its impressive strength and load-bearing capacity. Still, it's wrapped in rattan, giving it a casual, tropical look and feel.
A lot of people don't like rattan furniture, and as we mentioned above, we're not really fans of it ourselves, but this set did manage to win us over. If you already love rattan furniture, you'll count that as a nod in this set's favor.
In order to start talking about the particulars though, we need hard numbers, so if you decide you want one of these, you should know that the set includes two chairs, a loveseat, and a coffee table. This set is essentially the little brother of the Ovios Six Piece Rattan Set, which includes a three-seat sofa in the place of this set's loveseat and includes ottomans for the two chairs.
Here are the dimensions of the set, and of the individual pieces that comprise it:
In our view, these are spectacular numbers that work exceptionally well together. At 18" high, the seat is just inside the standard big and tall range, which starts at 18" and goes up to 22" or higher in some cases.
The seat width is magnificent, and a good pairing for the maximum supported weight of the chairs. Even if you're quite close to the chair's 400-pound weight limit, you won't have any difficulty fitting comfortably into it.
Best of all, if you decide you want a set of this furniture, the company offers two different color options to choose from. We think they're both fantastic but personally prefer the brown and beige. If the blue works better for the décor scheme you've got in mind, we love that the company offers the option!
The coffee table is wonderful. It's large and high enough to be genuinely useful. The top is made from a composite material called Polywood, which is an eco-friendly, heavy-duty type of plastic that has a look and feel similar to wood at first glance but is much lower maintenance than a wooden tabletop would be. It's also got a handy storage shelf that runs the full length of the table, useful for storing extra pillows, books, magazines, or anything else you may want to stash there.
Adjustability and Comfort
There's nothing to say on the topic of adjustability except to confirm that none of the pieces in this four-piece set are adjustable in any way. Comfort-wise, there's a lot to like, however. These chairs stick to the basics where comfort is concerned, utilizing block foam padding.
Block foam padding is the industry standard and is used as padding in the bulk of the furniture being sold today. Even better, Ovios didn't cut any corners here. You'll find nearly 4" of padding in the chairs, which is almost as much as you find in good quality office chairs designed for all-day use.
All that to say, you won't have any problems settling back in one of the chairs or curling up on the loveseat and relaxing, even for extended periods.
Best of all, the cushions are upholstered with a quick-drying, weather-resistant material that can be easily removed when you decide they could use a good washing. Just unzip and remove the covers, toss them in the wash, and you'll have them looking like new in no time.
Comparisons with Ovios' six-piece furniture set are unavoidable. Although these are the same chairs used in the larger set, this set doesn't include the matching ottomans, which is why we scored this set slightly lower in terms of overall comfort and value.
The loss of the ottomans here is really quite significant. Still, the tradeoff is that this set costs a good deal less and takes up significantly less space because of their absence and the use of a loveseat here instead of the longer outdoor sofa used in this set's big brother.
Assembly is Required
It will probably surprise exactly no one that if you order this set, it will arrive in several boxes and in pieces. You'll have to do some assembly before you can actually start using your new furniture.
We mentioned previously that this furniture is imported from China. As such, the quality isn't world-class, but it is a cut above what you might expect from a relatively low-priced import. The pieces fit together fairly well, but there are bound to be a few places where something doesn't line up just so, which will slow the assembly process down here and there.
The instructions are decent but sometimes a bit cryptic, so again, expect to spend at least a little time scratching your head trying to suss out what the instructions are trying to tell you. Overall though, we'd rate the production quality and the instructions as being better than average for a Chinese import, and you shouldn't experience any significant difficulties with the process.
Our recommendation would be to handle each box separately, rather than unboxing everything before you begin. Each product comes in its own box, and by opening and assembling one at a time, you minimize the chances of getting components mixed up. Expect the process to take a good three hours for the whole set, including unboxing and sorting pieces. It's a significant amount of time, but the good news is that you only have to do it once!
Also, note that the company does not offer an expert assembly option here. If they did, it would probably be worth the money to get a good chunk of your day back, but we understand why they didn't.
Pros and Cons of the Ovios 4 Pc Patio Furniture Set
In no particular order, here are the things we think you'll like best about this furniture set:
On the other hand:
Final Thoughts: Ovios 4 Piece Rattan Patio Furniture Set Review
Despite the fact that we aren't all that fond of rattan furniture, the Ovios 4 piece rattan outdoor furniture set impressed us. We do feel that Ovios' six-piece set offers more in terms of both value and comfort, but this is a good choice for people who don't have a ton of money to spend and are cramped for space. On that basis, we provisionally recommend it.
---
References & Resources: