In a Nutshell:
The Polywood Outdoor Presidential Rocking Chair is a sturdy, unobtrusive rocker with an insanely good warranty. Recommended for anyone weighing up to 500 pounds who wants to enjoy the great outdoors in comfort and style.
* Brand Reliability is a measure of the strength and longevity of the brand, which by extension, is a measure of the level of support you can expect.
** While aesthetics is a matter of taste, Aesthetic Flexibility is a measure of how easily a given design would fit into a wide range of home or office décor schemes.
Do you love the simple pleasure that a rocking chair provides?
Are you looking for something durable, well-made, and capable of supporting a generous amount of user weight?
If you answered yes to either or both of those questions, then you're going to be impressed by what you read in this review.
We'll be quick to admit that we've got mixed feelings about the Polywood Presidential Rocking Chair. In the sections that follow, we'll not only tell you why, but we'll also tell you everything this chair gets right, and where it comes up short.
It gets an awful lot right, and we were impressed, even if we have one misgiving. If your interest is piqued, read on, and let's take a closer look at this solidly built, versatile rocker.
An Overview of the Polywood Presidential Rocking Chair
It looks like a beach rocker. The type of chair you'd see parked next to a Pawley's Island hammock. That was our first impression when we took in the sight of the chair, and yours is likely to be similar. It's just got a fun, casual air about it that makes you want to grab a drink (probably with an umbrella in it), take a seat, and rock your troubles away.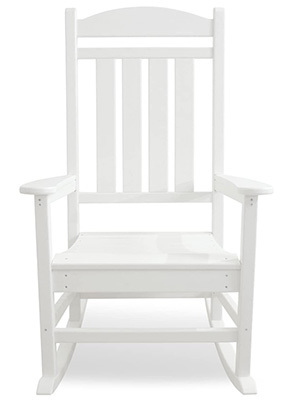 The name of the company and the material the chair is designed from are a bit deceiving, though. Since the word "wood" is in the name Polywood, you might be thinking this is a wooden chair, or at least a composite wood chair.
It is not. It's made from recycled plastic. There's nothing wrong with that in the least, but here's our misgiving, and we'll get it out of the way early: This chair is marketed as an indoor/outdoor rocker.
That's technically correct. There's nothing that would stop you from using it indoors, but…it's plastic. It looks plastic. No one will be fooled into thinking they're sitting in a wooden rocker.
As such, in the vast majority of cases, it's going to stick out like a sore thumb if you try to use it indoors. Even so, there are places where it would fit in. A screened-in porch is technically indoors. A sunroom is indoors. It could work in a game room. So…we counted it as an indoor/outdoor rocker, but only just. If you're looking for a rocking chair you can put in your living room, this is categorically NOT the chair you want, but it does have viable indoor uses.
Having said that, if you decide you want one of these, you can get them in a wonderful selection of colors, including:
In other words, there are enough colors here, both neutral and bold, that you can get exactly the look and feel you're after, and we love that.
Chair Specifications
Moving beyond the look and feel of the chair, let's take a closer look at the stats that define it. Here they are:
The first thing that jumps out at us is the weight of the chair itself. Plastic chairs are known for being delightfully lightweight. That's not the case here. This is a surprisingly burly piece of furniture, and heavier even than many all wood chairs of similar size.
It also supports a generous four-hundred pounds of user weight, making it a good choice for bigger, taller folk. The seat height and dimensions support this. While 20" isn't as wide as we've ever seen for a big and tall chair, it's not bad and should be a good fit for most users. The same goes for the seat height, which just misses the start of the big and tall seat height range that typically starts at 18" and runs up to 22" or more.
Adjustability and Comfort
Few rocking chairs have adjustable features, and this one falls into that category. Although nothing about the chair is adjustable, it is remarkably comfortable. If you'd rather not sit on the plastic surface, it's easy enough to add a padded cushion and possibly a padded seatback too.
In our view, the chair in its default state is a template. A blank slate. If you want to enhance its comfort, you can easily do that to your heart's content.
Assembly Is Required
Almost all the furniture you can buy online comes unassembled. It just makes shipping easier. This chair follows industry conventions in that regard. If you order one of these, you'll get a box with about a dozen pieces in it.
Fortunately, the assembly process is straightforward, the production quality is high, and the instructions are clear. Figure ten to fifteen minutes to unpack the chair and sort the pieces and another twenty-five to thirty minutes to put it together, and you're done.
That's not bad, but if you'd rather pay someone to put it together for you, you have that option. The expert assembly service is pricey, and we don't recommend it. Still, if the thought of putting your own furniture makes you break out into a cold sweat, you may find it a worthwhile addition.
Pros and Cons of the Polywood Presidential Outdoor Rocking Chair
We like almost everything about the chair, except the fact that it's marketed as an indoor/outdoor rocker, and it only barely qualifies for the former category. We wouldn't go so far as to call it a case of false advertising, but this is only an indoor rocker in the most generous sense of the term, and that did put us off a little.
Even so, this is an undeniably great chair, offered by a fantastic company. Best of all, the Polywood Presidential Rocker comes with a mind-blowing twenty-year warranty, which is heads and shoulders better than any other chair in its class we've looked at.
Polywood Presidential Rocking Chair Review Conclusion
It's a rock-solid design that ages gracefully and looks good in any outdoor setting and a few indoor settings. Even better, it supports a generous amount of user weight that makes it capable of accommodating more than 95% of the market. While we didn't fall in love with it, we do like the Polywood R100BL Presidential Rocking Chair very much, and we highly recommend it. It's a good piece of furniture that will serve you well.
---
References & Resources