Adirondack chairs are wildly popular, both for their timeless, simple design and their comfort.
While it's true that the core design hasn't changed much since Thomas Lee first developed it back in 1903, there have been a number of variants produced in the decades since, including the incredibly popular Adirondack rocking chair.
The one potential downside is the fact that if you buy an Adirondack rocking chair from a retailer, you're bound to pay a hefty premium. If you're a hands-on, DIY kind of person, though, you can save a ton of money if you're willing to build your own.
Unfortunately, finding high quality, free printable rocking Adirondack chair plans can be a frustrating task. That's why this piece exists! We've scoured the internet to find the best sources for free Adirondack chair plans out there so you can spend less time searching and more time building. Let's jump right in and take a closer look!
Best Sources for Free Rocking Adirondack Chair Plans & Templates
Adirondackchairfactory.com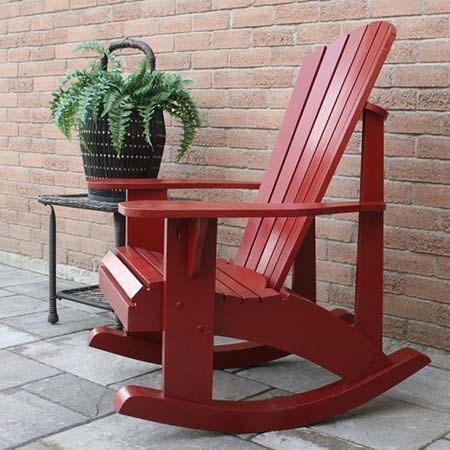 In our view, the overall best list of free Adirondack chair plans that includes rockers is this collection, offered by the Adirondack Chair Factory.
You'll find a lot to like here, including fantastic double rocking Adirondack chair plans if you'd like to build one to enjoy with that special someone in your life.
This site offers a sprawling collection of Adirondack rocking chair designs and features a number of plans and variants that will enable you to build exactly the chair you want.
Note that this, and some of the other collections we found refer back to an Adirondack rocking chair plan free download kept on the Instructables website. Since it gets referenced so often, here's a direct link to that specific plan. If you have an Instructables account, just save it to your project wish list and build it at your leisure!
Morning Chores
Morningchores is a website we've mentioned before, and if you're not familiar with it, but you love gardening, homesteading and DIY projects of all shapes and sizes, it definitely belongs in your bookmark collection.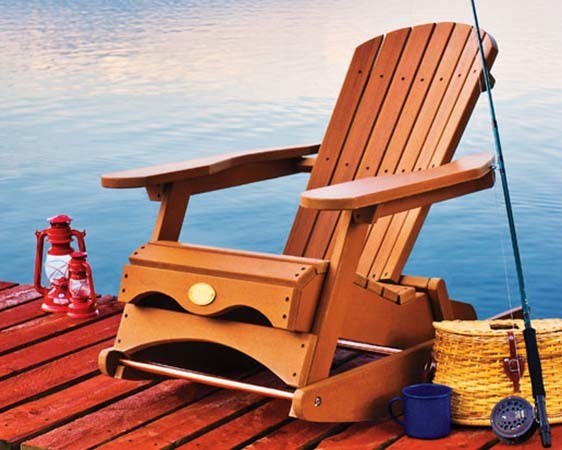 They've got a fantastic list of 35 free Adirondack chair plans and templates that run the gamut of shapes, sizes, and styles. You'll find a little bit of everything here, including a great Adirondack rocking chair design.
What we really love about this collection is the fact that they've also got some upcycling plan options that show you how to build from scrap, shipping pallets, and other easily obtainable materials. If you're on a tight budget or just love repurposing and reusing, you'll be delighted by these additions! Here's the link to their collection.
Here are direct links to the adirondack rocking chair plans from their list:
Note: One of the questions we get asked regularly is whether or not there are any sources for free cedar Adirondack rocking chair plans.
The direct answer to that question is no, but we'll be quick to point out that using cedar as your building material won't change the particulars of the plans available here, or on any of the other websites, we'll be talking about in this article. In other words, feel free to use cedar to build ANY of the chairs you find here if that's your preference!
Construct 101
This is a Do It Yourselfer's dream website. The format is clear and easy to follow and includes shopping lists, cut lists, step by step instructions, and great diagrams offered at every step. The site offers a staggering range of DIY projects of all shapes and sizes, but you can find their excellent free Adirondack rocking chair plan right here.
My Outdoor Plans
While this site didn't rank as highly as the ones we've mentioned so far, it definitely belongs on your shortlist of options to consider. The website is reasonably well designed and features a category search to help you zero in on exactly what you're looking for and includes a "brag" section so you can post pictures of your project once you're done. There are also some videos available, but this is highly variable – you won't find video supplements for every project on the site.
The free Adirondack rocking chair plans can be found right here:
The Spruce Crafts
This is another site we've mentioned before in other, related articles and if you consider yourself a DIYer or are just generally interested in home repairs, home décor, and fun projects you can involve your family in, it definitely belongs in your bookmark collection.
Their collection of free Adirondack rocking chair plans isn't as big or robust as the other sites we've talked about so far, but if you haven't found exactly what you're looking for in the other collections, this one is well worth taking a closer look at.
Video Tutorials
Some people work best with a set of downloadable, printable plans they can follow along with like cooking by following a recipe. If that's your preferred approach to learning and building, then any of the sites we've talked about to this point have plans that will serve that purpose.
On the other hand, though, other people prefer to have a set of video instructions to follow along so they can see the chair coming together during the various phases of its construction.
If that's what you prefer, then BigJC has you covered. His YouTube channel is well worth subscribing to, but if you're looking for a video tutorial that covers exactly how to make an Adirondack rocking chair, then this is the one you want.
As a side note, if you're interested in creating a rocking lounger, check this design out.
Although this isn't an Adirondack rocking chair in the strictest sense of the term, the design clearly seems influenced by Adirondack styling. In any case, it's well worth a look, if for no other reason than to get additional inspiration.
Final Thoughts
One thing we were pleased to see in the collections we've curated here is the fact that some of the plans offered were developed by some of the biggest names in the American hardware and lumber markets.
Overall, we were impressed by the number and quality of free Adirondack rocking chair plans & templates we found on the web. Whatever specific style you're looking for, we feel certain that you'll find something you'll fall in love with from the collections presented here.
We do note, however, that some plans are better and more robust than others. Not every plan offered in the collections above comes with precise cut lists, shopping lists, and the like, so be sure to review any plan you're considering building with to make sure it's complete enough to allow you to proceed with confidence. There's nothing worse than getting partway through a build, only to realize you're not sure how to proceed!
We're very interested in making this article the most complete and comprehensive collection of free Adirondack rocking chair plans anywhere on the web, so if you know of a great source we didn't mention here, please leave us a comment below and let us know about it. We'll be thrilled to evaluate it for inclusion on our list in a future update.
---