In a Nutshell:
The Rolleez All Terrain Beach Wheelchair is an exceptional manual beach chair. All you need is an assistant to push, and you're ready for a day of fun, sun, and sand. Recommended for anyone who loves spending time at the beach but can't afford a powered beach chair.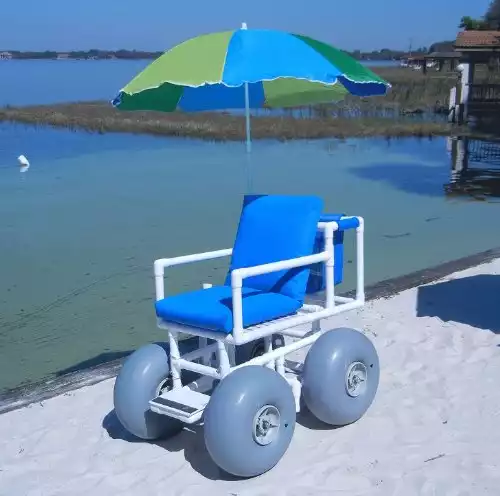 Do you love the beach (who doesn't, right?)?
Has your mobility issue conspired with your somewhat tight budget to keep you from enjoying it the way you used to?
If you answered yes to one, or both of those questions, then you're going to love this review.
The Rolleez All Terrain Beach Wheelchair is manufactured by HealthLine Medical, a well-respected name in the industry. Right off the bat, you know it's going to be a good, if not a great product.
While it's not quite as cool as those fancy powered electric beach chairs, it's also not nearly as expensive, and as you'll see in the sections below, it's a solid piece of engineering with just enough extras and options to excite.
It's true that this model isn't for everyone, but as long as you've got a trusty assistant who's willing to give you a push, this is an excellent model that will appeal to a broad swath of the market.
We'll go over everything this solid, fun beach chair can do, and let you know what its shortcomings are (there aren't many), so you'll have everything you need to know to decide if it's the model you've been looking for. If that sounds good to you, let's jump right in!
An Overview of the Rolleez All Terrain Beach Wheelchair
As with almost all beach wheelchairs, the Rolleez All Terrain Beach Wheelchair is characterized by its almost comically large wheels. In this case, note that the front wheels are significantly larger than the rear ones. This chair was designed to be pushed. If your assistant attempts to pull you backward, he or she might pull a muscle in his/her back instead – forewarned!
Its overall construction makes it look more like a wheeled lawn chair made with a King-sized child's Erector Set, than a wheelchair. We don't say that as an insult, by the way, we actually think it adds to the model's fun, playful aesthetic.
Rolleez Beach Wheelchair Specifications
Here are its basic stats:
Adjustability & Comfort
While the wheelchair is comfortable, adjustability is not one of the Rolleez's strong suits. The dimensions are what they are and can't be changed. With that in mind, be sure you measure yourself before ordering because if you don't fit nicely into it, there's not going to be a lot you can do about it.
Honestly, about the only adjustable feature you'll find here is how tightly to cinch up the safety belt, or whether or not to open the umbrella. If you're looking for a highly adjustable beach wheelchair, this one's going to leave you underwhelmed and disappointed.
Comfort wise, you won't have any complaints at all. Granted, this isn't a chair you'd want to try to spend the night in, but then, it was designed for a day at the beach having fun, not snoozing, and it's plenty comfortable for that.
On-Board Storage & Extras
While there aren't many "extras" to speak of here in our Rolleez Beach Wheelchair review, we give the Rolleez high marks in this department for two reasons.
First, the three "extras" that are on offer are quite good, and all free when you place your order. You can, if you prefer, opt out of any of the freebies, which gives you more of a sense that you're "customizing" the wheelchair. But honestly, since they're free anyway, why would you want to?
Better to take the free stuff in case you need it, then pass on it, only to find yourself wishing you had this or that extra later.
The three extras on offer are:
Note that the storage area is quite roomy, so you should be able to tote everything you need for a fun day on the water.
Second, there are lots of fun color and upholstery options, which allows you a fair degree of latitude in terms of personalizing your ride and really making it your own.
Broadly speaking the upholstery choices can be broken into two categories: Basic and Premium. The basic options can be selected at no additional charge, while the premium options carry a nominal, 5% upcharge.
Here are the Basic Upholstery Options:
Solid Vinyl Color Choices (considered standard upholstery, so no additional charge here):
Shade Upholstery – Note that 'Shade' refers to a type of upholstery, not the optional umbrella shade that can be ordered with the chair! – This is the first of the premium upholstery options, so the 5% upcharge applies to these:
Premium Vinyl Upholstery Color Options (Upcharge Applies):
Sure-Check Upholstery Color Options (Premium – Upcharge applies):
What About Portability?
One thing the Rolleez All Terrain Wheelchair is not, is to be portable. It's a sizeable piece of equipment, and it doesn't collapse or fold down. If you want to transport it, and you don't have a full-sized van or truck bed to put it into, plan on spending some time taking it apart, and then putting it back together again when you get where you're going.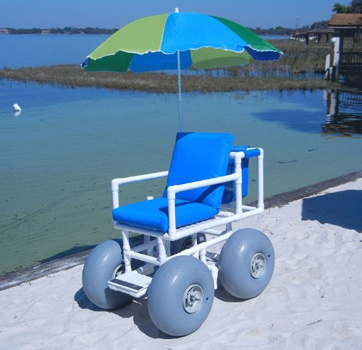 Note: This wheelchair won't arrive at your doorstep ready to use. You'll have to assemble it first. Fortunately, that's pretty easy to do. All the pieces are big, blocky and easy to identify, which makes putting it together a snap, and again, brings to mind images of a giant-sized, child's Erector Set.
No Learning Curve at All
There's nothing to "learn" in terms of using this chair, unless you count the few minutes it'll take you to figure out how to put it together. Once it's ready to roll, you just sit down, and someone gives you a push. That's it.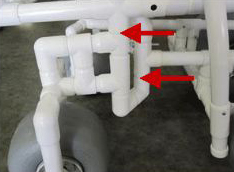 Obviously for Outdoor Use Only
It should go without saying but please don't try to use a wheelchair like this indoors. Those huge wheels are almost guaranteed to make a mess, knocking things around as it trundles through cramped spaces like a wheeled bull in a china shop.
Pros & Cons of the Rolleez All Terrain Beach Wheelchair
About the only genuinely negative thing we can find about the model is the fact that it's just not an adjustable chair. Strictly "one size fits all" here, and if you're not that size, you're not going to like this chair.
Every other possible complaint we could come up with about the Rolleez is a function of design decisions. For instance: No, you can't use it indoors, but it wasn't designed for that. No, there aren't a ton of extras on offer, but the ones that are offered are a) free, and b) all the most important ones for a day at the beach anyway. That kind of thing.
Rolleez All Terrain Wheelchair Review Conclusion
With lots to like about the Rolleez All Terrain Beach Wheelchair, and only one medium-sized gripe that may make it unsuitable for some users, we have to say we really like, and almost love the model. While it falls short of perfection, it's modestly priced and is a fantastic option for people with mobility issues feel as though they've been "shut out" of the beach life.
Not anymore. Not with one of these babies at your disposal.
Of course, in some ways, a wheelchair like this is self-selecting. Since it cannot be used as a general-purpose chair, if you're on a super tight budget, you may not be able to afford one in any case.
The market for the chair then occupies a smallish middle ground: People with enough disposable income to afford an "extra" chair designed for a specialized purpose, but who don't have quite enough disposable income to afford a motorized version.
Assuming you fall in that bracket or are delightfully thrifty and don't want to spend the extra money on a motorized beach chair, this is an excellent choice. We recommend it.
---
References & Resources