In a Nutshell:
This Rose Home Fashion Teak Shower Foot Stool is a cute, unobtrusive little stool, perfect for shaving your legs. This is very much a niche product. You'll either love it or not be at all interested.
* Brand Reliability is a measure of the strength and longevity of the brand, which by extension, is a measure of the level of support you can expect.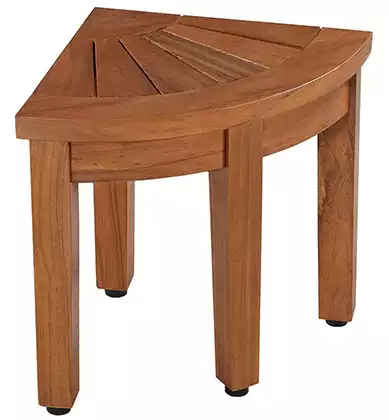 Do you hate shaving your legs in the shower? Have you often thought in frustration how great it would be if you had a handy little stool you could prop your foot up on to make the process easier?
If you answered yes to either of those questions, you're going to love what you read in this review.
Make no mistake; the Rose Home Fashion teak shower foot stool is about as niche as they come. You'll either find this to be an invaluable addition to your home bathroom, or you'll skim this introduction and decide it's just not something you want or need.
If you find yourself in the market for a stool like this, though, this model is a great option. In the sections that follow in this review, we'll tell you why it would make a fantastic addition to your home. If your interest is piqued, read on!
An Overview of the 13.5" Teak Shower Foot Stool by Rose Home Fashion
Tiny. At just 13.5" tall, that's the first word that's likely to spring to mind when you see the Rose Home Fashion teak shower foot stool. It certainly is that, but it's tall enough to do its job, which is to give you a convenient platform to rest one foot on while you're shaving your legs.
Even better, when you're not using it for that purpose, it's so small that it can just remain in the corner of all but the smallest showers, where it won't be in the way. Before going any further, though, let's stop to do a quick stats review for this model. Here are the basics:
There's not really much to say about these numbers. This stool is much too small to actually sit on, but that's not what it's designed for.
Its weight is a bit of a surprise, but then, the stool is fashioned from solid teak wood, which explains why it's a fair bit heavier than stools that are made primarily of plastic and/or tubed aluminum.
Adjustability, Comfort, and One Small "Extra"
Believe it or not, there is one slightly adjustable feature on this little stool! The rubberized feet have "levelers," just like you find on kitchen stoves, washing machines, and dryers.
That way, if your shower has a curved or sloping bottom (and many do), you'll be able to tweak the height of each leg so that the stool is perfectly level. That, combined with the fact that the rubberized feet grip the surface of the shower even when it's wet, gives you a stable platform to rest your foot on.
There's not much to say where comfort is concerned. The teak sports rounded corners and is sanded smooth, so it provides a comfortable platform for whichever foot you rest on it while you're shaving. Even if you're taking your time about it, it's not like you'll be spending tons of time in that position.
Some Assembly Required
It almost seems a shame that this 13.5" teak shower foot stool doesn't come fully assembled. It would be very easy to do and had Rose Home Fashion chosen to take that approach; it would have definitely added value to their product.
As it stands, though, there aren't many pieces to contend with, the production quality is high, and the assembly process is simplicity itself. It will probably take you almost as long to unbox everything as it will to actually screw the legs on. Once it's done, just put it in the corner of your shower, and it'll be ready to go.
Pros & Cons of the 13.5″ Teak Shower Foot Stool
There's really nothing bad to say about this little footstool. The production quality is excellent, it looks great, and it's small enough that even if you're cramped for space, you'll probably have room for it.
The only potential downside is that you may not want or need this product. As we said at the start, it falls very much into the niche category. If you don't want or need a footstool like this, it won't matter how good or pretty it is, it just won't be of interest to you.
Rose Home Fashion Teak Shower Foot Stool Review Conclusion
For what it is, we think the Rose Home Fashion teak shower foot stool is exceptional. A very stylish, perfectly functional little footstool, and the ideal addition to any household containing one or more people who shave their legs. If that describes your household, then this stool definitely belongs on your shortlist. Given that it's such a niche product, though, we can only give it a provisional recommendation. It's just a very self-selecting item.
---
References & Resources: