In a Nutshell:
Beautifully designed loungers that place as much emphasis on comfort as they do on form. These are superb, well-rounded loungers you'll be proud to own. The RST Cannes Chaise Lounge Chair is recommended for anyone weighing up to 400 pounds in the market for at least two loungers (since you can only buy them in pairs).
* Brand Reliability is a measure of the strength and longevity of the brand, which by extension, is a measure of the level of support you can expect.
** While aesthetics is a matter of taste, Aesthetic Flexibility is a measure of how easily a given design would fit into a wide range of home or office décor schemes.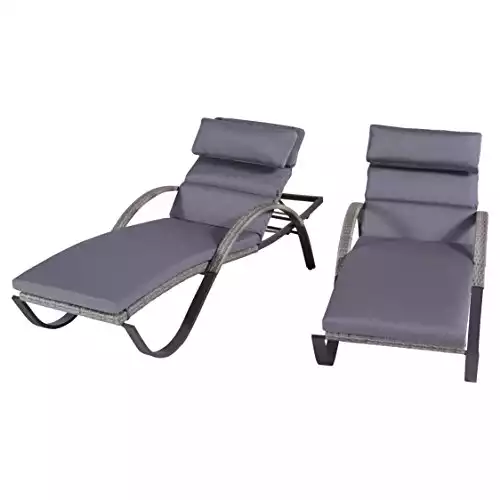 Are you in the market for a top-quality poolside, deck, or patio lounger? Are you personally a bit heavier than average, or do you regularly entertain guests who are?
If you answered yes to either of those questions, then you know what a struggle it can be to find good quality furniture that is built ruggedly enough to provide proper support.
The majority of the furniture offered for sale today supports between 250 to 300-pounds. You'll find a few options that can support up to 350-pounds, but much beyond that, and the number of choices available to you falls off quickly.
The good news is that there are companies out there selling to the bigger, heavier segment of the market. Many of the companies are smaller brands you may not have heard of, but if you're willing to take a chance, you'll find a lot to like.
The RST Cannes Chaise Lounge chairs are an excellent example of the kinds of hidden gems just waiting to be discovered in this portion of the market. In the sections that follow, we'll tell you what makes these chairs special. By the time you reach the end of this review, we think you'll agree: These loungers belong on your shortlist of options to consider. Let's take a closer look.
An Overview of the RST Cannes Lounge Chairs
The first thing to talk about where the RST Cannes Chaise Lounge chairs are concerned is the fact that you can't buy just one. The company only sells them in pairs, so unless you're looking for at least two, these will probably be non-starters for you. Your only other alternative is to find someone who also just needs a single lounger and split the cost with them.
Assuming that's not a deal-breaker for you, the first thing you'll notice about them is the fact that they're incredibly attractive. Crafted with a mix of rattan and steel, these chairs offer swooping, graceful lines that define the arms and legs, cradling an expansive seat.
Even better, you can get these chairs in a variety of colors, including:
Most of the color options on offer are neutral, which makes it easy to blend these chairs in with whatever color or décor scheme you already have in place. There are, however, a couple of bolder, eye-catching colors, giving you the option to use these as a focal point if that's what you'd prefer.
Aside from the sleek lines and generous color selection, here are the basic stats that define the model:
These are good numbers that paint a picture of these chairs as being ideally suited for bigger, taller, and heavier folks. The cushions, being 80" in length, are capable of supporting users up to about six and a half feet tall comfortably. With a 26" wide cushion, even if you're quite close to the chair's 400-pound weight limit, you should have no difficulty fitting comfortably into it.
Even better, you can adjust the angle of recline offered by these chairs via three different settings, giving you a tremendous amount of flexibility in terms of optimizing your comfort.
RST utilizes a custom fabric they call 'Sunbrella' which appears to be polyester filament based. It's fast-drying and weather-resistant, which is a great pairing with the chair's powder-coated aluminum frame. These materials make these chairs capable of standing up to just about any type of environment, including the salty air of coastal areas.
In addition to that, the wicker used to cover various portions of the frame is commercial grade and protected by a layer of polyethylene, making it at least as rugged as the fabric. In short, these chairs were built to last and stand up to the elements well.
The final thing to note here is the weight of these chairs. At 28 pounds each, they're heavy enough to leave outside without worrying about the wind knocking them over but light enough that if you wanted to collapse them and store them when you don't need them, that's doable too.
The one thing you probably won't be able to do easily is to take these with you to enjoy a day at the beach. They're a bit too heavy for that unless you live literally ON the beach, have a super strong back, or don't have very far to tote them. It's a limitation to be sure, but not a huge one.
Adjustability and Comfort
There's only one adjustable feature on the RST Cannes Lounger chairs, and we already gave it a brief mention. You can adjust the angle of recline, choosing from three different settings that change the angle of your upper body when sitting in the lounger. A fourth setting allows you to lay the chair completely flat, making it perfect for napping.
Comfort-wise, the cushions are 3" thick, which is sufficient to be comfortable but isn't what we'd call luxurious. Even so, these loungers are certainly comfortable enough to spend several hours at a stretch in, allowing you to while away a leisurely afternoon in them if you wish.
In addition to the padding itself, each chair comes with an extra pillow that offers an additional 3" of padding for your head. Like the frame, these pillows are held in place via Velcro straps, which is a simple, effective solution.
No Assembly Is Required
Unlike most of the furniture, you can buy online these days, if you decide you want a pair of these, you won't have to do anything except take them out of the box, put them where you want them to go, unfold them, and attach the cushions.
The cushions affix to the frame via Velcro straps, which is about as simple as it gets. You'll probably spend more time getting these chairs out of the box than it will take you to get them ready for first use. Kudos to RST for that!
Pros and Cons of RST Cannes Lounge Chairs
We love that the company put as much effort into the styling of these chairs as they did on comfort. The result is a more expensive chair, which may strain your budget, but this is definitely a case of getting what you pay for.
The only real downsides where these loungers are concerned are that you can't buy just one, they're a little too heavy to pack up and take with you to the beach, and they are more expensive than many other lounger options available.
RST Cannes Chaise Lounge Chair Review Conclusion
The RST Cannes Chaise Lounge chairs are great looking, well-constructed, comfortable chairs, which is basically everything most people are looking for in a lounger. Yes, you'll pay a premium for them, and the cost is further magnified by the fact that you can't buy one. Still, quality matters, and most people understand that you'll pay a premium for it.
We love these, and if you decide to take the plunge and make a purchase, we think you will too. While there are less expensive loungers on the market, they're not as well-made, and they don't look as good. On the expensive side or not, these get a solid recommendation from us.
---
Official Manufacturer Support​
References & Resources