In a Nutshell:
The Serta Back in Motion Office Chair is an outstanding, full-featured ergonomic office chair offered by a company with a stellar reputation for quality and post-sales support. Recommended for average-sized people who are looking for a chair for light to moderate daily use.
* Brand Reliability is a measure of the strength and longevity of the brand, which by extension, is a measure of the level of support you can expect.
** While aesthetics is a matter of taste, Aesthetic Flexibility is a measure of how easily a given design would fit into a wide range of home or office décor schemes.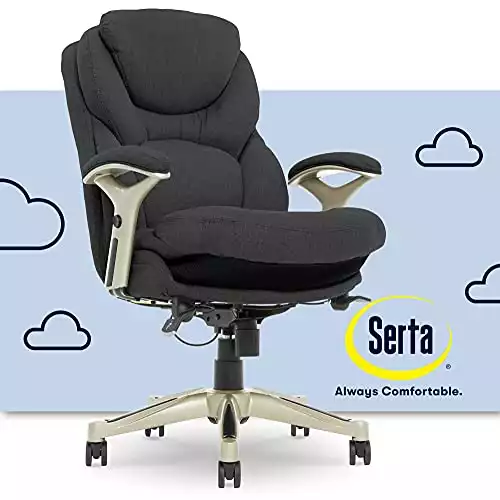 Are you on a budget, but looking for a great office chair with well-implemented ergonomic features? Have you been frustrated by the search so far? If you answered yes to either of those questions, you're going to be thrilled by what you find in this review of the Serta Back in Motion Office Chair.
While Serta is much better known for their mattresses, the company also makes a full line of office chairs. Their expertise in the bedding market serves them well here, and their chairs are a cut above where comfort is concerned.
Even better, the company has demonstrated an impressive knowledge of ergonomics and all the ergonomic features offered in their office furniture are very well implemented. While it's true that their products cost a bit more than many of the off-brands you can buy, you're getting a piece of furniture from a respected brand with a track record for excellent customer service.
If that sounds like what you've been looking for, keep reading, and in the sections that follow, we'll tell you all about this chair. It's not perfect, but even if you ultimately decide it's not for you, we think you'll agree, this model is well worth taking a closer look at.
An Overview of the Serta Back in Motion Office Chair
Comfortable. That's the first word that's likely to come to mind when you see the Serta Back in Motion Office Chair for the first time, and it's true, but only to a point, which we'll explain in detail a bit later in this review. It is comfortable, especially if you're just sitting in it for short to medium lengths of time, although if you're planning to spend all day in it, you might find it a bit lacking toward the end.
While it's not a flashy or showy chair, it's also not an unattractive chair, and it will blend seamlessly with most home or office décor schemes. This is made even easier by virtue of the fact that Serta offers the chair in a modest selection of colors. You can get yours in:
Note that the company offers both standard and "refresh" fabric which is supposedly more breathable. In practice, we noticed little, if any difference between the two but your mileage may vary.
Chair Specifications
In terms of the basic statistics that drive and define the design, you're looking at the following:
There are a couple of things worth drawing your attention to here.
First, it's a relatively heavy chair, given its dimensions. That's because Serta didn't skimp where materials quality was concerned. This is a serious piece of furniture and with reasonable care, will far outlast its 1-year warranty.
Second, the height adjustment range is slightly small, being only 3.5" where most office chairs offer a 4" range. That's hardly a deal breaker, but certainly worth mentioning. The seat height adjustment range is good and makes the chair well suited to all but the big and tall segment of the market.
The maximum supported weight, however, is a point of genuine weakness in the design in our view. Two hundred and fifty pounds is quite modest and will make the chair a non-starter for some segments of the market. This underscores the point that before you commit to purchasing this chair, you should take careful measurements and be mindful of the weight limit.
Comfort
The chair is well-padded and comfortable, but honestly, it's not as comfortable as many of Serta's other offerings. It's fine for short to medium duration stints of sitting, but if you're near the top end of the chair's maximum supported weight limit and plan to sit for six or eight hours a day (or longer) then you'll probably find it getting less and less comfortable as the day grinds on.
Even so, the Serta Back in Motion Task Chair features impressive cushioning technology that draws from their experience making bedding.
You will find some conventional block foam in the mix, but this is augmented by layers of thick premium foam which exists in a middle ground between block foam padding and actual memory foam, with this being further augmented by mattress-quality comfort coils, not unlike the springs you probably have in the mattress on your bed. It's a very good system, but it is somewhat limited by the chair's modest maximum supported weight.
Adjustability
In terms of adjustability, there's a lot to like here. The seat height adjustment lever is logically placed and easy to reach while sitting in the chair, as are the tilt control mechanism and the tension control knob.
The casters are conventional polyurethane, better suited to rolling on a hardwood or tile flooring surface, but they'll work reasonably well on carpet, provided it's not plush.
Ergonomic Features
Where this chair really shines, however, is in the array of ergonomic features it offers. You'll find three. They are:
Lumbar Support – Back In Motion
While all of these are exceptionally well-implemented, the lumbar support wins top honors in our view. Here, Serta uses a proprietary technology they call "Back in Motion" or BIM for short. This technology allows the lumbar support to move with you as you adjust your position in the chair so that it always provides the support you need, no matter how you're sitting in your chair.
Posture-Correction Tilt
The Serta Works also utilizes a technology called posture-correction tilt which moves your pelvis forward as you shift in the chair, keeping your spine in a neutral position at all times.
Waterfall-Edge Style Seat
The waterfall-edge style seat is also well-implemented, which not only adds to the comfort of the chair but also helps ensure that as you spend more time sitting in it, you won't suffer that pins and needles sensation in your legs because the seat is cutting off your circulation. Not every company gets this right, so kudos to Serta for a job well done here.
Head, Neck and Shoulder Support
Finally, the head, neck and shoulder support are excellent and also serves to enhance the overall comfort of the chair. If you lean back to take a short break from your work, you'll find your head cradled in a way that's not dissimilar to the pillow on your bed. It's delightful.
Armrests
The only thing about the chair that leaves us somewhat wanting are the armrests. They're well-padded and comfortable, and they're even height adjustable, which is fabulous, but they're not ergonomically designed.
Given how well the chairs ergonomic features were implemented, we dearly wish the company would have offered ergonomic armrests, but again, this is more of a nit than a genuine weakness. You'll still find them quite comfortable, and the fact that they're height adjustable makes it even better.
Double-Stitched
The final thing to talk about in this section of our Serta Back in Motion Chair review is a small point, but one that's well worth mentioning. The Serta Works offers double stitching throughout. That's fantastic and speaks highly of the overall quality of the chair you're getting if you choose to buy this one.
Some Assembly Required
As with most office furniture, if you choose to buy this one, it won't come assembled. You'll get a large box, and your chair will be in several sizeable pieces. Fortunately, Serta's products have high production values, so there's no worry that the pieces won't fit together as they should. They will.
The instructions aren't as good as they could be, but they're not horrible either. Overall, you won't have much trouble with the assembly although if you're doing it on your own, there will be a couple of moments where you'll struggle.
Total time to assemble averages about 25-30 minutes, and you can shave about ten minutes off of that if you have an assistant handy.
Pros and Cons of the Serta Back in Motion Chair
There's a lot to like about the Serta Works chair. In our view, its best features include:
PROS
On the flip side, it's got a couple of weaknesses and limitations to be mindful of. These include:
CONS
We'd like to note here in our Serta Works Executive Office Chair With Back in Motion Technology review that the chair's two weaknesses are self-selecting, so this model will either be a great fit for you, or you'll give it a pass because you simply can't comfortably fit into it, either because the seat won't adjust high enough for you, or you weigh more than the chair's maximum supported weight limit.
Also, note that Serta also offers this chair in bonded leather. While it's stylish and attractive, we don't consider leather to be quite as well suited for heavy daily use because it's not as breathable. Spend more than about two hours at a stretch in the chair, and you'll start to sweat.
In addition, this chair variant is clad in bonded leather, which is real leather but doesn't stand up well to the rigors of heavy daily use and is prone to cracking. As such, we regard it as slightly inferior to the fabric model. For those interested in it, here's the link to the bonded leather model and here's how we'd rate that variant:
Serta Works Executive Office Chair (Bonded Leather)
Serta Works Executive Office Chair (Bonded Leather)
Serta Back in Motion Chair Review Conclusion
We really like the Serta Back in Motion Office Chair. It's a bit narrowly focused in our view, given its seat height adjustment range and relatively modest weight limit. Given that, you'll want to take careful measurements to be sure that you'll fit comfortably in the chair before you spend any money.
Assuming you do, we highly recommend it for anyone looking for a great, well-priced ergonomic office chair for light to moderate daily use, and provisionally recommend it for anyone in the market for an office chair designed for heavy daily use. The farther you are from the chair's weight limit, the better suited it is to heavy daily use and the more comfortable you'll find it.
---
REFERENCES & RESOURCES