In a Nutshell:
An exceptional, and exceptionally comfortable chair built with bigger, taller folks in mind. Serta Big and Tall Smart Layers Tranquility Executive Office Chair is recommended for big and tall folks weighing up to four hundred pounds who need a chair for light to moderate daily use.
* Brand Reliability is a measure of the strength and longevity of the brand, which by extension, is a measure of the level of support you can expect.
** While aesthetics is a matter of taste, Aesthetic Flexibility is a measure of how easily a given design would fit into a wide range of home or office décor schemes.
Are you a bigger, taller person?
Have you been struggling to find a high-quality office chair that you'll fit into comfortably, that won't break the bank, and that's both comfortable and reliable?
If you answered yes to either of those questions, you're going to love this review of the Serta Big and Tall Smart Layers Tranquility Executive Office Chair.
Serta is, of course, best-known for their mattresses, but in recent years, the company has made a significant foray into the office furniture market and has utterly dominated the lower end of the price scale, bringing their comfort expertise to bear in the world of office furniture with devastating effect.
While it's certainly possible to find cheaper office furniture, the main issue is that most of the companies selling for less are off-brands with spotty post-sales customer support. They can't hold a candle to Serta, and if you're willing to spend just a little more, you can come away with a significantly better chair.
The Serta Big and Tall Tranquility is, for big and tall people what the Serta My Fit is for petite folks. It's an office chair priced in the mid-range and produced by one of the finest companies in the business, offering both world-class post-sales support and an exceptional warranty.
In the sections below, we'll go over everything this model gets right (and it gets a lot right) and let you in on a few of its shortcomings, so you'll have all the information at your fingertips and can decide for yourself whether or not this is the chair you've been looking for. If that sounds good to you, let's jump right in and see what this model has to offer!
An Overview of the Serta Big and Tall Smart Layers Tranquility Executive Office Chair
It's a big, comfy chair.
That's probably the first thing that will come to mind when you see it fully assembled for the first time. In our view though, Serta basically phoned it in where the design is concerned. It's conventional. The company didn't take any chances here, offering a purely traditional design. There's nothing about the Serta Big and Tall Smart Layers Tranquility Executive Office Chair that will make you stop and say, 'Wow! That's a great looking chair.
It's easy to see why the company made this decision. Elegant design takes time and resources, and most companies don't try to push the boundaries with their designs. It's easier to play it safe.
On balance, we think it's a good move because it allows the chair to blend in well with most home or office décor schemes. Had Serta tried to come up with an innovative design and failed in that effort, they'd have had an expensive mistake. As it stands, while there's nothing particularly compelling about the Tranquility's aesthetic, it's not a bad looking chair by any stretch.
Chair Specifications
Before we dive into the particulars, here are a few basic stats to give you a sense of the model: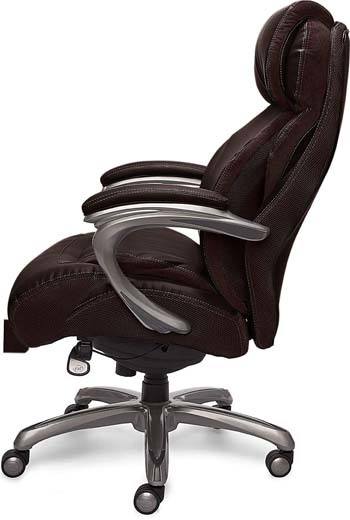 Product Dimensions: 33" x 28.2" x 44.25" to 48.25"
Chair Weight: 57.6 pounds
Maximum Supported Weight: 400 pounds
Seat Depth: 19"
Seat to Floor Height: 18" to 22"
10-year limited warranty!
There are a few things to talk about here.
First and foremost, as you can see by taking a look at the overall dimensions, this is a serious piece of furniture. If you have a smallish room, it may even wind up dominating the space.
Second, the height adjustment range and maximum supported weight are both clearly geared toward bigger/taller users.
Third, check out that warranty! Most office furniture offered in the low- to mid- price range comes with a one-year warranty if you're lucky. If you're very lucky, you might find something with a two-year warranty. To get a ten-year (or better) warranty, you've typically got to spend several hundred more dollars, which makes the Serta Big and Tall Smart Layers Executive Office Chair stand heads and shoulders above most of the chairs it competes with on price.
One other thing to note is the fact that this chair is offered in three different colors: Brown, Gray, and Black. While you can certainly find models that are offered in far more colors, you'll be hard-pressed to find one that provides a comparable level of quality.
Serta Big and Tall Smart Executive Office Chair Features
Adjustability and Comfort
Given Serta's experience in making comfortable mattresses, it probably comes as no surprise that the Serta Big and Tall Smart Layers Tranquility Executive Office Chair with Air Technology Black is an incredibly comfortable chair. Most of Serta's chairs are plush and well-padded, but honestly, the Tranquility takes comfort to a whole new level, with the seat of the chair boosting five different layers of padding to maximize your comfort.
Here's how it works: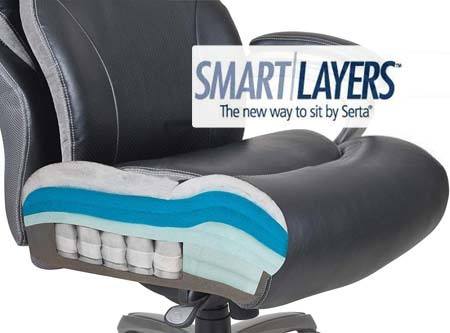 The top-most layer of padding, which is the part you first come in contact when you sit in the chair is made of poly-fiber, which is roughly analogous to block foam padding, but more flexible.
Beneath that is a layer of memory foam.
The memory foam rests on a dense foam supporting layer which the company refers to as the "Macro Layer."
Below that, you'll find two different technologies: On the edge of the seat, where your legs rest, you'll find a double-thick layer of the dense foam mentioned above (this being referred to as the "Micro Layer"), with the rest of the seat being supported by the company's patented comfort coils, which are individual springs that provide highly customized support exactly where you need it.
You could even argue that there's a sixth layer that further enhances the chair's comfort because all of the elements we just talked about rest inside a padded comfort cradle. Needless to say, you'll be hard-pressed to find any other chair, offered at any price that has a more comprehensive comfort system.
The Serta Smart Layers Big and Tall Executive Chair doesn't stop there though, and comfort is defined by more than just the padding a given chair features. Here, we're specifically talking about ergonomic features, and the Tranquility also has a lot to like on that front, including:
Exceptional lumbar support
A waterfall-style seat to help improve blood circulation in your legs, even if you sit for extended periods
Well-implemented head and neck support
Ergonomically designed armrests
Of these, only the armrests are somewhat underwhelming. While they're undoubtedly comfortable (and double-stitched, which is a nice touch), they're also wholly immobile, so if the chair doesn't fit you as it is, unfortunately, there's nothing you can do about it.
The standout ergonomic feature is the lumbar support, which is another patented Serta design called "Pivoting Air Lumbar Support." This technology not only provides a more dynamic level of lumbar support than the passive belts or pads used by other office furniture manufacturers, but it also helps to increase breathability across the bulk of the seat back.
That's huge because one of the significant downsides to getting a leather-upholstered chair is the fact that leather isn't breathable and when you sit for extended periods, you're likely to sweat profusely. The Tranquility gets around that issue, making the Pivoting Air feature a superb addition to the model.
All that to say, where comfort is concerned, the Serta Tranquility delivers like few other chairs on the market today. If comfort is the main thing you're looking for in a chair, there's not much point in looking further. You've found the one you want.
Where adjustability is concerned, the Tranquility isn't quite as impressive. About the only adjustable feature, you'll find on offer is the fact that the height can move up or down by four inches, which is pretty standard fare. Given the dimensions of the chair, the height range (18" to 22") comes as no surprise and is yet another aspect of the design that underscores this chair's focus on bigger, taller users.
The last thing to make mention of here is that while the Tranquility does rock back and forth slightly, it doesn't recline. If you're looking for a big and tall reclining office chair, you'll need to continue your search. But honestly, for the overwhelming majority of users, this isn't a must-have feature.
Assembly Can Be…Challenging
Like the overwhelming majority of office furniture, the Serta Big and Tall Tranquility Executive Office Chair doesn't come assembled. It will arrive at your doorstep in a big box, in several pieces.
You'll want to move the box into the room where you mean to use the chair because once it's fully assembled, it won't quite roll through a standard-width door frame.
While the instructions are clear, and the assembly process is relatively straightforward, bear in mind that this is a big piece of furniture. So, if you're putting it together by yourself, expect to struggle a bit as you attempt to wrestle the seat into position where it connects to the seat back, then fight some more as you attach the arms.
You'll almost certainly reach a point during the process where you wish you had at least one more hand, and you'd be well served by getting an assistant to help put it together.
Once it is together, the one persistent complaint that people who have bought the chair have is the fact that the arms will need re-tightening regularly. The good news here is that the arms aren't the only thing keeping the seat and seat back together, so if you'd rather leave them off, you could do that, at least in theory.
Having said that, the arms do provide some additional structural integrity, and we wouldn't recommend it, but some users have reported leaving the arms off and using the chair without difficulty.
Serta Big and Tall Office Chair Color Variants
Pros and Cons of the Serta Tranquility Executive Chair
We like almost everything about the Serta Smart Layers Big and Tall Chair, and since we've been singing its praises for most of this review, we won't repeat the glowing praise we've given it to this point. Instead, we'll use this section to highlight the chair's few shortcomings.
In our view, the biggest shortcoming of the design is the fact that the arms are entirely stationary. There's no way you can adjust the height or width, so the chair will either fit you well or not. You'll want to take careful measurements before committing to the purchase, and even better, try one out by visiting a showroom.
Second, be aware that this chair doesn't recline, although it does rock slightly. If you're looking for a big and tall model that reclines, this one will leave you wanting.
Third, although the chair is sturdy and durable, the upholstery is bonded leather, and the base is reinforced nylon. While it is reinforced sufficiently to support a fair amount of weight, it's not as sturdy or durable as some of the chairs it competes with.
For instance, The Flash Furniture Hercu​​​​les 24/7 costs less and has a virtually indestructible solid steel base. Granted, you don't get the same level of support, and it's not quite as comfortable, but there's something to be said for rugged simplicity and durability.
On the other hand, given that it comes with an impressive ten-year warranty if you have a problem with the chair, getting replacement parts or post-sales support won't be an issue. Ultimately then, it comes down to what you want from your chair and how you plan to use it.
We don't regard any of the above as being deal breakers, but they are things to be mindful of as you're weighing your options.
Final Note: The value proposition of this chair is subjective and somewhat tricky. On the one hand, the fact that this chair is offered by such a great company and has an impressive ten-year warranty is huge. That, coupled with its off-the-chart comfort level make the chair a tremendous value for the money.
On the flip side of the equation though, the company's reliance on a nylon base and bonded leather upholstery serve to blunt the value the chair brings to the table. It still fares well and offers solid value for the money, but we'd have happily paid a bit more for a solid steel base and higher quality leather.
Serta Big and Tall Conclusion
The Serta Big and Tall Smart Layers Tranquility Executive Office Chair Serta Big and Tall Smart Layers Tranquility Executive Office Chair is a very good chair, offered by a great company at a fair price, but it's not perfect. Given its nylon base and bonded leather upholstery, we recommend this chair for big and tall users up to 400 pounds who plan on using it lightly to moderately on a daily basis.
In our view, if you're looking for a chair designed to stand up to the rigors of heavy daily use, there are better options out there.
---
References & Resources