In a Nutshell:
A handsome lay-flat lift recliner, offered by one of the most respected companies in the industry. The Serta Hampton 872 Perfect Comfort Lift Chair is recommended for anyone between 5'4" and 6'4," weighing 375 pounds or less.
* Brand Reliability is a measure of the strength and longevity of the brand, which by extension, is a measure of the level of support you can expect.
** While aesthetics is a matter of taste, Aesthetic Flexibility is a measure of how easily a given design would fit into a wide range of home or office décor schemes.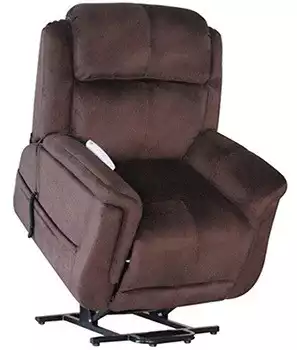 Why would anyone want to sleep in a recliner, if they have a bed? It's a fair question, and the answer is more complicated than first meets the eye. As it turns out, there are a number of reasons. If you're looking for a good sleeper recliner, it's likely that you fall into one of the falling broad categories:
There are lots of other reasons, of course, but those tend to be the "Big Three." Whatever specific reason you have for searching for a good sleeper recliner with lift capability, you're going to like what you see in the review that follows.
Serta is a legendary company in the industry. While they're best known for their high-quality mattresses, the company makes a variety of furniture too, from desk chairs to recliners, and the Serta Hampton 872 Recliner is an excellent example of their work.
Is this the right chair for you? It may very well be. Below, we'll give you full details about the model so you'll be able to decide for yourself!
An Overview of the Serta Hampton 872 Recliner Lift Chair
Unobtrusive. That's the first word that's likely to come to mind when you see the Serta Hampton 872 Recliner. It's designed purely along conventional lines. Serta didn't take any chances with this model, but there are a few cunning features to it that aren't readily apparent at first glance. Before we get into that though, let's begin by having a look at the basic stats that define this model:
The Hampton is a hefty piece of furniture, and it's not designed with space-saving technology, so you'll need to place it at least 20" away from whatever wall you set it near. Given those facts, if space is at a premium in your house, it's going to be difficult to find a home for this chair without having it utterly dominate whatever room you put it in.
The good news is, assuming the seat dimensions are a good match for you, and you've got the space for it, its conventional, unassuming design makes it easy for the chair to blend seamlessly with whatever home décor scheme you have.
The chair's weight limit is decent but not exceptional. For bigger, taller users, 375 pounds may not be enough, which is going to make this model a non-starter, but provided that's not an issue, the Hampton should be fine for anyone from 5'4" to 6'4".
The last thing to mention in this section is the construction of the chair itself. The Serta Hampton 872 Perfect Comfort lift chair is made from a mix of hardwoods and marine-grade plywood, with the lift mechanism being fashioned from steel. That's exactly the kind of materials mix you'd expect to see from one of the top companies in the business.
Serta is so confident in the frame that they offer a lifetime warranty on it, and a five-year warranty on everything else, which is impressive, to say the least.
Adjustability & Comfort
While the Serta Hampton is highly adjustable and offers an infinite number of recline positions via the remote, we were somewhat surprised to find no preset seating positions on the remote. Many, but certainly not all chairs like this offer an "Upright," "TV," and "Sleep" position for one-touch convenience.
It's a minor inconvenience that those options aren't available on the Serta Hampton 872 Infinite Position lift chair, made somewhat more inconveniencing given the fact that one of the biggest complaints about this model is the fact that the motors tend to handle the recline and lift functions fairly slowly.
It's not horrible, and to Serta's credit, the motors are quiet, and the recline and lift actions are both smooth, but you will notice that this chair moves a bit more slowly than others you may have used before. Pair that with the lack of presets, and you may find yourself somewhat annoyed and impatient until you get used to it.
Also, absent from this design are any advanced seating positions. You won't find Zero-G or Trendelenburg seating options here, and this, we regard as a real missed opportunity. Given Serta's reputation, we were genuinely disappointed that the Hampton didn't offer a Zero-G preset. Again, it's not a deal-breaker, but it is a small touch that could have made an exceptional chair even better.
Given Serta's experience and reputation in the mattress market, it probably comes as no surprise that the chair is incredibly comfortable. In fact, that will probably be the thing that draws many people to pick this chair over some other.
You won't find any block foam or springs here; this chair is padded with gel-infused memory foam, and it is a joy to sit, nap, or sleep on. Easily one of the most comfortable chairs on the market today.
Earlier, we mentioned subtle design touches that weren't apparent at first glance. In particular, take another look at the design of the armrests. They're not shaped the way a typical recliner's armrests are shaped. In fact, they almost seem too narrow.
They're not. In fact, you'll find them to be quite comfortable, and even better, when you lay the chair flat, they serve as convenient guards that cradle you as you sleep. Since they're padded with gel-infused memory foam too, they're every bit as comfortable as the seat and the seatback.
Storage & Extras
There are really only three things to talk about here: The storage pocket, the battery backup, and the USB port.
The storage pocket is decently sized, spanning the entire depth of the chair, but it is somewhat shallow. Even so, it's big enough to store your favorite books, magazines, and assorted supplies you'll want to keep close at hand if you're spending several hours of each day in the chair.
The battery backup system is simple and effective. Powered by 9-volt batteries, it's something you may never need, but if your mobility is restricted and the lights should go out, the battery backup system is a lifesaver, enabling you to get an assist from the chair to get your feet back under you, even when there's no power. Very handy, and its presence should serve to give you peace of mind. You won't be stranded in the chair until someone happens to find you!
The USB port isn't actually on the chair but is built into the wired remote. If you're in the position of having to spend several hours of each day in the chair, it's a convenience touch you'll love as it provides a quick and easy way to keep your favorite device charged, giving you endless entertainment options without ever having to get up.
Minimal Assembly Required
About the only thing you'll have to do to get the Serta Hampton 872 Lay Flat Power Recliner lift chair ready for first use is to attach the seatback to the body of the chair and plug it in. Unfortunately, if you have mobility issues, both of those tasks can be daunting.
Not to worry, though. Serta offers White Glove set up for a nominal fee, so you can make the entire process hands free if you want or need to. All you'll have to do is tell the service folks where you want the chair and then have a seat when they get it ready for you.
Pros & Cons of the Serta Hampton 872 Perfect Comfort Lift Chair
The Serta Hampton 872 Sleeper Recliner lift chair is undeniably a great chair, offered by one of the Titans in the American furniture industry. We like almost everything about it. There are only three small negatives we can think to draw your attention to:
None of those three are deal-breakers, but if you're specifically looking for a sleeper lift chair with advanced seating options, this isn't the model for you.
Final Thoughts: Serta Hampton 872 Infinite Position Lift Chair
This is one of the best chairs in its class. It's superbly designed and offered by a company with an excellent reputation for post-sales service and support. We do hope that the company will, at some point, consider adding a Zero-G seating option to the design, but even without that, we recommend the Serta Hampton 872 Recliner Lift Chair without reservation.
It's comfortable, easy to use and most importantly, it's a chair you'll get a decent night's sleep in.
---
REFERENCES & RESOURCES