In a Nutshell:
The Serta My Fit Executive Office Chair is a smallish, comfortable, ergonomic office chair with innovative features. Recommended for smaller users.
* Brand Reliability is a measure of the strength and longevity of the brand, which by extension, is a measure of the level of support you can expect.
** While aesthetics is a matter of taste, Aesthetic Flexibility is a measure of how easily a given design would fit into a wide range of home or office décor schemes.
Are you a shorter person? Have you been frustrated by your search for a good office chair that's optimized for you?
If so, you're not alone. So many of the office chairs on the market today look as though they've been engineered for giants, and the simple reality is, shorter people just don't fit comfortably in a chair like that.
Invariably, you suffer from one of two problems:
Either you sit back in the seat so you gain the benefits of the chair's lumbar and back support, in which case your feet barely touch the floor, even when the chair's set to its lowest height setting (and even then, you may not be able to reach the floor at all!).
Or, the other side of the coin is, you sit forward on the seat to keep your feet on the floor, but then, by the end of the day, your back is killing you because you're missing out on the chair's back support altogether.
It's frustrating, to say the least, and it's certainly not doing your back any favors. If it's something you've been struggling with, you're going to like what you read in this review because the Serta My Fit Executive Office Chair was designed with you in mind!
In the sections that follow, we'll go over everything this awesome chair has to offer, and we'll be quick to point out the areas where it comes up a bit short (no pun intended!). That way, you'll have all the information you need to decide for yourself if this is the answer to the office chair struggles you've been facing. If that sounds good to you, let's jump right in and see what the My Fit has to offer!
An Overview of the Serta My Fit Office Chair
Aesthetics and Design
This stylish chair will look good in just about any room you decide to put it in.
The Serta My Fit Executive Office Chair strays a bit from conventional office chair design, looking a bit more like a Captain's bridge chair than an office chair. If you like the styling, you're going to fall in love with the chair. If you're not a fan, that may be sufficient to cause you to take a pass on it, but for most people, it won't be a deal-breaker.
Unfortunately, although many of Serta's chairs are offered with a modest selection of colors, this one is not. You can have it in basic black or…basic black. That's it.
That's not generally a problem as most office chairs sold today are black, and it's a color that works with just about any other.
Upholstery
The decision to upholster the chair in leather is an interesting one. On the one hand, its leather skin gives the Serta My Fit Office Chair a look of elegance; it simply wouldn't have it if it were upholstered in anything else. If you're a fan of leather, the upholstery choice gives you another reason to love it, and the double stitching found through the chair is a sign of quality.
On the other hand, leather upholstery isn't breathable, so if you're looking for a chair that you can use for six or eight hours or longer at a stretch, this one's probably not the model you're looking for. You'll get too hot sitting in it for that long.
Bonded Leather
The other issue is that Serta chose to use bonded leather in a bid to keep the cost of the chair lower.
We understand the reasoning behind the decision, and while it's true that bonded leather is real leather, it is created by fusing leather scraps together, which makes it structurally weaker and less supple. It's not designed to withstand the rigors of heavy daily use.
If you use this chair lightly to moderately every day and are careful with the upholstery, you can expect to get about two years of life out of it. Used heavily on a daily basis, that will drop to about a year, after which time you'll start seeing it peeling and cracking.
Is that a deal-breaker for you? Ultimately, it's going to depend on what you're looking for in an office chair, how you plan to use it (and how long each day), and how soon you plan on replacing it with something else.
Chair Specifications
Before we get any deeper into a discussion of this model, this is a good time to pause briefly to review the core stats that define the Serta My Fit Chair. They are as follows:
Check out that height adjustment range, and bear in mind that big and tall chairs usually start at 18" and run to 22" or more.
While the My Fit strays partway into that territory, it can be set to just 16" high at its lowest setting. Granted, if you're very short (4'11" or so), this chair will still be too big for you, but for most shorter to average-sized people, this chair is a splendid fit.
While the maximum supported weight limit would be problematic on a chair optimized for big and tall people, in this case, it hits the sweet spot. These numbers paint a picture of a chair with a lot of synergy behind it.
Comfort
Although some of Serta's chairs offer highly advanced comfort systems, the Serta Works My Fit Chair is not one of them. It utilizes generous amounts of conventional block foam. While we've certainly seen chairs with more padding, it's got enough to offer a delightful seating experience, given that the chair really does seem optimized for light to moderate daily use.
As long as you won't spend all day in the chair without interruption, you won't have any complaints on the comfort front.
Adjustability
Adjustability-wise, the My Fit sticks to the basics, offering swivel, tilt and lock, and seat height adjustment. Since the padded armrests attach to both the seat and the seatback, they're not adjustable in any way, so at first glance, this model appears to be a little underwhelming where adjustability is concerned.
Actually, though, we'd rate it as one of the model's strong points because when you place your order, you have your choice of one of three advanced ergonomic features. Technically, that means there are three variants of the My Fit, defined by which advanced feature you order.
Ergonomic Features
The features are 360 Motion Support, Tailored Reach, and Active Lumbar. We'll describe all three in more detail below.
360 Motion Support
This is the least expensive of the advanced features. It offers a dynamic back panel for lumbar support, regardless of how you're sitting in the chair. It's the best option for people who have fairly active jobs that see them scooting around in the chair or moving about regularly to reach peripherals.
Tailored Reach
This is a middle-of-the-road option that people tend to have strong opinions about. The seatback "follows you" as you move in the chair, so if you lean forward, the seat will lean forward with you so that you've always got lumbar support when sitting in the chair.
Some people swear by this feature, saying they'll never buy another chair without it, while others can't stand it and say they regret purchasing the chair because of the feature.
Active Lumbar
The active lumbar support feature is the most expensive of the three options. If you order this option, you'll find that the lumbar support moves out of the way when you're reclining back in the chair, offering a more comfortable reclined seating position.
This is the best option for people who use the chair for longer periods and who take frequent breaks in their chair or for anyone who prefers working in a slightly reclined position.
Additional Features
In addition, the My Fit features a waterfall-edge style seat, a well-implemented ergonomic head and neck support system, and ergonomic armrests that enhance the chair's comfort.
Granted, none of these are adjustable features. Still, the fact that the centerpiece of the chair's design gives you the flexibility to choose your lumbar support implementation makes this a delightfully customizable chair, which we count as a type of adjustability.
Assembly Required, but a Workaround is Offered
Unsurprisingly, the Serta Works My Fit Executive Office Chair will not arrive at your door fully assembled and ready to use if you decide to order one. It's going to come in pieces and in a hefty box.
The good news is that the assembly instructions are clear, and the production quality of the chair is high, so all the holes line up like they should, both of which simplify the process of putting it together. There is one potential snag, though.
Since the arms of the chair are connected to both the seat and the seatback, you're going to reach a point in the assembly process where you're trying to hold all three pieces (arms, seat, and seatback) in place while you insert the first fastener. When you get to that point, you'll wish you had an extra pair of hands.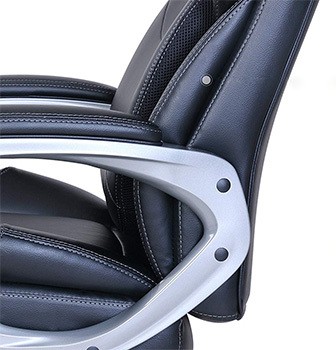 If you assemble it solo, expect the process to take the better part of an hour. If you have help, you can cut that to 25-30 minutes.
There is a third option. This chair comes with expert assembly for an additional fee. The additional fee is quite steep, amounting to about a third of the total price of the chair. Given that, we don't recommend buying that service unless you're physically incapable of putting the chair together.
However, we are glad that the option is available because it's something that some people might struggle with.
Pros and Cons of the Serta My Fit Chair
This chair only has two drawbacks. Unfortunately, they're significant enough that they could be deal-breakers for you.
First is the modest maximum supported weight. If you weigh over 250 pounds, this chair is a non-starter, full stop.
Second, it's upholstered in bonded leather. That makes it very pretty, but it also makes it hard to sit in for extended periods. If you need a chair for light to moderate daily use, it's not that big an issue, but if you're looking for something for heavy daily use, you're going to run into two issues with this model.
First, you'll sweat. A lot. Because the bonded leather isn't breathable; second, bonded leather isn't durable enough to stand up to long-term heavy daily use. If you insist on using the chair for 8+ hours daily, don't be surprised if the bonded leather starts peeling and cracking after only about a year.
If you can live with those two limitations, this is an amazing chair, though the presence of those two factors marks it as a chair that is optimized for:
light to moderate daily use, and
shorter to average-sized people with light to medium builds.
Serta My Fit Executive Office Chair Review Conclusion
The Serta My Fit Executive Office Chair is an incredibly strong design and offers tremendous value for the money. Even better, you can order it with your choice of advanced ergonomic features, which gives you the ability to get exactly the chair you want and need, based on how you plan on using it.
Its modest weight limit does make it a bit of a narrowly focused chair, however. It's optimized for shorter users, so this is not the chair you're looking for if you're taller or heavier. We recommend taking careful measurements to ensure this model is a good fit before committing to a purchase. Assuming it's a good fit, we absolutely recommend it.
---
References & Resources: