In a Nutshell:
A handsome, capable and comfortable rocking recliner offered by one of the most respected companies in the business. Simmons Osborn Rocker Recliner is recommended for anyone weighing 400 pounds or less, who has enough space for it.
* Brand Reliability is a measure of the strength and longevity of the brand, which by extension, is a measure of the level of support you can expect.
** While aesthetics is a matter of taste, Aesthetic Flexibility is a measure of how easily a given design would fit into a wide range of home or office décor schemes.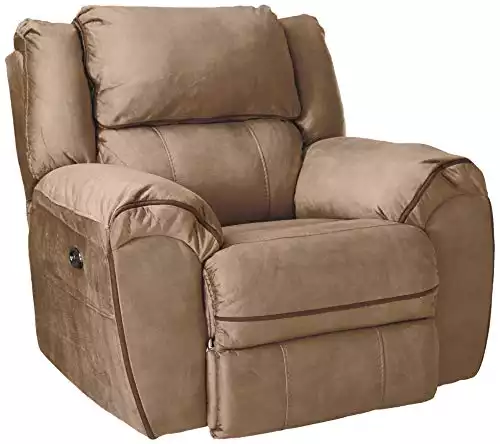 Unfortunately, this product has been discontinued. Check some of the Power Recliners we've reviewed.
Are you in the market for a rocking recliner? Are you interested in buying American? If you answered yes to either of those questions, you're going to love our review of the Simmons Osborn Rocker Recliner.
Simmons has a long history in the American furniture market that stretches back more than 140 years. In that time, they've developed a tremendous amount of expertise, which they've put to good use in the creation of this design. The Osborn is a great looking, versatile piece of furniture that would make an excellent addition to just about any home.
In the sections that follow, we'll tell you all about what it can do, so you'll have all the information you need to decide if it's the chair you've been looking for. If that sounds good to you, read on!
An Overview of the Simmons Osborn Rocker Recliner
The first thing you'll notice about the Simmons Osborn Power Rocker Recliner is that it's big. Really big. In fact, its size might make it an impractical addition to your home if space is at a premium. To give you a better sense of its size, let's start by looking at the chair's core stats:
The good news is that this chair incorporates Wall Hugging technology into its design, so you'll only need about six inches of clearance between the back of the seat and whatever wall you plan on setting it near, which should help at least a bit with any potential space issues.
Assuming that's not a problem for you, you'll find the Osborn to be a wonderfully stylish and attractive chair, offered in an earthy color that should make it easy to blend in with the rest of your home's furnishings.
Recommended For
In addition to being a good choice as a general piece of living room furniture, if any of the following apply to you, the Osborn belongs on your shortlist of chairs you're considering:
Adjustability
In addition to being a big, comfortable rocker, the Osborn is available in both manual and power recliner configurations, so if you prefer one over the other, you can order whichever variant best meets your needs.
Manual
If you go with the manual variant, you'll be getting a standard three-position recliner that will allow you to sit upright, partially recline in "TV Watching Position," which is great for lounging, relaxing or napping, or you can fully recline the chair for sleeping.
Note that the chair doesn't recline to "Lay Flat" position, but it's near enough that you'll get a good night's sleep in the chair, especially given its impressive seat width.
Power
If you decide that the power recliner variant is more to your liking, you'll get an infinite position recliner, but there are a couple of catches:
First, there are no preset recline positions, so you'll have to just push and hold the button until the chair is at the angle you prefer. The motor is powerful, quiet and offers smooth recline action, so the process of getting the chair into the position you want it in isn't really an issue.
The second "catch" to be mindful of though, is that this chair doesn't come with a battery backup system. If the power goes out while you're reclining in the chair, you won't have any other option but to scramble over the side. If you really need a backup system, you'll have to spend a little more and invest in a decent lift chair. How big an issue this is going to be mostly comes down to how often you experience power outages where you live.
Comfort
In terms of comfort, the Osborn delivers in style. It utilizes a mix of high-density block foam, paired with poly fiberfill, supported by individually wrapped comfort coil springs identical to those you find in high-quality mattresses. It provides a delightfully comfortable experience, even if you're spending several hours a day in the chair or sleeping in it through the night.
Storage & Extras
This will be a short section because other than the option to buy this chair in either manual or power configurations, there are no extras on offer and the chair does not come with any sort of storage.
We're not really sure why. A storage pocket on one side of the chair would have been an easy addition, and its presence would make the chair even more valuable to new or expectant mothers, giving them a handy place to store a few essential baby supplies and keep them close at hand.
Sadly, Simmons opted not to include one. Storage pockets are, however, much more common on lift chairs, so if you really want or need one, that's probably a better option for you.
The same is true of a battery backup. Until such time as Simmons decides to add one on this model (if they ever do), if that's a feature you feel as though you just got to have, your best bet is going to be to invest in a lift chair instead, since that's a feature offered on most of the lift chairs on the market today.
No Assembly Required, But…
Simmons has a simple, effective policy when it comes to the chairs they sell. They all arrive at your door, fully assembled. That sounds great, but there's a catch. Go back and take a look at the dimensions of the chair. There's no way that it's going to fit through a standard sized door, so unless you're putting it in your garage, or have an oversized doorway, you're almost certainly going to have to take the seatback off in order to get it in the room you want it in.
We love the fact that Simmons chairs are fully assembled, but given the size of this model, it works against the paradigm.
The good news is that the seat comes off easily, so getting it inside won't be much of an issue. Unfortunately, White Glove service is not available for this chair, so be sure to have an assistant standing close at hand when the chair arrives!
Variants of Simmons Osborn Rocker Recliner
Pros & Cons of Simmons Osborn Tan Power Rocker Recliner
There's a lot to like about this model. It's an incredibly comfortable, versatile piece of furniture that will serve the vast majority of the market very well. With its steel and hardwood construction, it's designed to last for the long term.
While we don't really see any negative aspects to the design, we do hope that in some future model upgrade, the company will add in a side storage pocket for both variants (power and manual), and we'd love to see a simple battery backup system for the power variant.
Note that Simmons sells a variety of other furniture under the Osborn name, including a cuddler recliner, a double motion sofa, a loveseat, a double motion loveseat and a double motion sofa, so if for some reason, this particular Osborn recliner isn't exactly what you're looking for, the company offers a range of other choices that might prove to be a better fit.
Final Thoughts on Simmons Osborn Power Rocker Recliner
This is an amazing rocker recliner, offered by a legend in the industry with an impeccable record for post-sales service and support.
It's expertly crafted, made in America, and delightfully comfortable. We love this chair, and we think you will too. We recommend the Simmons Osborn Rocker Recliner without reservation.
---
References & Resources: