In a Nutshell:
Hands down the most portable stool we've ever seen. SitPack 2.0 is perfect for "ergonomic resting." It is recommended for anyone 250 pounds or less. Sooner or later, the day will come when you wish you had one of these!
* Brand Reliability is a measure of the strength and longevity of the brand, which by extension, is a measure of the level of support you can expect.
** While aesthetics is a matter of taste, Aesthetic Flexibility is a measure of how easily a given design would fit into a wide range of home or office décor schemes.
Do you move around a lot on any given day? Have you ever been somewhere where you had to stand in line for a long time? Who hasn't, right? Well, if you answered yes to either of our first two questions, you're going to love our SitPack 2.0 review.
This is one of those products you may not even know you need, but by the time you reach the end of the review, we're betting you'll want one. If you're intrigued, keep reading, and we'll tell you all about it!
An Overview of the SitPack 2
The Sitpack 2.0 is not much to look at, really. It's a stick with a rubberized foot and a modestly sized seat. The good news is that it's unobtrusive and blends into the background pretty easily, which is why we rated it rather high in terms of aesthetic flexibility. It's not good looking, it's just practically invisible, which means it will have an easy time fitting in almost anywhere.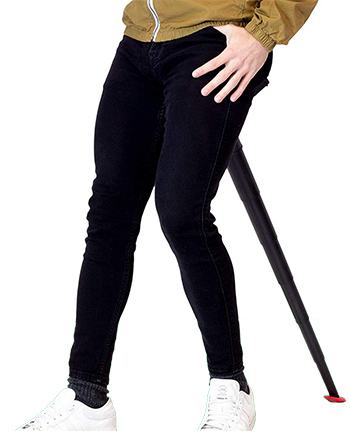 As to basic stats, there's not much to talk about but here are a few:
That's about it for statistics, but as you can see, they're rather impressive. This is truly an ultra-lightweight, amazingly portable go-anywhere standing stool.
You can slip it into your purse, backpack, or even an oversized pocket in a pinch.
If you have a very active job that sees you moving about constantly, but you'd still like to have a convenient perch, it's a simple matter bringing this handy little stool with you and setting it up as needed.
Even better, although it's certainly at home in most office environments, it's also rugged and durable enough to be used outdoors. Take it with you on your next camping trip or if you take your kids to Disney and don't want to stand around in the long lines. Anywhere there's a long line, there's a need for the SitPack stool!
Features of the SitPack Compact Foldable Seat
Adjustability and Comfort
There's only really one adjustment feature with the SitPack Foldable seat. The stool stem telescopes out from its compact position, and you can play out as much or as little of the total length as you want or need. Then, once it's as long as you need it to be, simply give it a twist to lock it into position, expand the seat and your perch is ready to use.
Comfort-wise it's about what you'd expect, given what it is. It's better than standing, but in no way could sitting on this stool for anything other than short, sporadic periods be considered comfortable. That's not the point, though. The point is if your feet and legs are tired and in need of a break, because you've been on your feet all day, and there's nowhere for you to sit, you can solve that problem and take a much-needed rest. In that context, this little gem of a standing stool is pure awesome.
Nothing to Assemble, But…
It probably won't come as a surprise, but if you buy a SitPack Compact Foldable Seat, there's absolutely nothing to assemble. Having said that, you will obviously have to un-collapse it and lock it into position any time you want to make use of it, but that operation takes a matter of seconds and isn't complicated in the least.
Color Variants of the SitPack Foldable Seat
Pros and Cons of the SitPack 2.0
Sooner or later, everybody is going to find themselves in a position where they wish they had one of these.
Lines exist, and we all wind up in them, often for far longer periods than we'd care to. But long lines and long wait times are only the tip of the iceberg. When you stop to think about it, there are probably at least three or four times a day, and perhaps more than a dozen times every week when you find yourself in a situation where this kind of ultra-portable standing stool would come in handy or at the very least provide some welcome relief.
When was the last time you were in the WalMart nearest you? You know the one with a hundred checkout lanes and two cashiers working? That's a recipe for long lines and notoriously long wait times to check out. Wouldn't it be cool to have a handy perch to relax on when the line wasn't moving? If you think so, you're definitely not alone!
SitPack 2.0 Review Conclusion
Let's face it, sometimes there's just not a chair available, or using a chair would be impractical (i.e., standing in line at checkout). That doesn't mean you can't take a seat for a few minutes and give your feet and legs a break.
Think back last year. How many times have you had sore feet or legs while standing in line and found yourself looking around to see if there was somewhere you could take a load off, even for just a few minutes? It's almost certain to have happened more than a few times, right?
With the SitPack stool in your pocket, it need never happen again.
We'd say here in our SitPack 2.0 review that it's not a must-have product by any means, but it is a very low priced, nice-to-have product that solves a very real and extremely common problem.
If you weigh 220 pounds or less and have ever waited in line or been on your feet for extended periods, we absolutely recommend this handy little stool. You probably won't love it, but you'll still wonder how you ever got along without it.
---
References & Resources