In a Nutshell:
The Space Seating Professional AirGrid is a sturdy hybrid mesh/PU office chair. Not glamorous or exciting, but has all the basics well covered. Recommended for taller users who weight 250 pounds or less, looking for a chair for light to moderate daily use.
* Brand Reliability is a measure of the strength and longevity of the brand, which by extension, is a measure of the level of support you can expect.
** While aesthetics is a matter of taste, Aesthetic Flexibility is a measure of how easily a given design would fit into a wide range of home or office décor schemes.
Is your current office chair ready for retirement? Are you on a budget, and looking for something simple and reasonably comfortable that has the basics covered? If you answered yes to either of those questions, then the AirGrid Petite, offered by Space Seating might be the chair you're looking for.
It's far from perfect, and it's offered by a brand that doesn't have a lot of market heft, but it's a sturdy and capable little performer, and as long as you don't need something optimized for heavy daily use, it's a good option.
If you're on the fence about it, but curious to know more, in the sections that follow here in our Space Seating Professional AirGrid review, we'll tell you everything the designers got right, and we won't be shy about pointing out the chair's shortcomings and limitations. Fair warning, it's a hybrid mesh/upholstered chair, so if you're not a huge fan of mesh, it's probably safe to give this one a pass, but if you like mesh chairs, this one warrants a second look, at the very least. Let's take a closer look at the design now.
An Overview of the Space Seating Professional AirGrid Chair
It's…an office chair. It's clear that the design team didn't put much effort into aesthetics, preferring to focus on function over form. That's not to say it's an ugly piece of furniture, though as a mesh chair, it won't win any beauty contests either. It's functional. It's got a job to do, and it's designed to do it.
It is fairly unobtrusive though and offered in black; it will blend in with just about any home or office décor scheme where it will politely blend into the background. If that's all you're looking for in an office chair, that's a definite nod in the AirGrid Petite's favor.
Chair Specifications
Before we go any further here in our Space Seating Professional AirGrid review, let's take a quick look at the chair's basic stats. Here they are:
Okay, so the first thing to say is this: Although this chair has the word "petite" in its name, this is not a chair designed for tiny people. The stats, though, are curious, which makes this model fairly narrowly targeted. Here's what we mean:
First, the weight limit clocks in at a modest 250 pounds. That makes it a good fit for the small to medium-sized segment of the market but makes it a non-starter for big and tall folks. The seat width and depth support this. The seat is not deep at all, and it's none too wide either, which again, marks this chair as being a good fit for small to average-sized people, but there's a catch.
Look at the seat height adjustment range. A range of 18" to 22". This model starts higher than that and goes well above the usual big and tall height range, which is a jarring contrast to the other dimensions we talked about.
So what does that mean?
In a nutshell, this one is a great fit for:
If any of those describe you, then you've just found the proverbial needle in a haystack, and this chair will probably fit you like a glove.
Unfortunately, that description doesn't apply to a huge swath of the market, so this chair is a bit narrowly focused.
Adjustable Features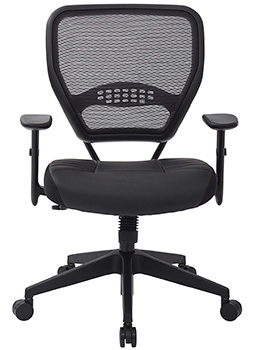 Let's begin by talking about adjustability. The Space Seating Professional AirGrid chair has the basics well covered but doesn't try to do too much, which is a mistake that many off-brand chairs make.
It offers the typical 360-swivel, tilt and lock function and seat height adjustment. Moreover, you'll find independently height adjustable (though non-ergonomic) armrests.
Of those, the only feature we find to be underwhelming is the tilt and lock. Although the chair does lean back and rock slightly, it's almost not worth devoting an entire feature to it. The chair reclines no more than fifteen degrees, so if you're looking for something you can really lean back in and kick your feet up, this isn't the chair you want.
Mesh Back
In terms of comfort, the mesh seatback serves the model well, being both durable and breathable. The seat is sculpted and does provide some ergonomic benefit, but we would have preferred to have seen a waterfall-edge style seat employed here.
PU Leather Seat
Unfortunately, the seat is upholstered in PU, which we regard as a spectacularly bad pairing with the mesh seatback. Mesh is everything that PU isn't. Breathable and durable, so while the seatback will allow you to sit for extended periods in the chair, the fragile PU will leave you increasingly hot and sweaty, the longer you spend in it.
Worse, since the seat is the part of the chair that gets the most punishment, the upholstery is going to start showing its age very quickly, even if you only use the chair lightly to moderately. It'll start peeling and cracking after no more than a year. Not good.
Durable Frame
The upshot is that the frame is pretty durable, and will far outlast the upholstery and since the seat is the only place where the upholstery exists, having the seat re-covered when the original upholstery wears out is a viable option that will greatly extend the useful life of the chair.
Foam Padding
Beneath the padding, you'll find generous amounts of conventional block foam, and there's enough of it there that it provides a comfortable seating experience for light to moderate daily use. That is helped along by the sculpted shape and by the presence of surprisingly well-implemented (though non-adjustable) lumbar support.
By our count then, we'll say that this chair has one and a half ergonomic features (counting the sculpted seat as the half), which isn't bad for the money.
Assembly is Super Easy
As you might expect, the Space Seating Professional Dark AirGrid Managers office chair won't arrive fully assembled and ready to use if you decide to order one. Fortunately, the assembly process is about as simple as it gets.
Not only are all the pieces relatively small and easy to work with, but the production quality is fairly high for a budget-priced chair. It will probably only take about 10-15 minutes to put the chair together by yourself, and adding an extra pair of hands is unlikely to shave much time off of that. Kudos to the company on that front!
Note: The reason the production quality is a cut above is the fact that this chair is manufactured in Taiwan, not China. In our experience, Taiwan has a stronger and more mature manufacturing base and tends to produce products of higher quality, this model being no exception to that rule.
Pros & Cons of the Space Seating Professional AirGrid
Here are the things we like best about the Space Seating 5700E Professional Dark Air Grid" Back Managers chair:
In addition to that, its stats precisely target a certain segment of the market that doesn't get a lot of attention, and if you fall into that category, then you'll feel like you struck gold with this chair.
On the other hand, it does have some shortcomings:
As we said though, the chair is made in Taiwan and will last a whole lot longer than the seat upholstery, so that's not necessarily the kiss of death. On the whole, we regard the positives as outweighing the negatives. Perhaps not by a huge margin, but by enough of one to make this chair well worth considering.
Space Seating Professional AirGrid Review Conclusion
If you fall into the segment of the market that this model targets, then finding any chair that fits you properly can be a real challenge, and in that case, we recommend this chair without reservation. More generally, we regard this model as almost a niche product, and as such, we can't give it any higher than a provisional recommendation here in our Space Seating Professional AirGrid review.
---
Official Manufacturer Support
REFERENCES & RESOURCES