In a Nutshell:
The Staples Burlston Luxura Managers Chair is a solid choice for anyone looking to buy an affordable office chair for under $200. It has standard features and ergonomic support, but it's not going to win out against more contemporary chair designs.
* Brand Reliability is a measure of the strength and longevity of the brand, which by extension, is a measure of the level of support you can expect.
** While aesthetics is a matter of taste, Aesthetic Flexibility is a measure of how easily a given design would fit into a wide range of home or office décor schemes.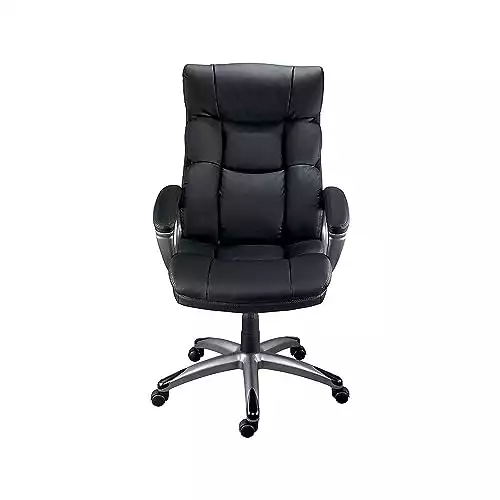 Office chairs come in a lot of shapes and sizes, but sometimes we simply want a traditional chair with ample padding, back support, and something that feels like leather. Looking at our Staples Burlston Luxura Managers Chair review, it seems like this chair ticks off all the boxes.
Join us as we look at this chair design from a recognized office supply manufacturer. We will dive deep into the features it offers and the pros and cons of this budget office chair.
Staples Burlston Luxura Managers Chair Overview
Staples is a well-known brand of office supply stores. The company was founded on May 1st of 1986 in Brighton, Massachusetts and now have over 1,500 stores in North America alone! Their products range across a spectrum of office supplies, machines, furniture, and other services.
Currently, Staples ranks in the top 25 list of the EPA's Green Power Partners for their outstanding green initiatives such as incorporating recycled materials into all of their products.
Other environmental initiatives include cutting back on products that came from endangered forests, and incorporating more post-consumer recycled materials into their manufacturing. Moreover, the inclusion of solar power on their manufacturing plants also saves them money while putting less strain on the power grid.
While you can visit Staples locations in person, you can also buy their products online. We decided to take a look at one of their budget-friendly office chairs, and the Burlston Luxura Managers chair is often found for prices under $200.
At first glance, you would think that it's made of genuine leather. It ain't. The Luxura synthetic upholstery has the same look and feel as leather, but it cuts costs significantly. Built-in lumbar support also adds ergonomic value to this chair.
Read on to find out what other features you can expect from this Staples brand office chair.
Burlston Luxura Office Chair Features
Staples is a strong brand with an environmentally-friendly approach to their manufacturing. While this chair isn't a high-end ergonomic office chair, it does offer several intriguing features:
Pneumatic Height Adjustment
The Burlston Luxura Managers Chair has a pneumatic mechanism for adjustment. This mechanism is also used for tilt tension adjustments. The chair height can be adjusted between 43.5 and 47.6 inches. This type of adjustment mechanism is standard in office chairs.
Built-in Lumbar Support
While the lumbar support is not adjustable, the Luxura Managers Chair does offer a built-in solution. This ensures that your lower back has enough padding to keep your posture in check while you're sitting and working.
Luxura Upholstery
The chair is upholstered in a synthetic leather called Luxura. This material looks and feels like genuine leather, but has the benefit of being environmentally-friendly. It's also easier to clean and doesn't dry out or crack as typical leather does.
Padded Armrests
The armrests on this chair have a loop design that includes ample padding for your elbows. They are not adjustable, but they do sit at an angle that will suit most users.
Easy Assembly
The company provides complete instructions for chair assembly and customers often report that they have no difficulty putting everything together. Total assembly shouldn't take more than 30 minutes to an hour.
Product Specifications
Color Variations
The Burlston Luxura Managers Chair comes in two colors: Camel and black. The former color is of the beige variety and offers a lighter color than the standard black option.
Staples Burlston Office Chair Pros and Cons
The Burlston Luxura Managers Chair is a simple, but effective design that offers a standard range of features and overall comfort. Here is a breakdown of the pros and cons:
There's no denying the value you get from this chair. For a price that often falls under $200 or even under $100 on sale, the Luxura Managers chair is an excellent option for something that will get the job done.
The ample padding and built-in lumbar support provide basic ergonomic comfort, while the synthetic leather gives you the look and feel of the genuine thing.
Since this chair is budget-friendly, it doesn't include many of the features you would want from an ergonomic office chair. In fact, it comes across as very basic. That being said, it does handle the fundamentals well.
Some customers have reported wear and tear after several months of heavy usage. The pneumatic adjustment, for example, can begin to lower on its own after some time. Ultimately, none of these things make it a bad chair, given the price point.
If the Burlston Luxura Managers chair had a higher price point, it would be difficult to recommend, but since it does not, this functional chair becomes a budget-friendly option.
Final Verdict: Staples Burlston Luxura Managers Chair Review
While there are plenty of fancy office chairs out there, they often come with a hefty price tag. The Staples Burlston Luxura Managers Chair review you've just read shows us that there are chairs out there that combines value with a low price of entry.
If you need multiple chairs for a home or office, this low-priced option can provide you with a chair from a trusted brand that fits all the basic requirements of an ergonomic office chair.
---
REFERENCES & RESOURCES