In a Nutshell:
An attractive, robust design filled with well-implemented ergonomic features, and backed by Steelcase's impressive warranty. Steelcase Amia Office Chair is recommended for anyone looking for a great mesh office chair, or anyone who wants most of the features of our top picks, without having to pay full price.
* Brand Reliability is a measure of the strength and longevity of the brand, which by extension, is a measure of the level of support you can expect.
** While aesthetics is a matter of taste, Aesthetic Flexibility is a measure of how easily a given design would fit into a wide range of home or office décor schemes.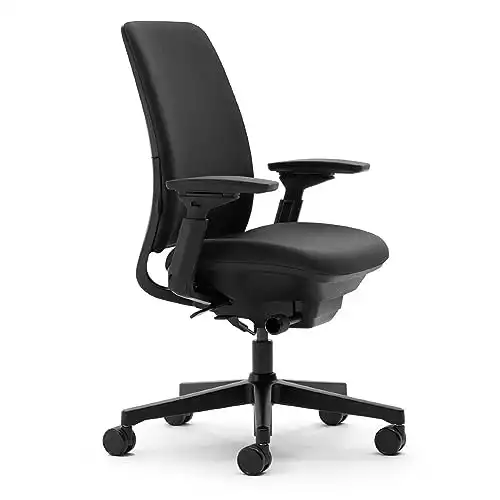 ​Does your current office chair leave a little (or a lot) to be desired? Have you been searching for a replacement, only to be frustrated by the chairs you're finding available?
Do you have some money to spend, and find yourself looking beyond the bargain bin for your next office chair and for a quality product that's built to last?
If you answered yes to any of those questions, you're going to like what you read in this review.
The Steelcase Amia Office Chair is a wonder of engineering and design. It's an older model and the direct predecessor to the Steelcase Leap, which is arguably the best office chair on the market today, and hints of that chair's ancestry can be found in the Amia.
Even better, the company has worked hard to keep their chair up to date. While it's slightly less capable than the Leap, it's also more modestly priced, and to this day, the Amia remains one of the best office chairs on the market.
If you're intrigued and curious to know more, read on! In the sections that follow, we'll outline everything this remarkable design has to offer and clue you in on its few shortcomings, so you'll have all the information you need to decide for yourself if this is the chair you've been searching for.
An Overview of the Steelcase Amia Office Chair
An unassuming design, the Steelcase Amia Office Chair is not an ugly chair, but it's clear that award-winning designer Thomas Overthun was much more interested in function over form. At first glance, this looks like a perfectly ordinary task chair, which means that it has an easy time blending into its surroundings. It's an easy fit into most any home or office setting, no matter what your prevailing color and décor scheme.
Upholstery
That's made even easier by virtue of the fact that Steelcase offers the Amia in a broad range of color and finish options. You can order yours with either fabric, mesh, or leather upholstery, and depending on which of those you choose, your color options are as follows.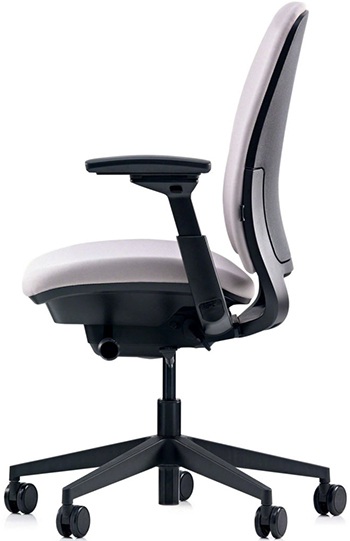 All fabric options can be ordered in either standard or sewn configurations (or you can specify mesh). You can also order your Amia in leather, though if you opt for leather upholstery, your color choices are limited to black or mahogany.
Note that this isn't bonded leather or some inferior quality upholstery. It's top-quality genuine grain leather. While that's still not an overly pet-friendly or breathable option, it's far better than the leather upholstery offered on the vast bulk of the leather-clad office chairs on the market today.
Finish
It gets even better, though. You can order your Amia in your choice of the following finish options:
All that, and we haven't even gotten to the actual features of the chair!
Before we get to the basic stats that drive and define the model, we should also say a few words about the Leap's design philosophy. That's important because that philosophy was a direct outgrowth of the success of the Amia's design, coupled with an in-depth study of ergonomics.
The four guiding principles of the Leap's design were based on the following four discoveries:
All of those elements were accounted for in a slightly less refined state in the Amia.
Steelcase Amia Chair Specifications
Now, as to the chair's basic stats; here they are:
These stats paint the Amia as a well-rounded, versatile chair. Its weight limit allows it to serve the vast majority of the market, as some 95% of users will fall below that weight range, though if you are a big and tall user, you'll probably gravitate to some other chair.
The seat depth jumps out at us because only a handful of office chairs on the market today offer a seat depth adjustment, which puts the Amia in select company indeed, and again, is a mark of the model's enormous versatility.
In a similar vein, the chair's seat height starts at just 16" making it a great choice for petite users but extends well into big and tall territory, which means it's adjustable enough to serve taller users as well. As we mentioned though here in our Steelcase Amia task chair review, if you're big and tall, the 300-pound weight limit is likely to make this model a nonstarter for you.
Note: There are several Steelcase products bearing the Amia name: The Amia armless chair, the Amia, the Amia Stool, and the Amia Stool with Arms. While all of those are exceptional products, this review focuses on the classic Amia, which is the task chair with armrests. For full details on the variants, we refer you to the company's website.
10-Year Warranty
The last thing we have to say before we take a closer look at the specific features this chair brings to the table is that it is backed by Steelcase's impressive ten-year warranty. So often, if you buy a less expensive piece of furniture, after about a year, it starts showing its age and begins falling apart.
That's not at all the case with this chair. The Amia was built to last. While it may not last you a lifetime, you can count on at least a decade of reliable, tireless service from this amazing little chair!
Features of the Steelcase Amia Office Chair
Adjustability
We've already mentioned a few of the Amia's adjustable features in passing, so let's start this section of our Steelcase Amia review by summarizing. This is an amazingly adjustable chair, which is exactly what you'd expect in a world-class piece of office furniture. The adjustable features include:
While it's possible to find chairs that are just as or more adjustable than the Amia, one of two things will be true about them: They'll either cost you more money or the features won't be nearly as well implemented as they are here.
Although many people gravitate toward this model because of its sheer adjustability, that's actually not the most remarkable feature about the Amia's design. It would be its proprietary "Live Lumbar" technology that really makes this model stand out from the crowd.
Live Lumbar Technology
Lurking beneath the unassuming seatback of the chair, you'll find an innovative slatted design, which allows the chair to dynamically shift and adjust, providing optimal ergonomic support as you shift and move while sitting in the chair.
It's superb, and although the technology is called 'Live Lumbar,' it actually provides next-level whole back support that will enable you to spend even extended periods sitting in the chair, and it definitely enhances its comfort.
Comfortable Padding
In terms of comfort, the Amia uses moderate amounts of conventional block foam with the upholstery of your choice stretched over it. The padding isn't what we'd call generous, but it's not far from that, either. It's important to remember, though, that this is a task chair. As such, it wasn't really designed or optimized for power users who spend 8-10 hours a day (or longer) sitting in it.
You can do that with this chair and still be reasonably comfortable by the end of the day, but if that's how you plan on using the chair daily, you're better off with some other model. As good as it is, the Amia was really optimized for light to moderate daily use with periods of heavy use in a pinch.
No Assembly Required!
While the vast majority of office furniture being sold today will arrive at your door in a giant box and in several pieces, leaving you to take the time to put it together before you can use it, the Amia bucks this trend. It's a custom-made creation, and when you order one, it will arrive fully assembled and ready to use. Just tell the delivery guys where you want it and have a seat!
Steelcase Amia Ergonomic Office Chair Color Variants
Pros and Cons of the Steelcase Amia Task Chair
The Steelcase Amia Office Chair is a superb design that will last you for years. We love everything about it. Anything we'd recommend changing about it would make it an executive office chair with a headrest, but honestly, if that's what you're looking for, the Amia isn't the chair you want anyway.
Final Thoughts on Steelcase Amia Chair Review
Although this design has been on the market for years, the Steelcase Amia Task Chair is still one of the best general-purpose office chairs out there. It's comfortable, highly adjustable, and amazingly versatile. If you weigh 300 pounds or less and need a chair for light to moderate daily use that can even be used heavily in a pinch, then this chair belongs to your shortlist of options to consider. We highly recommend it.
---
REFERENCES & RESOURCES