In a Nutshell:
Top marks for comfort! Stellar Comfort UC556 Lift Chair is recommended for people between 5' 4" and 6' 2," weigh 375 pounds or less, and are looking for an American made chair that maximizes comfort, this is the model you want.
* Brand Reliability is a measure of the strength and longevity of the brand, which by extension, is a measure of the level of support you can expect.
** While aesthetics is a matter of taste, Aesthetic Flexibility is a measure of how easily a given design would fit into a wide range of home or office décor schemes.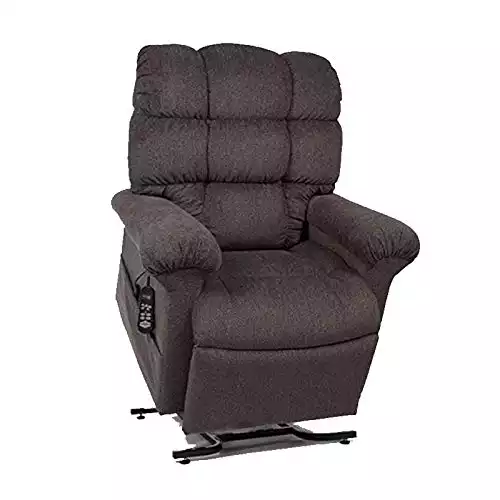 Are you struggling to get in and out of your favorite chair lately? The specific reason why doesn't matter. Sooner or later though, it will happen to many of us, and if it's happening to you, there's a surprisingly simple solution that doesn't involve having to send up a flare to a friend or family member, every time you want to get up and move around.
Lift chairs today come in all shapes and sizes, and some of them have a few surprising features that may not be readily apparent at first glance. The Stellar Comfort UC556 lift chair recliner is one such model.
There's a lot to like about this chair, and if you're in the market for one, this one probably belongs on your short list. In the sections below, we'll go over everything it can do. Even if you ultimately decide that some other model is a better overall fit, we think you'll agree. This is a superb chair, sold by a company with a lot to offer.
Let's check it out!
An Overview of the Stellar Comfort UC556 Lift Chair Recliner
Weighing in at 153 pounds, the Stellar Comfort UC556 Lift Chair is a substantial piece of furniture. It's pretty good looking too, although the quilted seatback design won't appeal to everyone. Even so, it is offered in a modest selection of colors that, paired with its traditional design aesthetic makes it easy for the chair to blend into your existing home décor scheme, whatever it might be.
The colors offered by the manufacturer are:
Also, of interest, this chair is proudly made in the US of A, in the town of Old Gorge, PA, so if you're looking for an American made piece of furniture, this one should quickly move up the roster and become even more interesting to you.
In terms of overall dimensions, the chair measures 38.5" x 38" x 45," with a maximum supported weight of 375 pounds. The dimensions of the seat being 20" wide and 21.5" deep, with a height of 20". Taken together, these things make the chair a good fit for anyone ranging from 5'4" to 6'2" in height. We would hesitate then, to call this a chair designed for taller folk, although the company makes that claim.
Regardless of whether you agree or disagree with that last bit, a chair is more than just the first impression it gives, so let's dig a bit deeper and see what makes it tick.
Features of Stellar Comfort UC556 Recliner
Adjustability & Comfort
There's a lot to talk about here, and a lot to like. First, the Ultracomfort Stellar Comfort Lift Recliner is powered by two motors, which enables you to recline the leg rest and seatback independently, giving you a virtually unlimited number of recline positions.
Second, the remote that accompanies the chair has four different preset recline positions. These are:
We'll talk about each of these in more detail next.
The TV watching position is about what you'd expect. The seatback is kept in the upright position, while the seat box and footrest are elevated, allowing you to relax your legs and enjoy whatever show you plan on watching. Although it's not labeled as such on the remote, this is a perfectly comfortable position for reading too!
The Zero-G seating position is one of the surprising features this chair brings to the table. While Zero-G seating isn't unheard of in a recliner, it isn't exactly common either. You're much more likely to find it on offer in the world of massage chairs, so we were quite pleased to see it put in an appearance here.
When you select this option from the remote, your legs will be elevated to a position slightly above your heart, which really does give you a feeling of weightlessness. It's gloriously comfortable and a great position to try out if you want to take a short nap.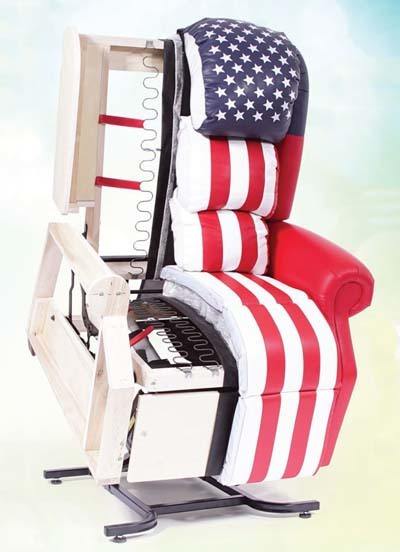 The sleep position reclines you all the way back such that the chair is mostly flat, allowing you to get an honest to goodness rest in it. If you suffer from serious mobility issues and sometimes need to sleep in your chair, this one is an excellent option to consider, because not only does it fully recline to accommodate, but it's also exquisitely comfortable.
While it's still not as good as sleeping in a proper bed, you'll get a decent night's rest in this chair in a pinch, and that's a very good thing.
The Trendelenburg position is quite similar to Zero-G seating, also elevating your knees (and feet!) above your heart. Honestly, if we could control the design of the chair, we'd offer either Zero-G or Trendelenburg, but not both because in practice people will tend to use one or the other, but not both, with Zero-G being the more popular of the two.
The tradeoff is this: Trendelenburg reclines you further back to a less comfortable position than Zero-G, but is slightly better in terms of helping to improve your circulation.
It feels a little over-engineered to us, but we didn't deduct points from the chair for us, and in any case, if you're one of the rare people who want to use both, you'll be happy to see them both included here.
In addition to being an incredibly adjustable chair, the Stellar also wins high marks for comfort. It offers generous amounts of padding, supported by pocketed coil springs in the seat, as you find in mattresses, which also, by the way, is another thing that makes it such a great napping chair.
One final thing to mention here is the upholstery. We love it, preferring soft, durable fabrics over faux leather any day. Fabric tends to wear more evenly and doesn't show its age nearly as quickly, and in our view, presents the better value when comparing the two. True, grain leather looks more elegant, but you'll pay a steep premium for genuine leather chairs, which is why bonded leather is so commonly offered in its place.
Storage & Extras
In terms of storage, the Stellar offers a pair of generously-sized side pockets, perfect for storing your favorite books, magazines, and other goodies.
The only extra to speak of is the battery backup, which is incredibly handy, especially if you suffer from serious mobility issues. Should the power fail, the battery backup will ensure you can get out of the chair without assistance, which is a nice touch!
The other item worth mentioning here in our Ultra Comfort UC556 review is the warranty. While the chair's warranty isn't as impressive as some we've seen, it's nothing to sneeze at, either.
Stellar offers a lifetime warranty on the frame, the lift mechanism, and the recline mechanism. A three-year warranty on the electrical parts and covering mechanical labor, and a 1-year warranty on the upholstery, foam and the pocketed coil springs.
No Assembly Required
The great thing about the Stellar is there's nothing for you to do, really. The chair arrives ready to use, so figure out where you want it to go, plug it in and have a seat! Nice touch, Stellar!
Pros & Cons of Stellar Comfort UC556 Lift Recliner
There's a lot to like about the Stellar. We honestly can't say there's anything about this chair we regard as an outright negative. Our only gripe in the body of this Stellar Comfort Lift Chair review was the fact that offering both Zero-G and Trendelenburg seating options make the chair feel a bit over-engineered. Even then though, there are undoubtedly a few people who will be glad for the presence of both.
It's true that this is a fairly pricey chair, but that's to be expected. American made products are a little more expensive than their Chinese-made counterparts.
The bottom line is, it's a super comfortable, amazingly capable chair. It's not best in class, but it deserves to be on your short list of chairs to consider.
Stellar Comfort UC556 Review Conclusion
We really like the Stellar Comfort UC556 Lift Chair. While it's true that there are better chairs on the market today, you'll be hard pressed to find a more comfortable seating experience. It's good for long duration stints in the chair, it's good for napping, and it's even good for sleeping an entire night if you want or have to. Ultimately though, the thing that will convince at least some people to give this chair a try over its competitors is the fact that it's American made.
If you're in the market for a lift chair and are looking for ways to support an American company, this is the one you want. Its exceptional comfort will wind up being a great bonus.
We recommend it.
---
Official Manuf​acturer Support
References & Resources